Mini type, Single row, Multi row and tapered milling concepts are suitable for different applications.
Introduction
Thread milling is a highly efficient method used for helical-interpolation forming of precision threads. It involves the use of solid carbide thread milling cutters made with high-quality sub-micron wear-resistant carbide materials. These cutters are specifically designed to create threads with exceptional accuracy and quality.
Process and Characteristics
Solid carbide thread milling cutters are crafted with utmost precision and engineered to withstand the demands of thread milling operations. The use of high-quality sub-micron wear-resistant carbide ensures excellent tool life and resistance to wear, allowing for prolonged and consistent performance.
The helical-interpolation technique employed in thread milling enables the creation of threads with high precision and superior surface finish. This method involves the cutter moving in a helical path while simultaneously rotating, resulting in the formation of threads with excellent thread profile and pitch accuracy.
Thread milling offers several advantages over traditional tapping methods. It allows for the creation of threads in a wide range of materials, including both ferrous and non-ferrous metals, as well as alloys and composites. Additionally, thread milling eliminates the need for pre-drilling or pre-tapping, reducing machining time and improving overall productivity.
With solid carbide thread milling cutters, manufacturers can achieve precise threads in a variety of applications, including aerospace, automotive, medical devices, and general manufacturing. These cutters are highly versatile and can produce threads of various sizes and profiles, meeting the specific requirements of different threading applications.
solid carbide thread milling cutters are essential tools for helical-interpolation forming of precision threads. They offer exceptional durability, precise thread formation, and compatibility with a wide range of materials. By leveraging the capabilities of thread milling, manufacturers can achieve high-quality threads efficiently and effectively, enhancing the overall machining process.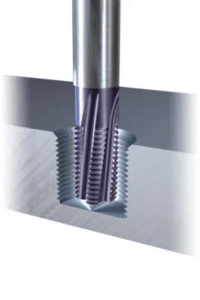 Machining materials & Applications
Thread milling tools are suitable for a wide range of materials, including various types of high-hardness materials with a hardness of up to 62HRC. These materials include common carbon steel, alloy steel, tool steel, stainless steel, titanium alloys, and cast iron. Additionally, thread milling tools can also be used for machining aluminum alloys and copper alloys.
Full flute thread milling cutters are designed for machining materials with a maximum hardness of HRC40 and a maximum depth of 2xD. For materials ranging from HRC40 to HRC55, the preferred choice is the mini type or single-flute cutters. When working with materials ranging from HRC55 to HRC62, single-tooth cutters offer greater stability.
Features of Single flute thread cutter & multi flute thread cutter
Single row
Internal threading for medium to large threads.
External threading for larger threads on asymmetric components.
Suitable for unstable conditions, long tool overhangs, and thin-walled components.
Versatile inserts for different thread pitches.
Low power consumption.
Ideal for small batch sizes and mixed production.
Multi row
Combined threading and chamfering in one tool.
Complete threading in a single 360° pass.
One tool can be used for multiple thread sizes with the same pitch.