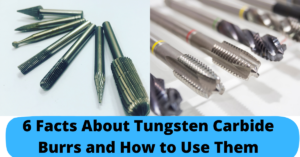 Choosing the right tool for wood carving, jewellery making, or any engineering work is not a piece of cake. It takes a lot to choose the best one. Carbide burring tool is the perfect tool for burring metal, wood or plastic. In addition, it gives a true sense of perfection to work. A tungsten carbide burr is the choice of many. However, to know more about carbide tungsten burrs, stick to the end of the article.
What Are Tungsten Carbide Burrs? 
Before we continue, let us review what tungsten carbide burrs are? You should note that carbide rotary burrs are often referred to as rotary files or die grinder bits and are used to cut, shape, grind and remove sharp edges, burrs, and excess materials. Due to tungsten carbide's hardness and wide range of applications, we stock these burrs in various shapes and sizes suitable for ferrous and non-ferrous metals. Burrs rotate at high speed to achieve the best possible manipulation of the worked material. Burrs rotate at high speed to perform the best possible manipulation of the worked material.
Carbide Burrs Application:
They are used in various industrial processes, including metalworking, tool manufacturing, engineering, model engineering, wood carving, jewellery making, welding, chamfering, casting, deburring, grinding, porting cylinder heads, and sculpting. Often, carbide burs are used in dental procedures such as crown preparation, aesthetic composite fabrication, endodontic access holes, and dental procedures.
In addition to being used in various industries, such as aerospace, automotive, dental, metal sculpturing, and metal smiting, they can also be found in other areas of expertise.
Cylinder Carbide Burrs

There are many carbide burrs available nowadays, but the cylindrical one has always been the most common. There are parallel sides on the end of the carbide burr, and there is no cutting face on either side of this burr. An end-cut base is available on either side or end of a burr cylinder. This feature offers convenience when cleaning the cylinder base and reaming it. Generally, they are designed for die-grinders and small lathes with 6mm spindles. You have the option of three different sizes for small craft tools and eight different sizes, which drill chuck users may prefer. You have the option of three different sizes for small craft tools and eight different sizes, which drill chuck users may select. To achieve the best results with this type of burr, the shaft of your instrument must be positioned as far inside your collets as possible to minimize chatter. To reduce the vibrations caused by the speed of the drill, the more support you can provide to your burr and your metal, the better. For example, they can be diamond or fluted.
Diamond-Cut Burrs –
Stainless steel, steel, high carbon alloys, titanium, cobalt alloys, hardwoods, and softwoods can be worked with this type.
Fluted Cut –
you can process plastics and non-ferrous metals like aluminium, brass, and softwoods.
 Bull Nose Carbide Burrs
Carbide burrs are extremely convenient when cleaning and deburring clearance holes in surfaces. Additionally, this profile can neatly finish off fillet joints in corners of fabrications with corner welds. Interestingly, a 3mm shank option is available for tools used on smaller craft projects.
Interestingly, this tool is designed with tungsten carbide as the material. Stainless steel is also a good candidate for this tool. Many metal alloys, bronze and brass, are less corrosive and better suited for the 'Non-Ferrous' options. You can also choose an 8mm spindle for use with pillar or power drills, which may be preferable to some. In terms of surface finish quality and longer tool life, these carbide burrs offer superior performance thanks to their special surface finish.
Ball Shaped Carbide Burrs

A round or dome-shaped carbide burr works well for chamfering corners. Additionally, you can also use these screws in recesses to engage with metal on the back of the ball. Grinding and stock removal with a carbide burr are very widespread, especially in the industrial sector.
These small burrs on a 2.35mm shank are particularly well suited to fine pieces of jewellery, which are usually small and detailed.
You can apply these tools to various materials, especially hard ones such as metal, ceramic, plastic, and even wood.
Carbide burrs are available in ball-shaped shapes and can be cut universally and quickly, removing large amounts of material. The shape of the ball burrs allows for a high degree of smoothness. Furthermore, they are also able to achieve a high speed as well as high temperatures when employed.
Spherical Carbide Burrs
It is very useful to shape surfaces with a carbide bur with an oval tip, or a teardrop tip, especially if your surface is curved. It is also worth mentioning that this method can also achieve a neat job on corner fillet welds. Some tools can come with a 3mm spindle; otherwise, most die grinders come with a 6mm spindle that you can use with them. The 8mm spindle option is also available, which may be more suitable for drill chucks. Cast iron, cast steel, carbon steel, alloy steel, stainless steel and others can be deburred and polished using this machine.
Round Tree Carbide Burrs

Burrs are often called Christmas tree carbide burrs because their sides are not parallel and their heads have rounded ends. Since these carbide burrs are round trees, their round shape makes them ideal for profiling corner welds. Besides machining and casting parts, you can also use these tools to shape curves in metal castings and machined components. Among the options available on the spindle is the extended spindle option which facilitates access to internal corners. Both hard metal spindles and solid non-ferrous spindles are included in this range. Both hard metal spindles and solid non-ferrous spindles are included in this range. By using extended spindle options, you can reach into corners with ease. Besides hard metals, such as stainless steel, non-ferrous metals, such as aluminium alloys or bronze, can also be treated.
Pointed Tree Carbide Burrs

For general-purpose use, the tungsten carbide is manufactured into a high-quality product. There is a range of carbide burrs that have pointed tree-shaped edges. They are ideal for deburring internal corners and neatening narrow internal tig welds. Additionally, you can also use them to shape curves and arcs. There are several sizes in this range for hard metals, such as stainless steel and mild steel. The pointed trees of tungsten carbide burrs are mainly used for crushing and grinding the key materials used in industrial manufacturing processes. They are suitable for fine and coarse stock removal on the most common materials. In addition, they do not require a specific material and provide a good capacity for stock removal. A very high degree of concentricity enables the user to work with no chatter marks even under extreme conditions. A very high degree of concentricity allows the user to work with no chatter marks even under the most powerful impact conditions. By utilizing the right amount of tungsten carbide, geometry, and cut, you will achieve coating an optimum stock removal rate.
Inverted Cone Carbide Burrs


Using the inverted cone shape, hidden edges can be chamfered, shaped, and deburred. In our selection of tungsten carbide working heads, you can choose between two designs, one with a standard spindle and one with an extended spindle, which is useful for working in sections of higher capacity. This machine can quickly deburr and polish cast steel, carbon steel, alloy steel, stainless steel, and other materials.
Wheel Burrs


There are a variety of tasks that can be performed by wheel burrs, which makes them very versatile. As they are cylindrical burrs, they have a similar profile and size to cylindrical burrs. Still, because of their very narrow edges, they can produce precise lines when needed and grinding and shaping. This wheel has blades on both sides and the top lid to use it vertically and clean up the interior of bezels.
Pressure And Motion
Using light pressure when working with any burr made from carbide is recommended to prevent the burr from damaging the material. To achieve the best-looking finish, you must ensure that you move steadily rather than starting and stopping. To ensure one's finish is as smooth as possible, one should always end a job with an upstroke.
Carbide Burrs are Harder 
Good quality carbide burrs are machine ground with a specially chosen carbide grade to meet the highest quality standards. You can use them on a much wider variety of jobs because the high hardness of the tungsten carbide allows them to perform much more demanding jobs than that of HSS (High-Speed Steel).
As well as performing better at higher temperatures, Carbide Burrs can also handle longer hot runs than their HSS counterparts.
Can be Used on Many Materials
In addition to metal, the Tungsten Carbide burrs are suitable for other materials: wood, acrylic, fibreglass, plastic and many different polymers and materials. The carbide burrs are the ideal burr for soft metals such as gold, platinum, and silver because they are guaranteed to last a long time without breaking or chipping. There are, however, a variety of carbide burr cuts that will be better suited to certain materials; for more information on the type of burr cuts you need, please continue reading.
 Cuts
Carbide burrs are generally available in two cuts: single and double. The single-cut (or one-flute) burr has a spiral flute, sometimes referred to as an upcut. These burrs are commonly used in milling, machining stainless steel, cast iron, hardened steel, and deburring and cleaning ferrous metals. A double-cut carbide burr has two flutes and a rounded surface. Double-cut carbide burrs, also known as diamond-cut or cross-cut, are used for cutting light metals. With the double-cut carbide burrs, you can get a smooth finish on ferrous and non-ferrous metals, suitable for both. These techniques have been used, in addition to metals, for wood, plastic, and ceramic materials. You can ensure that you will achieve the finishing you want without damaging the material by matching the appropriate cut to the job.
RPM of the Burr
It will depend on the material you will be using it on and the contour you are trying to create as to what speed of rotation you will need to use with your carbide bur inside your rotary tool, but we know for sure that you will not need to exceed speeds of 35,000 RPM.
The burrs are chipping easily might be because the burr's speed is too slow. The best way to start a bur is slowly and increase the speed as you go. Having your burrs spinning at a very high speed will help to prevent clogging in the flutes.
Types And Shapes
The carbide burrs come in various sizes and shapes, and both single-cut burrs and double-cut burrs are available. You would recommend that when ordering burrs, you obtain them in as many different shapes and sizes as possible to receive the right tools for any need you might have. It is directly related to the size of the burr than the speed of a carbide burr will be. As you work on different jobs, you can experiment with different speed settings, but starting slowly and increasing your speed as you go is recommended. An incorrect rate will result in a jagged surface finish, leading to debris building up inside the flutes.
Now that you know different carbide rotary burrs and their applications let's understand how to use a carbide rotary burr. You cannot pick any random burr and start using it to perform a specific task. The process begins with the selection of the right burr shape.
Choosing the Shape
You will almost certainly need different shapes of burrs to accomplish various tasks regardless of whether you are a manufacturer or a DIY expert. The best place to start is to buy a set of burrs. These sets generally consist of 5, 8, 10, and sometimes even more burrs. You can choose the right burr for your work by browsing different products and selecting the right burr.
Selecting the Size
Are you done with finding the right shape of your burr for your project? I'm glad that you succeeded in doing so. So that your tool and your burr work together, you must now select the right burr size for your tool. When searching burrs, you should choose those with bigger heads to guarantee good performance. The machines will usually be more efficient than you are, so you will save a lot of time by having them do your work faster.
Fitting
To determine the concentricity or coaxially of the machine, check its corresponding burrs with the chuck. It prevents shocks and shaking and makes the device more reliable. As well as the grasping position, be sure to pay attention to the safe handling of the machine. Typically, the length of the burrs should not be too long or too short. You should make sure that it takes up a minimum of two-thirds of the entire length of your limb.
Right Direction
In addition to the length of your limb, the direction you move the instrument affects its efficiency. To avoid error when performing tasks such as deburring, you should try moving the burr head in one particular direction, a right-to-left movement, or a left-to-right movement. In the meantime, you should not move the burr head back and forth as much as possible. Otherwise, you may experience rash wear of the skin and cracks in it.
Use Lubrication
It is essential to use lubricating oil or grease when dealing with highly viscous or soft materials. Blockages can sometimes make the burrs stop working after a while. The best solution to getting your burr back to working status during these situations would be to ensure enough lubricant.
 Pressure
To utilize carbide rotary burrs properly, applying steady and consistent pressure is important. If you use a large amount of it, this will often result in a situation where you cannot easily disperse the heat. The weld joints may also crack and break.
Speed 
Last but not least, you need to run your tool at a steady pace if you want it to be a success. If you want to achieve a higher level of cutting and the best quality, you must ensure the RPM is carefully monitored. You must keep the speed of your tool within the acceptable range and begin to use it as soon as possible.
Burr Hints and Tips
Burrs can be used at various speeds depending on their size, the type of steel from which they are manufactured, and the type of material they are meant for, so it is important to follow the manufacturer's instructions when sharpening burrs. It is also important to remember that its recommended speed decreases with the size of the burr.
Burrs are designed to be used cautiously, as pressing too hard can lead to chipping and breaking. Instead, use the tool in conjunction with your hands rather than trying to do it yourself. The burr may be blunt if you continue to have problems with the results.
If you are new to burring, it is always good to start slow and work up to the speed you want. Your tools will likely slip if you enter at full speed, and they could vibrate out of place.
Essentially, most burrs are designed to be used in either a handheld drill or a power drill. Certain processes require that the burr be mounted vertically and at the highest point possible. For these processes, a bench-mounted pillar drill might be more conducive.
By using a lubricant, you will be able to achieve smooth cutting, reduce chatter noises, and ultimately extend the life of your burrs.
Bottom Line
There are many varieties of steel and cast steel that you can cut with the help of tungsten carbide burrs. There are quite a few types available in terms of the carbide burr of steel. For example, you can use round carbide burrs from carbide for steel to produce cylindrical carbide burrs from carbide for steel.
Unlike carbon steel burrs, Carbide Burrs for Steel is designed to remove the usual carbon steel and grind more aggressively in highly tough steel, such as stainless steel, titanium steel, and alloy steel. It is a fact that a large variety of burrs made of steel are used for die grinder machines that rotate at speeds much faster than they are suitable for use, for example, air or electric machines. Whether you are a wholesaler or a retailer, you can always rely on Huana to provide the best quality carbide burr for steel. Whether you are a wholesaler or a retailer, you can always rely on Huana to provide the best quality carbide burr for steel.
The most important thing is to get a good set of carbide rotary burrs used for sanding. You can see that these burrs can perform multiple tasks, ultimately creating a more comfortable working environment for life manufacturers. I hope you have understood all the essentials of the article.