End Mills are utilized in milling, profiling, shaping, slotting, counterboring, drilling, and reaming operations to create shapes and holes in a workpiece. They are equipped with cutting teeth on the face and body and may be used to cut various materials in many directions. Learn more about the Single Flute End Mill and the applications for which it may be utilized in this blog.
For applications requiring rapid, high-volume material removal, the design with a single flute is optimal. Our single-flute instruments are extremely adaptable and excel at roughing. The ideal single flute end mills are 1/8-inch carbide end mills, single flute end mills for acrylic, single flute end mill for plastic and single flute end mills for aluminium.
Our single-flute end mills are ideally suited for cutting non-ferrous materials, frequently at considerably quicker rates than standard multi-flute tools. The distinctive design of a single cutting edge allows more area for chip evacuation, enabling more rapid feed rates and greater chip loads. For specialized applications, a single flute end mill for acrylic, 1/8 single flute carbide end mill, single flute end mill for plastic, single flute end mill for aluminium, and single flute end mill  are offered in a variety of cutting diameters and lengths, shank diameters, and shapes. '
Reasons Why You Should Opt For Single Flute End Mill:
We use fewer flutes in certain materials because of how chips behave in particular materials. Simply aluminium results in larger chips, all else being equal. This is due to the way the material curls and other considerations. The gap generated by the single flutes end mill is where the chips must go throughout the cutting process. If there is insufficient room proportional to the volume of the chips, you may have issues and may end up with a broken end mill. As a result, we normally reduce the number of flutes for a single flute end mill for aluminium since it generates a bigger volume of flute area to transport away the largest pieces.
This productivity problem, in which different flutes might be more productive, is caused by two factors:
Material Removal Rates (MRR) and
Surface Finish
One is more important for roughing (MRR), while the other is more important for your finish passes. This is all due to what I'll refer to as the Tyranny of Surface Speed.
Let's set the flutes aside and speak about single-point cutting on a lathe. It's so straightforward that it helps throw light on what's going on. The manufacturer suggests the optimal surface speed for each material. This guideline is primarily concerned with spinning to the (or workpiece on the lathe) as quickly as possible while preserving tool life. Heat is the limiting element. They can withstand far more heat than High-Speed Steel before softening. If the material from which your tool is constructed softens, the tool's sharp edge soon dulls, and the tool's life is cut short. As a result, you want the device to withstand as much heat as possible, which is why carbide frequently outperforms HSS. We can't beat the speed restriction, so we have to tinker with other variables when we're up against it.
Assume you're pushing the instrument to its limits in terms of Surface Speed. Any quicker, and it becomes too hot, dulls and fails. How else can we increase material removal rates? The answer is to spread out additional cutting edges (flutes) throughout the perimeter of the end mill so that we receive a lot more bites (chips) of the material as the cutter spins. It's now quite clear. A 4 flute end mill can take four cuts at a given surface speed at a particular chip load (chip thickness), but a two-flute end mill can only take half as many. Single flute end mills are becoming popular in difficult materials with relatively moderate surface speeds. That is how we will regain productivity.
Single flute end mill surface finish
What about the Surface Finish? I've commented that utilizing more flutes is similar to using a spindle speeder or having a quicker spindle, but it's even better since you don't increase the surface speed and decrease tool life as a speeder would. Aside from running hotter owing to surface speed concerns, the material doesn't know the difference between being cut twice a revolution by a two-flute at 6000 rpm and four times by a four flute at 3000 pm. As a result, upgrading from a two-flute to a four-flute is equivalent to double your spindle speed. We enhance surface polish by increasing speed relative to chip load (at least until it starts rubbing, see below). When you consider why we needed to use a two-flute to provide chip clearance, you can see that a single flute end mill would be sufficient for aluminium on cuts where the cutter isn't covered. You're peripheral milling the exterior of a component, and there are no concave indentations.
Coatings for Single Flute End Mills
Expressed, the coating's objective is to increase tool life and performance. Coating is analogous to end-mill clothing. It is necessary to dress appropriately for various events. People, for example, must wear a spacesuit in outer space and a swimsuit for swimming. As a result, the coating you need to use will vary based on your processing circumstances.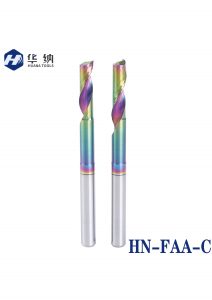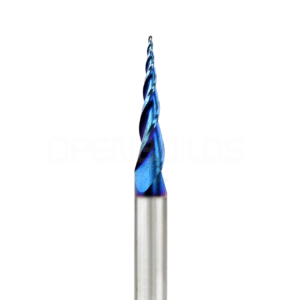 Take Into Account the Deburring and Finish Quality
The polymer arrangement in plastics can cause many burrs to form if the appropriate tool is not utilized. A shop's resources may be depleted if certain parts require offline hand-deburring after machining. It is necessary to have an extremely sharp cutting edge to ensure that the plastic will be sheared cleanly and without any burrs. By employing Single Flute Plastic Cutting End Mills, it is possible to decrease or even eliminate the need for hand-deburring a component. These cutting tools offer improved cutting action and rigidity because of their design's increased number of flutes. The circular end marks left behind by conventional metal cutting end mills are not left behind by these end mills because their special end geometry prevents them from doing so. The final result is a smoother finish with fewer burrs.
Determine How to Handle the Heat
Before beginning any machining activity, one must always determine the amount of heat generated. When using a single flute end mill for machining, the heat generated in the contact zone between the tool and the workpiece must be removed as quickly and effectively as possible. This will help to reduce the likelihood of melting and chip welding occurring. If the melting point of your tool is quite low, you may consider purchasing a Single Flute Plastic Cutting End Mill. The flute valley on this tool is bigger than the one on its two-flute counterpart, enabling it to produce larger chips. It is possible to remove more heat from the material without the substance melting if a larger chip is used.
Are you becoming increasingly persuaded that a single flute end mill can never be justified?
Then it's time to investigate when they make the most sense. To do so, we must address the issue of rubbing, which occurs when chip loads get too low. More on this in our feeds and speeds guide, but suffice to say that if you move the tool too slowly, the chips will ultimately get so thin relative to the cutting edge that it will be difficult to slice them off properly. It plugs at them and can even glide for a few rotations before pulling out a gritty mud clod of a chip.
Let's look at a CNC Router as an example. Assume it has a spindle capable of 24,000 rpm but will only run as fast as 12,000 rpm. When cutting aluminium, we first notice that we need carbide to operate at such surface speeds–ideally, a good coating is required to increase the limit even more. As we go through the feeds and speeds, we realize we'll need some rather high federates at those RPMs. I would like to run it at 24000 rpm with roughly 255 IPM for a 1/4′′ end mill. We may have detected an issue now, depending on the computer. What if our machine can't feed that quickly?
The solution is to employ a single flute end mill, which reduces the required federates without rubbing. So there is one instance where it is useful: when the machine cannot feed quickly enough for the spindle to keep producing while maintaining acceptable chip loads.
Here's another example: When the extra chip clearance is useful.
There are several chip clearing possibilities available:
You're slicing through a sticky cast metal plate. You should use two flutes instead of three, but you may discover that you need to go down to a single flute.
Micro-cutters have awful geometry compared to bigger cutters; it's just how the world works. It is only possible to make the cutting edge so sharp, and it isn't strong enough at the micro-scale. So, instead of smoothly slicing, the flutes hammer their way through the material like a cold chisel and a 5-pound sled. When micromachining, the likelihood of chip welding is substantially higher, and chip clearance is an issue. Change to a single flute. HUANA has long recommended this for roughing and even offers special single flutes with geometry that allows them to be balanced at high RPMs.
It would be best to cut a brutally deep slot or little deep pocket, and pulling the chips out of the hole is incredibly difficult. They're simply hanging out down there, clogging everything up. Ideally, you should attempt through spindle coolant, but give single flute end mills a shot if that fails.
You're undertaking deep relief 3D profiling, which requires the cutter to dive into tight areas with little clearance.
Okay, that's two nice uses for single flute end mills; here's a third: Some materials perform better with single flutes. These are often softer materials that are readily scratched—making it easy for the chips to get out of the way, so they don't go back in and scrape things up. Many polymers fall into this category, while certain plastics can be polished with a two-flute. A single flute end mill will also benefit many acrylic goods. I'm thinking of a 1/8 carbide single flute end mill. A single flute end mill can be useful for any cutting of stacked sheets. These variations are often minor and will only become apparent at higher RPMs.
The Design of Single Flute End Mill
The single flute design is suited for use in applications that need the removal of a high volume of material quickly. Our single flute tools are quite flexible, and they perform particularly well when roughing. These tools are ideal for working with soft metals and plastics, brass, unique composites, and aluminium. Developed for superior functionality and increased metal removal rates in aluminium and other non-ferrous materials. The length of the shank was designed to be used most effectively in high-performance tool holders, resulting in less extra stick out and more stiffness. Outstanding results in the High-Efficiency Milling (HEM)
Conclusion
That wraps up our discussion. There is plenty of information to assist you in determining whether it would be beneficial to utilize a single flute end mill. A single flute end mill may be used on various specialized processing equipment. Single flute, end mill, slotting, and centering edge. A single flute end mill, in the meantime, is utilized for cutting materials such as wood and plastic—end mill with a single flute used for the first cut on the CNC machine. In addition, a mill may be used to polish various materials, including wood, plastic, etc., and used for cutting materials with single flutes, end mills, and other composites.
Meanwhile, mills are utilized for cutting materials such as wood, plastic, or softwood. You'll find great deals on single flute end mills if you browse around. We won't judge you for doing all of your mill shopping online because the costs are reasonable.