Machining is an intricate art form, which means that in order to do the task successfully, you are going to want the appropriate instruments. Making anything out of aluminium necessitates the use of a particular set of end mills, regardless of whether the maker is a hobbyist or a professional. Milling cutters come in a variety of shapes and sizes, and one of those shapes, known as an end mill, is a cutting tool used in industrial milling applications. When compared to the drill bit, it differs in the application it serves, the geometry of its design, and the way it is manufactured. Milling bits, in contrast to drill bits, may normally cut in all directions, while certain milling bits are unable to cut in the axial direction. A drill bit's cutting ability is limited to the axial plane. In milling applications such as profile milling, tracer milling, face milling, and plunging, end mills are among the tools that are used.
Are you looking for end mills from various brands that are now available in the USA market; such as YG-1, Kennametal, or M.A. Ford, but you are unsure of where to begin your search? We have compiled the hot selling end mills in the United States of America to make it easier for you to choose the right one.
The most popular products are the following:
Four Flute Flat End Mill
All end milling procedures need the use of end mills with four flutes. These Four Flute flat end mills have a base material that has been chosen for its ultrafine particles, and they are coated with Pilates (gray smoke). Although four flute mills have a smaller flute volume than mills with more flutes, four flutes are the most frequent number of flutes. A quicker feed rate is possible because to the increased number of flutes. Because there are so many chips in such a small area, it is possible that they may not perform as well in grooving operations. Appropriate for use in the general processing of 45 steel, low carbon steel, pre-hardened steel, as well as stainless steel. For typical milling tasks such as cutting slots, profiling, and routing, four flute flat end mills are utilised. These mills will provide a crisp edge at the bottom of the slots and pockets of the workpiece.
Up-cut, four-flute, non-center cutting end mills are what are known as four-flute flat end mills. Perfect for use with steel, cast iron, non-ferrous metals, alloys, brass, and other materials that aren't metallic. Flat end mills with four flutes may be used to machine steels, tool steels, and cast iron. These end mills come in a range of profiles and key types, each of which is important to the result of the CNC machining application you are using.
The flutes of the four flute flat end mills are the most distinguishable feature of the tool. These deep grooves in the tool permit chip production and evacuation. To put it another way, flutes are the section of the four flute flat end mills anatomy that make it possible for it to cut on its edge. When choosing an end mills, the number of flutes is an important factor to take into account. In general, the flutes, which refers to the empty area between the cutting edges, will be higher when the flute count is smaller. This gap reduces the tool's strength, but it also makes it possible to produce bigger chips with deeper depths of cut, which is good for working with materials like aluminum that are soft or sticky. When working with tougher materials like steel, tool strength becomes a more important consideration, and as a result, greater flute counts are often used like four flute flat end mills. There are several different manufacturers in the United States, such as YG-1, Kennametal, and M.A. Ford, who provide a wide selection of four flutes end mills in a range of sizes and shapes to cater to the requirements of each individual task. The four flute end mills of different manufacturers, including those listed above, are also very hot selling in the USA and America. You are free to shop according to your requirements.
For Polishing Aluminum Milling Cutters
In each machining process, surface quality is one of the most important factors that has to be taken into mind. The bulk of attention was concentrated on perfecting the optimization of the machining settings so that the surface could be polished to a higher standard. Recent improvements have forced the demand for great efficiency in the machining of aluminum because of the rising stiffness of the machine tools, the work piece, and the tool clamping mechanisms. This has necessitated the necessity for high levels of productivity. A resurgence in interest in the process of polishing aluminum is being fueled in part by a growing awareness of the need of environmental protection. The technical capability essential for the production of high-quality 45 Degree Helix Angle Inch End Milling Cutters for Aluminum The process of polishing is experiencing constant development in the United States, and this development process is continuing.
Milling Cutters for polishing Aluminum are manufactured with a DLC coating that is very resistant to wear and with a specific sharpening that allows for getting a very sharp edge designed to polish and obtain cutting surfaces with a high level of brightness or transparency depending on the material of the work piece. For polishing aluminum milling cutters are manufactured with a DLC coating that is very resistant to wear and with a specific sharpening that allows for getting a very sharp edge designed to polish and obtain cutting surfaces. Milling Cutters for polishing aluminum are manufactured with a DLC coating that is very resistant to wear, and with a specific sharpening that allows for getting a very sharp edge designed to polish and obtain cutting. These characteristics allow the cutters to polish and obtain cutting simultaneously. The application of DLC coating on for polishing aluminum milling cutters, which are then used for polishing, has the potential to extend the useful life of end milling cutters by a factor of two to three. The one-of-a-kind DLC coating provides remarkable adhesion and resistance to welding, in addition to lowering the cutting friction that would otherwise be present. Slotting and contouring are two examples of procedures that need rapid chip evacuation, and this permits steady machining in those processes.
Despite the fact that it is a beautiful metal, the surface of aluminum may lose its lustre or get tarnished with time. Aluminum has a natural tendency to corrode quickly, which gives it a dull look and causes an aluminium oxide coating to form on its surface. This coating protects the metal from further degradation but also gives it a dull appearance. Even though aluminium is a metal that does not rust, if an abrasive that is based on carbon has ever been used on the aluminium, then the aluminium will be in a state that is similar to that of rust. By polishing it in the appropriate manner, you will be able to keep its clean look and prevent it from becoming tarnished or displaying any symptoms of pre-rust. The use of an end milling cutter for aluminium polishing, which is available on the market in the United States of America in a number of brands at a range of costs, is one way to avoid this problem and get the desired results. You might also get in contact with HUANA if you want to get milling cutters of a high grade for the aluminium polishing that you are undertaking.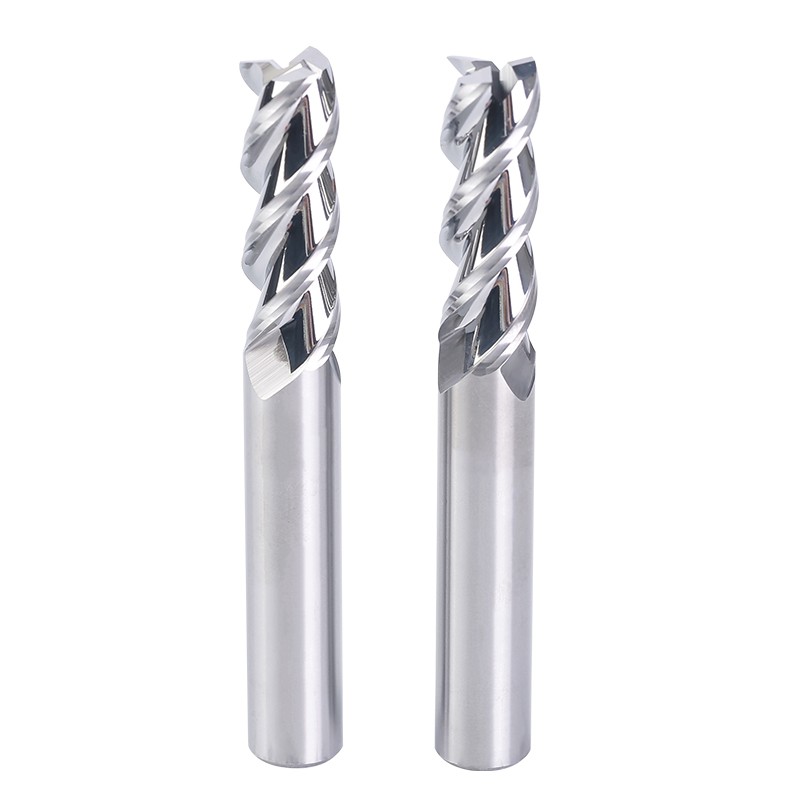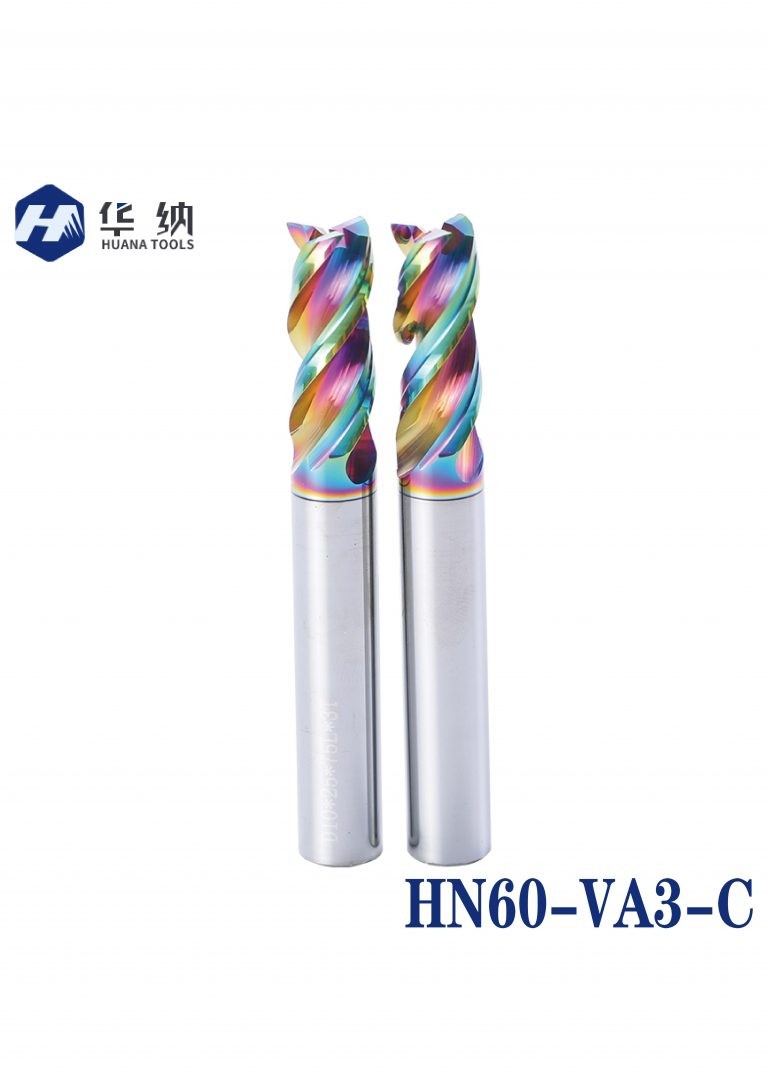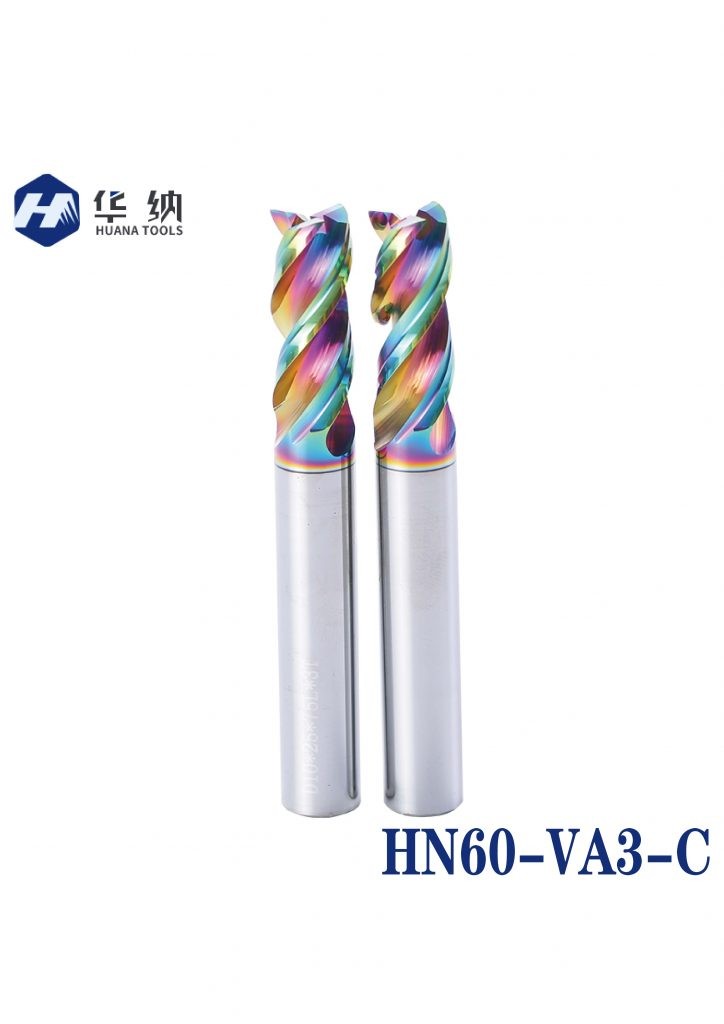 The helix angle of an for polishing aluminum milling cutters is calculated by taking the angle that is created between the centerline of the tool and a straight-line tangent along the cutting edge. This angle is measured in degrees. The helix angle may then be calculated based on this angle's value. For the purpose of polishing aluminium milling cutters, Warner employs a design that has a larger helix angle—specifically 45 degrees. This design is superior than previous designs in terms of its ability to cut, the quality of the finish it provides, and the speed with which it wraps around the tool. In addition to that, it incorporates a C-shaped tip protection angle. Not only does the design of an end milling cutter with a helix angle of 45 degrees help to the quick evacuation of chips, but it also adds to an enhanced component finish, longer tool life, and reduced cycle times.
 End Mill with a Ball Nose
Ball nose end mills with 2 and 4 blades are the best tools to use for the purpose of machining three-dimensional contour forms, such as those that are frequently encountered in the mold and die business, the production of turbine blades, and the satisfaction of general component radius requirements. Milling steep slopes and tiny chamfers with straight walls and uneven contour surfaces may be successfully completed using small ball end milling cutters. Ball nose end mill cutters are equipped with two blades, one for rough milling and the other for more precise finishing work on curved surfaces. Exceptional capability throughout an extensive range of applications for treating composite materials. On the surface of the coating, you may find that it has high degrees of hardness as well as an excellent resistance to wear. Material made of tungsten steel that has been selected for its versatility in processing a wide range of materials, including metal, wood, plastic, and plate. The helix angle design of the 2 blades ball nose end mill reduces the cutting resistance, which in turn simplifies chip removal and removal of chips in general, making the process smoother and free of chip accumulation.
Through the use of a coating technology that has a low coefficient of friction, sticking may be minimized to an absolute minimum.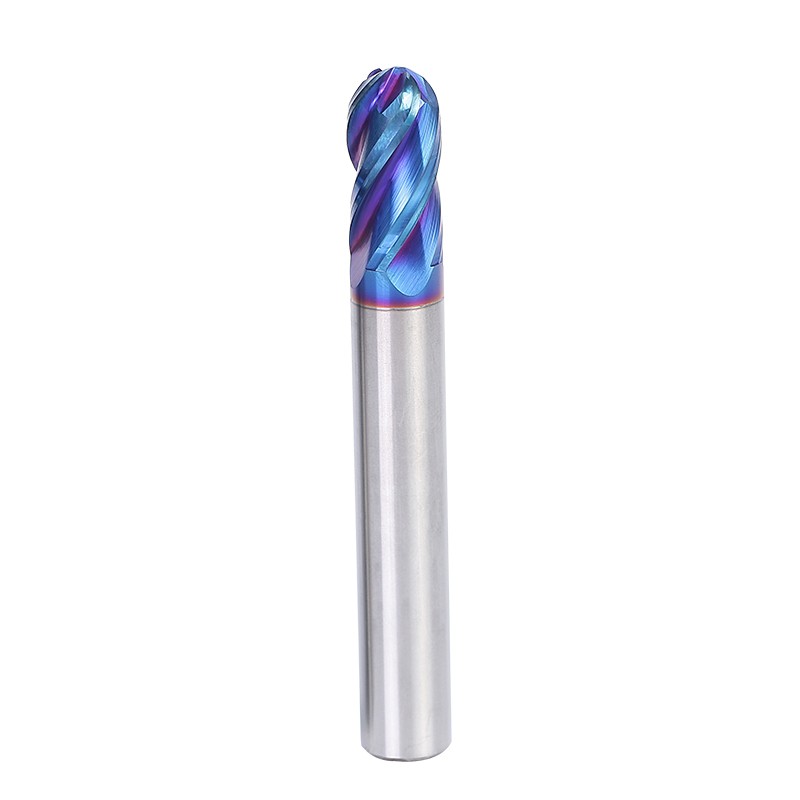 Milling a variety of curved surfaces and arc grooves requires a specific sort of tool called a ball nose end mill. This form of equipment can be found in most machine shops. Using a cutter that is fashioned in a manner that is analogous to a ball head, it is fabricated on the milling machine. However, chip discharge performance is poor due to the shallow chip-holding groove at the tip of the ball nose end mill. This is the factor that has the most significant influence on the machining of the curved surface.
It is put to good use in the manufacturing of cement, silicate goods, new building materials, refractories, fertilisers, beneficiation of non-ferrous and black metals, glass, and ceramics, to name just a few of the industries that benefit from its use. As the barrel rotates, the grinding medium adheres to the inner wall of the barrel due to the inertial centrifugal force that is caused by the rotation of the barrel. After you have rotated the barrel body to a given height and allowed it to reach that height, the material that is held inside the barrel body will shatter due to gravity. This will occur after you have allowed the barrel body to reach the height that you rotated it to. By using the extra capability of the ball nose cutter, the stress concentration may be decreased. This is accomplished by adding radiuses between the perpendicular faces. This grade is designed for use in the roughing and semi-finishing milling of materials having a hardness that is lower than HRC45, such as heat-treated steel, common alloy steel, cast iron, and other similar materials. This allows the size distribution of the particles to be centred, which ultimately leads to enhanced stability and resistance to wear. The superior microstructure was obtained by using a custom powder of a high quality.
Milling curved surfaces, slotting, and pocketing are all possible with the assistance of ball end mills, which are often referred to as ball nose end mills. Ball end mills are also referred to as "ball nose" end mills. Fabrication of molds and dies often necessitates the use of a device known as a 4 blades ball nose end mill, which has a reamer with a cutting edge in the form of a ball. You can buy the ball nose end mills of various brands of USA.
Stainless Steel Special Milling Cutter
The average yearly growth rate of 5% throughout the world has almost quadrupled over the course of the last decade. The difficulties that come with stainless steel processing and manufacturing are becoming more and more obvious as the number of items made of stainless steel continues to increase. A great number of industrial businesses have invested a large amount of their time and money into determining how to more successfully solve these difficulties.
The term "stainless steel special milling cutters" refers to milling cutters that have been designed with the express purpose of cutting stainless steel. Every variety of stainless steel special milling cutter comes outfitted with a steel feed screw system and makes use of cutter wheels that have been carefully manufactured and are fitted with needle bearings. This ensures that the cutter will last for as long as possible and will be as durable as possible. It is possible to replace both the cutter wheel and the wheel pin without requiring any extra tools or machinery. Because austenitic forms of stainless steel are the most common, it follows that they are also the varieties of stainless steel that are machined the most often. During the process of machining, the very rapid work hardening rates as well as the extraordinarily poor chip breaking properties that they possess may identify them.
The degrees of strength and hardness that stainless steel has are lesser when compared to those of normal steel. Stainless steel, on the other hand, possesses high levels of plasticity and toughness thanks to the large amounts of Cr, Ni, Mn, and other elements that it contains. Additionally, stainless steel possesses high-temperature strength and a high possibility of becoming more brittle during the processing stage. Create a substantial amount of additional burden. When austenitic stainless steel is cut, specific carbides are precipitated inside the material, which speeds up the wear on the cutting tool. These carbides are responsible for the material's austenitic structure. The Oerlikon Balzers Coating that is applied to the imported AF308 material that is used in the manufacturing of the stainless steel custom milling cutter that Warner uses to remedy the cutting issue gives the cutter a long machining life. This was achieved by applying the coating before using the imported AF308 material.
Whether it be via enhanced productivity, increased production dependability, or better efficiency, the wear protection contributes to these positive outcomes. There is a significant opportunity for cost reductions offered by the Oerlikon Balzers Coating in stainless steel special milling cutter. It is feasible for a certain milling cutter to withstand much higher cutting rates and feeds thanks to Oerlikon Balzers Coating and imported AF308 material made of stainless steel. This, in turn, minimizes the amount of time and money spent on machining. In addition to this, they have outstanding wear resistance, which considerably extends the amount of time that the tool is able to be used.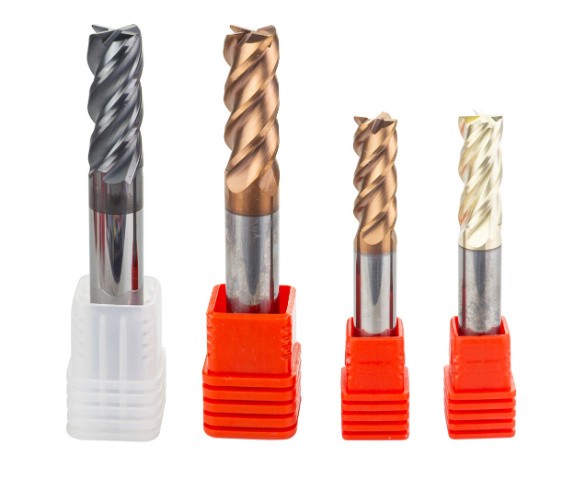 The outstanding thermal stability, hot hardness, and oxidation resistance of the Oerlikon Balzers Coating enables the heat to be drained through the chips of the stainless steel special milling cutters. This is made possible by the fact that the cutters are made of stainless steel. This is achieved without having a detrimental effect on the leading edge of the industry.
Some Top End Mill Brands Of USA
M.A. Ford is a corporation that has been around for a very long time and has maintained a consistent and loyal staff. They have been in business for almost to a century, and the reason they have managed to remain competitive all these time is largely due to the dedication and creativity of our staff members. M.A. Ford is the top leading band in the United States when it comes to end mills, so if you are an experienced journeyman continuing your career, there is a place for you there. This is because M.A. Ford is the company that invented end mills.
YG-1 USA is a subsidiary of a multinational corporation that is recognized as a pioneer in the development and manufacture of precision cutting tools. Manufacturing facilities are located all around the globe, including in the United States, and are maintained by YG-1. The firm has more than 80,000 different kinds of cutting tools in its inventory, and it was established in 1981. Its primary markets include the volume drill, tap, end mill, spade drill, and rotary tooling markets. The specialized coating research facility at YG-1 is responsible for advancing the current level of tool coating technology in order to improve the tools' overall performance. The mission of the Centre is to devise the coating solution that is most effective for each product.
You may choose from a wide selection of end mills from Kennametal, which is one of the leading brands manufactured in the United States. End Mills manufactured by Kennametal are built to function reliably even in the harshest of conditions. End mills manufactured by Kennametal provide the highest material removal rate (MRR) possible in addition to exceptional durability, and this is true regardless of the material you're cutting, whether it aluminium, titanium, stainless steel, or anything else. End Mills manufactured by Kennametal are able to operate for longer periods of time, cut more quickly, and mill with more accuracy.
Get in Touch with HUANA If You Are Looking for End Mills or End Milling Cutters!
Since its founding, HUANA has placed a primary emphasis on the production of milling cutters made of tungsten steel. The typical items have an inventory worth more than three million dollars in the United States. The quality is consistent, and OEM orders may be fulfilled as well. It is the perfect companion for you. You may get in touch with Huana to get tungsten steel milling cutters in a wide variety of shapes and designs, depending on the task at hand. You can count on Huana to provide you with high-quality tungsten steel milling cutters that have a strong resistance to wear and a long tool life.
Conclusion
All of the hot selling products in the USA and America are listed above, and you may pick the end mills or products based on the characteristics of the product that best meet your requirements. It is my hope that this post will assist you in selecting the greatest product on the market in the USA that is suitable for your requirements.