Machines, such as high-speed milling machines, are capable of creating parts of almost any shape. For different manufacturing purposes, CNC milling operations are available in a variety of types. In the end milling process, the type of tooling used for material cutting makes it different from other processes. This article will explore the different kinds of end mills, the concept of end milling, and the steps involved in the manufacturing of end mills in this article.
What Is An End Mill?
The cylindrical shank of this rotating cutting tool has teeth at the end, which is used as a machine for machining metal plates and other items. Absbrading is a process that dates back thousands of years. A wide variety of products have been formed from materials that have been ground, crushed, or cut. "Milling" has been a term used since the 1800s to describe this process. The end mill differs from the drill bit by application, geometry, and manufacturing. Most milling bits can cut in a radial direction instead of an axial direction like drill bits can. End mills are mills designed specifically to cut axially; others cannot cut axially.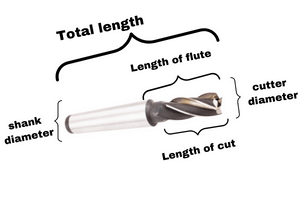 What Is An End Mill Used For?
The endmill is used in various milling applications such as profile milling, tracer milling, face milling, plunging, contour shaping, slotting, drilling, and reaming. Endmill tools can be grouped into several general categories. Milling machines are used for milling, profiling, contouring, milling, counterboring, drilling, reaming, and other applications involving making shapes and holes in a workpiece. Both the face and edge of these tools are equipped with cutting teeth that can cut numerous types of materials in various directions.
Material For an End Mill
Solid Carbide
You get lots of advantages by investing in a solid carbide square end mill. They are highly rigid, have excellent heat resistance, and have a much faster-cutting speed than HSS. By doing this, your cutting speed will be sped up, and you will be able to cut a wider range of materials. End mills manufactured from carbide are frequently used for finishing needs.
HSS
High-speed steel end mills offer a more cost-effective alternative to carbide. Several metals, including many types of plastics, can be used in these machines. They have a good wearing resistance, so you won't have to resharpen them too often. Standard operations usually require them to be sharpened. Despite this, the tool life is shorter, and the performance and speed of the tool are more restricted.
What Is The Best Material For The End Mill?
High-speed steel (HSS) and carbide are the two most commonly used materials in manufacturing end mills. Older machines and those with less rigidity and one-off and very short-run production may benefit from HSS. Despite its slower speed, it is less costly, less brittle, and more forgiving of unstable conditions. Machine tools using CNC blades achieve higher speeds, require fewer tool changes, and are more productive. Due to longer tool life and shorter cycle times, the higher cost is justifiable in these applications.
Types of end mill
V-Bit End Mills
The V-bit end mill entails cutting depressions in the workpiece in a V-shaped pattern called V-carving. The V-bit end mills are available at either 60° or 90° angles. End mills with sharp tips are intended for cutting narrow paths. End mills with wider bottoms are designed for cutting large areas. Due to its rounded edges and corners, this end mill is ideal for machining edges and corners that are particularly sharp.
Up and Down-Cut End Mills
Spiral end mills can be used for milling up-cuts as well as down-cuts. The spiral can either carry the chips upward or away from the designated area, resulting in a rougher top surface, depending on the cut (up-cut or down-cut). By cutting up-cut end mills, they keep the bit cool and remove materials more quickly, which is ideal for cutting softer materials like plastic and aluminum. However, the wear on the surface can cause workpieces to lift and require hold-downs to be held down. By down-cutting end mills, the top surface of laminates can be smooth, and a flat surface can be achieved on thin parts, as well as avoiding tabs on larger parts.
Straight Flute End Mills
The straight flute end mill has a single-end, zero degrees helix, and straight and basic flutes. The straight flute reduces the fraying of a workpiece's edges and provides a good surface finish. The milling of composites of epoxy and glass can be done with these machines, as well as profile milling.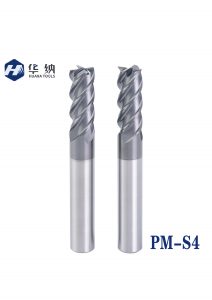 Roughing End Mills
Metal chips on a workpiece are broken into smaller pieces by roughing end mills with scallops on the outside diameter. A given radial depth of cut is thus accomplished with lower cutting pressures. When large quantities of material need to be removed, roughing end mills are mainly used for rough milling. Due to the variety of materials that can be milled, roughing end mills can be configured with many different helix angles and flute configurations.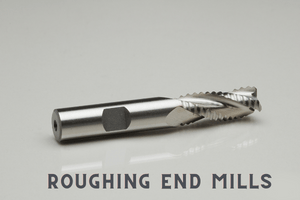 Ball-Nose End Mill
End mills with ball-noses are also called ball end mills, and their tips are rounded. These can be single-ended or double-ended. Ball nose end mill can use general-purpose geometries or have high-performance ones. These cutters are used to mill large corner radiuses, grooves with full radiuses, and mill contours or profiles. For engravers and 3D tools, smaller diameters are most often used.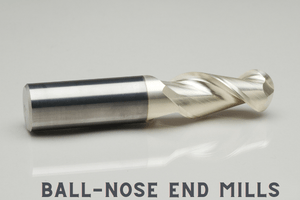 Tips of Endmills
Different shapes of end mill tips are designed for different types of applications. Ball nose cutters, squares, and corner radiuses are the most common shapes.
Ball Nose:
It is ideal for 3D contour work to use ball nose mills because they produce a rounding pass and can be manipulated at fast speeds.
Radius End Mill:
This end mill is the most recommended because it assures a constant smooth cut without chipping. By increasing the radius of the corner edges, corners are stronger, meet functional print requirements, and result in the desired radius.
Chamfer End Mill :
By creating a cutting action, most materials can be chipped more easily. With chamfering, feed rates can be higher, as well as efficiency increases. Using their angled profile, aluminum, brass, bronze, iron, and steel can be chamfered, beveled, or otherwise shaped.
Square End Mill:
Generally known as flat end mills, they are used for general milling tasks, including slotting, profiling, drilling square shoulders, and plunge cutting. The bottom of the slot and pocket of the workpiece is produced with a sharp edge using Square End Mills. To prevent damage to the end mill or the workpiece, each cutting head of the end mill has flutes that transport chips away from the workpiece. Manual and CNC milling machines use square end mills.
How To Make An End Mill?
Cut The Length:
The first step in the process of making long reach end mills is to note and measure the size of the material in accordance with the length required for the tool.
Polishing:
If the end mill surface has to be smoothed out, then the cut tool needs to be polished.
Processing:
Once being polished, the drill needs to be processed into the shape you want, including ball nose end mill, solid carbide square end mill, or any long reach end mills.
Grinding:
After processing the end mill, the next step is to grind it. Through grinding, the mill achieves precision and accuracy in making holes.
Coating The Ground Mill:
Coating at the beginning of the process is necessary to make the grinding and processing of the mill easier. However, in this step, the prepared end mill is again coated to give a sleek and smooth finish look to the end mill.
Measurement:
With the use of measurement tools, the mills have been measured for their accuracy after they have been polished.
Packing:
Once the tools are perfectly ready, they are packed to be delivered to the shops so you can have access to them.
End Mill Coatings
As a result of their coatings, carbides are protected from the heat produced during cutting and minimize friction. There are many coatings available that suit certain materials better. It is easier to use the correct coating if you pay attention to the manufacturer's recommendations.

Why Does End Mill Flute Count Matter?
Overall, the correlation of flute number, core size, and tool strength can be answered with simple proportional calculations. An increased number of flutes means a greater number of cores, which equals greater tool strength. Additionally, higher flute count end mills tend to have a shallower cut, so they can be used to produce a smoother surface on virtually any material.
The addition of more flutes does come with some downsides, though. Cores of larger dimensions take up more space and limit flute valleys that would otherwise facilitate chip evacuation during machining. To remove metal faster when cutting harder, ferrous materials, stronger end mills with higher flute counts need to be used.
Also, consider the type of machining application you are dealing with when determining the appropriate flute count. Higher flute count end mills are more suitable for finishing operations. In short, less material should be removed, so chip evacuation is not likely to be of major concern due to the smaller quantity of material to be removed. Nevertheless, a lower count of flutes will be beneficial for roughing operations, where it is necessary to have a larger valley in the flute for more frequent chip evacuation. Implementing chip breakers during roughing operations can also be beneficial. Moreover, consider four flutes end mill suppliers for best results.
Things To Consider While Choosing End Mills
In machining, choosing the right end mill is one of the most important steps. The fact that every tool has different geometries, each crucial to the outcome on your part, complicates the process. During the tool selection process, we recommend that you keep the following points in mind.
Material You are cutting.
Knowing what materials and properties you will be working with will help narrow down your end mill selection. The mechanics of each material differ substantially so that they exhibit different characteristics when it comes to machining. Different machining strategies are required for plastic materials, for example, as well as different tool geometries. Tool performance and longevity will be improved if you choose a tool with geometries suited to those unique characteristics.
 Tool Dimensions
Suppose you wish to accomplish the milling operation you need. In that case, you will need to take into consideration the dimensions of the tool, including the cutter diameter, the length, and the profile of the tool.
End mills can be classified into three main types of shapes, namely square, corner radius, or ball end. There are sharp corners on both ends of the flute on the square profile on the end mill, which is squared off at 90° to each other. By replacing a sharp corner with a radius, a corner radius profile increases strength, prolongs tool life, and prevents chips. Another type of fluted profile is the ball profile which features straight flutes with a rounded end, thus creating a "ball nose" at the tip of the tool. It is considered to be the strongest type of fluted profile.
The dimension that will define the width of a slot or the amount of material to be removed by the radial depth of cut when side milling. Selecting a cutter diameter that is the wrong size – either too large or small – can lead to the job not being completed successfully or a final part not being to specifications.
The longest contact length during operation should dictate the length of the cut for any end mill. The cut length should not exceed the required length. A tool that is as short as possible will result in a reduced overhang, a more rigid setup, and less chatter when being used. When cutting at a depth greater than 5x the tool diameter, it may be better to explore necked reach options as opposed to long length cuts.
How Many Flutes Do I Need?
When selecting long reach end mills, determining the right flute count is of utmost importance. This decision is influenced by both the material as well as the application. With fewer flutes on the cutting edge, end mills will provide better chip clearance. Meanwhile, with more flutes, the finish will be finer, and the end mill will work more smoothly when cutting harder materials.
In comparison to multiple flute end mills, two and three flute end mills have better stock removal, but a markedly reduced finish. Finish cuts and cuts in harder materials require end mills with five or more flutes, which must operate at lower removal rates due to their poor chip evacuation properties.
Flutes Types:
2-Flutes: 
Two flutes end mills have an Excellent Chip carrying capacity. Furthermore, it has a low cutting resistance. It can be used for the purpose of slotting or side milling. Meanwhile, it has low rigidity.
3-Flutes:
Three flutes end mills also have excellent chip carrying capacity. and are the best fit for sinking. Additionally, it can be used for slotting, side milling, heavy cutting, and finishing, but its diameter is quite hard to measure.
4-Flutes:
A 4 flutes end mill supplier can be ideal for your application as they have high rigidity and can be used for shallow slotting, side milling, finishing
6-Flutes:
Six flute end mills are highly rigid and deliver the best durability. These end mills deliver superior cutting edge performance on the hardest materials. They can also be used on high hardness material, shallow slotting, and side milling.
8-Flutes:
This is the maximum count of flutes an end mill can have. Similar to the 6-flutes end mill, it also has high rigidity. In addition, it is also capable of providing a superior cutting edge on materials of the highest hardness.
Material
There is no question that the most common tools used in the production of nonferrous materials are the two-flute or three-flute tools. Since the 2-fluted option has traditionally been chosen because of the good clearance that 2-fluted cutters offer. In finishing applications and High-Efficiency Milling, however, the 3-flute option has proven to be successful due to its higher contact points with the material due to its high flute count.
 Coated Tool
Coated tools help increase performance through the following benefits: Improved Chip Evacuation by increasing SFM; More Aggressive Running Parameters by using the higher SFM. In general, a coating may enhance the performance of a good tool, but it rarely enhances the performance of a misapplied tool.

Maintaining An End Mill
Keep It In The Case
Despite the fact that round tooling pieces are shipped from the factory in a fitted casing, there is a reason behind this. When it comes to storing tools in the shop, the protective sleeves they came in are beneficial. It would be advisable to leave the faucet in its original packaging until you are ready to attach it to the collet. Keeping it clean and undamaged will prevent the tool from getting damaged before use.
Use Right Speed
It is important to understand the speed at which your machine should be run if you want to extend its tool life. An overly fast tool will produce an undersized chip, a defective chip evacuation process, or even cause the tool to malfunction. Slowly operated tools may deflect, result in a poor finish, or even reduce metal removal rates.
Be Gentle When Cleaning
In the case of cutting heads, one process may result in the utilization of the cutting head, but end mills and taps are potential reusable tools. End mills can typically be reground up to six times, allowing a fully consumed tool to be brought back into service for a fraction of its replacement cost.
But it is the integrity of the cutting face that determines whether or not you can regrind an end mill or tap. In the case where the edge of the tool is intact, the tool can likely be reground back to its original specifications and can probably be used again. Having a chipped edge can require reflecting, however, which is costly and significantly decreases the tool's future longevity. Even if the tool needs to be reground, it's vital to protect a severely damaged cutting tool afterward. As if the tooling were brand new, you should take the same measures to protect its cutting edge.
Be careful with the Edges.
High-speed steel or carbide cutting face is only designed to take the stress from one direction. The tool's cutting face is incredibly resilient to steady pressure applied to its leading edge, but a hard impact on the tool's trailing edge can chip the cutting face. Using a tool with a chipped edge can cause unexpected failure in the machine, which can be very expensive.
Things You Are Doing Wrong
Running It Too Fast or Too Slow
When it comes to speed and feed, determining the right speed (RPM) is important before starting your machine to ensure proper tool life. If you run a tool too fast, the chip size may become suboptimal or even the tool may fail. On the other hand, high RPMs can cause deflection or a poor finish, or they can simply reduce metal removal rates. You should ask the best end mill manufacturers what the ideal RPM is for the particular job you are doing if you are unsure.
Wrong Coating
An optimally coated tool can have a big impact even if it is marginally more expensive. Some coatings increase lubricity, which reduces natural tool wear, while others increase hardness and abrasion resistance. Despite this, not all coatings can be used on all materials, and the most notable difference occurs between ferrous and nonferrous materials.
Bottom Line
One of the best China Carbide End Mill manufacturers, Huana tools, provides you with quality end mills so you can deliver the best at your work or home.