Because of the high accuracy and precision it can provide, CNC machining is one of the methods for subtractive manufacturing that is employed most frequently around the world. The relative motion that is regulated by CNC between the workpiece and the cutting tool is one of the primary contributors to its level of success. Inserts for cutting tools can take on a wide variety of geometric forms. Inserts that are round or circular are utilized in processes such as button milling and radius groove turning respectively. Some varieties can be adjusted so that unused areas of the edge can be utilized once a portion of the edge has been worn away. Thickening, radius (if applicable), and chamfer angle (if applicable) are all important criteria that should be considered for cutting tool inserts. Inserts for cutting tools frequently come with characteristics such as being unground, indexable, chipbreaker, or dished. Attachments for inserts can either be screwed on or have no hole.
Inserts are utilized in sophisticated machining processes. Fast feed inserts are utilized in an advanced cutting procedure that is designed to boost milling efficiency, or more specifically, to increase metal removal rates. When compared to tools that use turning inserts, tools that use fast-feed inserts have a smaller entrance angle and are capable of cutting two to three times faster than methods that use turning inserts.
One of the primary objectives of intelligent manufacturing is to bring about a rise in production productivity while simultaneously bringing down overall production expenses. To be successful in accomplishing this objective, it is vital to maximize performance in all facets of the manufacturing industry. Throughout the course of this procedure, technological advancements have been steadily made, and successively cutting-edge processing methods and conceptualizations have been developed. In order to accomplish this objective, the fast-feed insert and the turning insert were both developed as separate products.
1. Rapid Feed Inserts
When it comes to rapid feed milling processes, the fast-feed inserts are an essential component. The geometry of the fast-feed inserts, which was developed for the purpose of chip thinning more effectively, requires to ensure that the cutting force components are distributed correctly. There are two primary methodologies that make use of geometry. In the first design, the cutting edge of a milling fast feed insert is required to be in the shape of an arc of a great circle. One other idea revolves around the utilization of one or two straight edges that function as chords of the arc. The tiny cutting edge angle, which is typically between 9 and 17 degrees, is sufficient to meet the needs of chip thinning as well as total cutting force. When it comes to solid carbide Fast-feed inserts and replaceable milling heads, ensuring the geometry of the cutting edge is essential. However, when it comes to indexable milling, the geometry of the cutting edge can be provided by the appropriate location of an insert, even if it has a relatively simple profile.
| | | | | |
| --- | --- | --- | --- | --- |
| Picture | Code | Order Number | Coating | Name |
| | DP1402 | LNMU0303ZER-DZ-8225 | CVD Black | High Feed  Inserts |
| | DP1403 | WNMU080608EN-GM-8225 | CVD Black | High Feed  Inserts |
| | DP1404 | SNMU1206XTN-8225 | CVD Black | High Feed  Inserts |
| | DP1406 | WNMU080608EN-GM-15TF | CVD Bronze | High Feed  Inserts |
| | DP1407 | SNMU1206XTN-15TF | CVD Bronze | High Feed  Inserts |
The angle of the cutting edge of the rapid feed insert is not a constant value; rather, it changes from 0 degrees to 90 degrees depending on the axial depth of cut. When the depth is decreased, the cutting edge angle is also decreased, which results in thinner chips. A cutter with fast feed inserts has a programmed feed per tooth that is related to the maximal diameter of the cutter, also known as the maximal depth of cut (it is equal to the insert radius), as well as the maximal cutting edge angle.
However, if the Fast-feed inserts are at a depth that is less than the maximal depth, the chip will be thinner. As a result, the programmed feed will need to be increased proportionally in order to make chips that have the requisite thickness. The similar phenomenon can be seen in Fast-feed inserts, which explains why these inserts are able to run at such a high rate of speed. HUANA provides a vast selection of quick feed inserts, each of which can make use of a greater number of cutting edges and operate more effectively. This guide's purpose is to facilitate the speedy selection of the most appropriate fast feed inserts for a particular application, taking into consideration the material that will be machined and the kind of operation that will be performed.
Types Of Rapid Feed Inserts
WNMU inserts
The technology that is currently available for precision casting and forging leads to a reduction in the amount of stock that can be further machined away. For machining applications that need a shallow depth of cut, the newly developed rapid feed WNMU inserts are ideal because of their perfect suitability. Fast feed WNMU inserts have strong clamping and a higher number of teeth for the smaller WNMU inserts than standard fast feed WNMU inserts. Their design layout guarantees a higher tooth density, which enables a significant rise in feed rates during machining at shallower depths of cut, resulting in maximum productivity.
SNMU Inserts
Thanks to their eight cutting edges each, SNMU inserts are able to provide the cost-effective near-90-degree milling solution that is required in today's market. Incorporating a lead angle of 88 degrees into the machining process gives the operator the opportunity to machine in close proximity to sidewalls, fixture clamps, and other obstacles. In addition to improving the cutter's efficiency, this function enables high DOC capabilities when used in conjunction with SNMU inserts. There are two different sizes of SNMU inserts available to choose from: 12 millimetres and 16 millimetres. This enables integration into systems that have twin spindles capable of simultaneously executing cutting operations. The SNMU inserts are perfect for machining cast iron and steels in the general machining as well as the automotive sectors because they are designed for roughing and semi-finishing applications respectively. The nickel coating procedure has been done away with, which means that the body of the SNMU inserts may be created out of an ideal material that not only provides excellent performance but is also kind to the environment.
LNMU inserts are used for cutting steel and stainless steel with or without coolant. These inserts can be used in any cutter that is suited for LNMU, although milling machines are where they are most commonly found. A fast feed milling insert is suitable for use in LNMU machines. In order to get better results, a variety of coatings have been extensively applied to our inserts. For the purpose of satisfying the cutting requirements of various cutting materials, a combination coating consisting of multiple materials, such as TiAlN, TICN, TiN, and Al2O3, may be utilized. The effectiveness of our LNMU insert has been significantly boosted by the use of this coating
.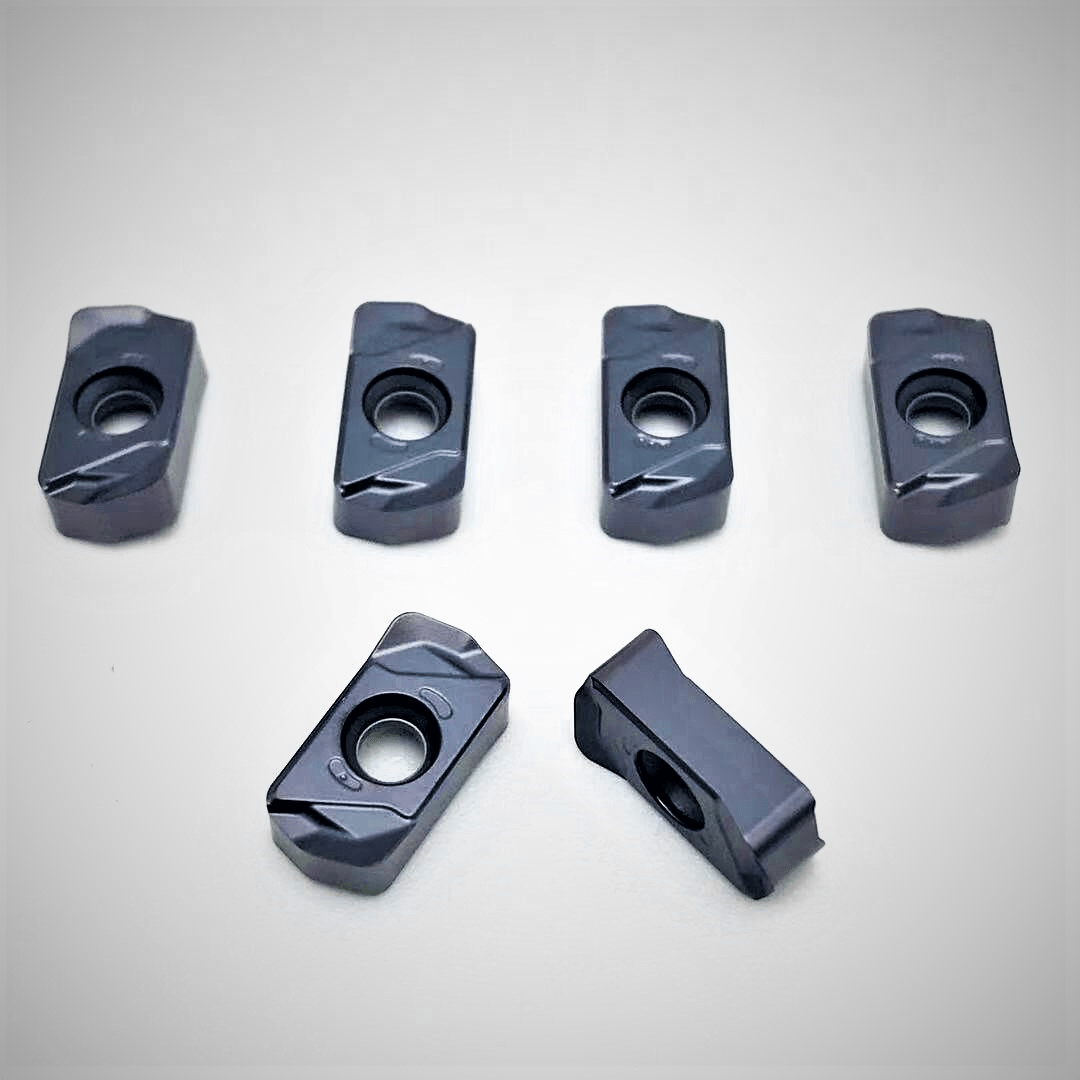 The Benefits of Using Fast Feed Inserts
Low resistance to prevent vibration and works efficiently
Various application for profiling, ramping, and face milling
Double-side insert with many cutting edges to save the cost
Precision coolant design enhances the insert life
Performs in a new process of high cutting speed and works stability
Various application for profiling, ramping, and face milling
Various application for profiling, ramping, and face milling
Various application for profiling, ramping, and
Capable of performing at a high level with an innovative and flawless layout
Applications of Rapid Feed Inserts
The use of a rapid feed insert in profiling, ramping, and face milling, which has a fast cutting speed, helps to boost the efficiency of these operations. The performance of fast feed inserts is optimized for use with high feed rate machining and slice cutting depth. This revolutionary method will help you save time because it is very effective! The use of rapid feed inserts allows for a novel process that combines a high cutting speed with a slice working depth, resulting in improved stability and productivity in the workplace. Machining, the automotive industry, the electronics sector, the aerospace industry, and the mould industry all use fast feed inserts.
2. Turning Inserts
Turning inserts have become more complex in response to developments in materials, machines, methods, and even social factors. Originally marketed for their proficiency in heavy metal removal applications while delivering longer tool life and greater multi-point efficiency, turning inserts have evolved as a result of these advancements. Innovations in the types of materials that need to be cut are an essential component in the creation of turning inserts. Toolmakers have been forced to develop substrates and coatings for both "off-the-shelf" inserts and "special," or customized, inserts as a result of a new generation of materials, which includes heat-resistant alloys and specially developed customized materials. This has resulted in the strategic development of substrates and coatings.
The geometries of turning inserts can be simplified down to three fundamental types, which are best suited for finishing, medium, and roughing operations respectively. Selecting the positive wiper geometry of the turning insert in order to reduce forces and keep production levels constant in the event of vibration. Both the geometry of the turning inserts and the insert grade are complementary to one another. For instance, the toughness of a grade can make up for the fact that the turning insert geometry doesn't provide enough strength.
The design of the turning insert should be chosen with consideration given to the needed level of accessibility provided by the tool's entry angle. In order to ensure the insert's strength and dependability, the nose angle should be increased to its maximum achievable value. Having said that, this aspect has to be weighed against the several different cuts that need to be carried out. A large nose angle is robust, but it calls for a greater amount of machine power and has a greater propensity to vibrate. A tiny nose angle is weaker and has a smaller cutting edge engagement, both of which might make it more sensitive to the effects of heat. A large nose angle, on the other hand, has a larger cutting edge engagement.
The size of the turning insert varies according to the requirements of the application as well as the available space for the cutting tool in the application. When the insert size is increased, the stability also increases. Insert sizes typically greater than IC 25 millimeters are utilized for heavy-duty machining (1 inch). In many instances, the size can be decreased throughout the finishing process.
Types of Turning Inserts
WNMG turning inserts feature a rake angle that is in the negative. WNMG turning inserts each contain six cutting blades that are positioned in a different turning section of the tool. HUANA maintains a sizable stock of WNMG turning inserts and also offers expedited shipping on all orders. In order to prevent chipping, WNMG turning inserts are double-sided trigon inserts. These inserts have a negative rake angle that fluctuates along the edge from positive to negative. The WNMG turning inserts have a unique design that helps to prevent cratering.
CNMG turning inserts with a medium amount of machining at an unstable condition chipbreaker. These inserts feature a shape that is rhombic 80 degrees with a negative geometry. They come in grades that are appropriate for steel, cast iron, and stainless steel. CNMG turning insert offer a carbide turning solution that is both affordable and efficient for individuals who are working with a limited budget. Turning inserts produced by CNMG have an economy-style negative turning insert. Steel, cast iron, and stainless steel are all appropriate substrates for the CNMG turning insert. CNMG turning inserts offer a carbide turning solution that is economical for individuals who are working with a limited budget.
VNMG Insert, used for applications in the semi-finishing and finishing processes. Low forces required for cutting as a result of the edge's extreme sharpness and the positive rake. VNMG turning inserts have rhombic indexable carbide turning inserts with a 35 degree angle. Double-sided VNMG turning inserts are utilized for a variety of turning-related applications. The VNMG turning insert comes in a variety of radius options, which can be used for finishing, general purpose, and rough turning respectively. Turning inserts from VNMG can give as many as four distinct cutting edges. Inserts in the shape of a "V" provide a pointed shape that is perfect for finishing and semi-finishing.
The TNMG turning insert is most commonly used for metal turning, milling, cutting and grooving, thread turning, and other applications that are functionally equivalent. TNMG turning inserts are normally indexable cemented TNMG turning inserts that are replaceable. These inserts are utilised in the machining of nonferrous materials, high temperature alloys, and ferrous materials such as steel and cast iron. TNMG inserts are turning inserts that are ISO standard and are used most regularly in virtually all CNC lathes. Applications in which it is used for Profile Turning and general shaft turning include those in which it is employed. This insert has six different cutting edges..
Applications
Most turning is done using a replaceable insert that is gripped in a turning tool body, which is then mounted on the lathe turret. Turning inserts employ highly engineered composite structures, coatings, and geometry features to achieve great accuracy and high material removal rates. Turning inserts are carbide-cutting tips held in place by tool holders and used in lathe machines. Depending on the turning application, these can be used for different finishes such as roughing, medium turning, finishing, and facing. These inserts are available in various shapes per the desired cutting angle and can be used for cutting several materials. Turning inserts are used on lathes for cutting or finishing the outside diameter of a workpiece. Turning inserts can be used to produce cylindrical parts. In its basic form, turning can be defined as the machining of an external surface with the workpiece rotating, or with a single-point cutting tool.
Turning Inserts VS Rapid Feed Insert
A tool that has a cutting part specifically designed for turning is called a turning insert. One of the cutting instruments that is utilised most frequently is known as the turning insert. The portion of the turning insert that generates and processes the chip is known as the working part of the insert. This portion of the turning insert includes the blade edge, the structure that breaks or rolls the chip, the space for chip removal or chip storage, and the passageway for the cutting fluid.
Turning inserts make use of highly developed composite structures, coatings, and geometrical features in order to accomplish both high material removal rates and high levels of precision. Inserts for turning are carbide cutting tips that are used in lathe machines. These tips are held in place by tool holders. These can be utilized for a variety of finishes, including roughing, medium turning, finishing, and facing, depending on the application of turning that is being performed.
A turning insert is the name given to the cutting section of a tool that is specifically developed for use with turning. The turning insert is one of the cutting instruments that is used in a turning operation more frequently than any other. The term "working part of the insert" refers to the section of the turning insert that is responsible for the generation and processing of the chip. This section of the turning insert contains the blade edge, the mechanism that either breaks or rolls the chip, the space for chip removal or chip storage, and the path for the cutting fluid. These inserts can be purchased in a variety of shapes to accommodate the appropriate cutting angle, and they are versatile enough to be used for cutting a variety of materials. On lathes, turning inserts are utilized for the purposes of either cutting or finishing the outer diameter of a workpiece. The production of cylindrical pieces can be accomplished with turning inserts. Machining an exterior surface while the workpiece is rotating or using a cutting tool with a single point is the essence of turning, which may also be described as the process of turning.
The use of fast feed milling inserts makes it possible to machine material up to three times quicker than with traditional methods. The rapid feed insert combines a shallow depth of cut with a high feed rate per tooth, which leads in increased metal removal rates and allows for the production of additional parts. Since the cutting forces are applied to the machine spindle in an axial direction, this results in increased stability as well as a reduction in vibrations, which in turn helps to extend the life of the quick feed insert. In addition to this, rapid feed inserts save time since they eliminate the need for semi-finishing and cut down on the number of tool changes. The HUANA range of rapid feed insert systems is adaptable to the requirements of every application. In addition, with the professional and experienced assistance of the HUANA team, you will be able to implement Rapid feed inserts in a smooth manner, which will both boost your productivity and your level of competition. The use of face milling with rapid feed inserts is an excellent method for establishing a solid base upon which to perform additional machining steps or complete the finishing process. In the vast majority of cases, you will typically obtain such tight tolerances that the only necessary finishing is the last one.
The use of fast feed milling inserts is not only quite helpful when it comes to the machining of uneven surfaces with a copy mill, but it is also extremely efficient when it comes to the creation of moulds and dies with cavity milling. In the processes of copy milling and cavity milling, the application will specify the required tool diameter, which makes it simple to choose the appropriate tool. Because it frequently involves skipping pre-machining or pre-drilling, helical interpolation lends itself well to the utilization of fast feed milling inserts for the production of large-diameter holes. In addition to this, it is frequently utilised for plunging operations, which are especially important during the machining of challenging materials such as titanium and other light alloys.
Contact HUANA to buy wide range of QUALITY turning inserts and rapid feed inserts!