Machining is an intricate art form, which means that in order to do the task successfully, you are going to want the appropriate instruments. Making anything out of aluminum necessitates the use of a particular set of long reach end mills, regardless of whether the maker is a hobbyist or a professional. Milling cutters come in a variety of shapes and sizes, and one of those shapes, known as an end mill, is a cutting tool used in industrial milling applications.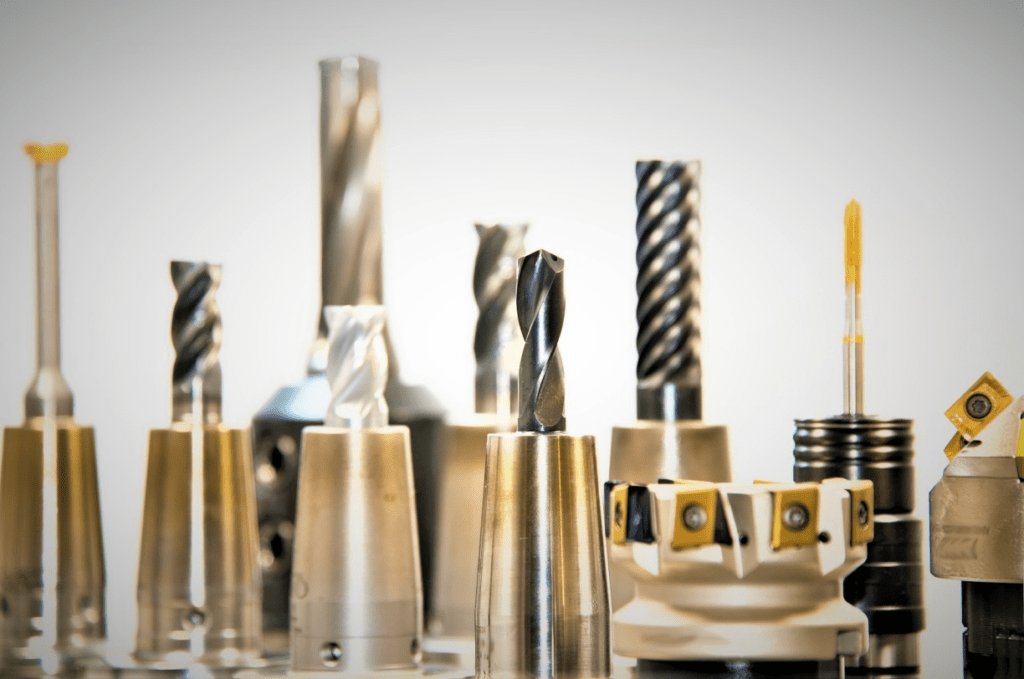 When compared to the drill bit, it differs in the application it serves, the geometry of its design, and the way it is manufactured. Milling bits, in contrast to drill bits, may normally cut in all directions, while certain milling bits are unable to cut in the axial direction. A drill bit's cutting ability is limited to the axial plane. In milling applications such as profile milling, tracer milling, face milling, and plunging, end mills are among the tools that are utilized. You have arrived at the right place if you are looking for the appropriate end mill for your needs.
We have compiled a list of the top 10 carbide end mills in the world, which should meet the requirements of almost everyone.
Harvey Tools
OSG
Garr
Kennametal
Onsrud
Niagara
SGS
YG-1
Accupro
Iscar
Harvey Tools
Since 1985, Harvey Tool Company has offered distinctive and cutting-edge tools to address complex machining needs. For both ferrous and exotic materials as well as non-ferrous and non-metallic materials, Harvey Tool provides a broad variety of tool coating choices. Harvey Tools has made a name for itself as a pioneer in the metalworking sector by offering first-rate customer service, high-quality tools, and a willingness to create and uphold solid client relationships.
One way Harvey Tool stands out from the competition is by keeping a wide variety of cutting tools and long reach end mills in stock that can be shipped the same day. Due to this outstanding product selection, specialty tools may be purchased "off the shelf," addressing even the most difficult application requirements and enhancing your bottom line. You can experience increased shop efficiency thanks to Harvey Tool's rapid access to stocked, specialized equipment.
By carefully analyzing and choosing tool geometries that improve cutting performance for a particular material and application, Harvey Tool creates product specifications. They understand that choosing excellent blanks with the proper solid carbide tapered ball nose end mill for the intended product and application is the first step in ensuring high product quality and consistency. These blanks are frequently found nearer to the tungsten and carbide mineral sources, which are normally located outside of the United States. Harvey tools are virtually all (98+%) CNC ground in the USA utilizing high-precision grinding equipment and tried-and-true production techniques.
All of these steps support maintaining stringent tolerance levels and consistency from batch to batch. To improve performance and wholesale tool end mill life for more demanding product applications, sophisticated coatings are used. As a result, the market now offers one of the widest, deepest, and most consistently performing options of tiny diameter and specialty cutting tools.
Advantages of Milling Cutter Products
Harvey Tool offers a wide selection of Specialty Profiles in stock for performing challenging cuts.
For a variety of challenging applications such undercutting, deburring, chamfering, engraving, and threading, Harvey Tool offers unique sizes and geometries.
Their Undercutting End Mills will enhance surface finish in all of your undercutting, deburring, and multi-axis machining applications.
Deburring intricate forms with it results in a superior finish than with milling-type cutters.
For the best tooling performance possible, coatings are tailored at Harvey Tool to certain materials and alloys.
Each coating provides the cutting wholesale tool end mill with a special benefit, such as greater strength, improved lubricity, heat resistance, and wear reduction.
Multiple flutes can now be present on the tapered profile of the chamfer cutter thanks to the flat end of the cutter's advantage.
OSG
OSG is the most successful maker of round cutting tools in the world, holding the leading market share in taps, drills, and end mills respectively. When OSG first began doing business in 1938, the sole product that was created and offered for sale was taps. Since then, OSG has developed into a comprehensive cutting tool maker. In order to meet the requirements of its customers, the company has significantly expanded its product selection, which now includes gauges, dies, end mills, drills, and indexable tooling.
OSG's primary focus has always been on meeting the requirements of the market for high-quality goods that are up to date with the most recent technological developments. This way of thinking serves as both the foundation of OSG as a company and the impetus behind its activities on a worldwide scale. OSG will continue to be guided in its pursuit of preserving its position as the world leader in the field of metal cutting by its dedication to quality and to the introduction of new innovations.
End mills are utilized in the process of cutting and contouring molds for plastic components. Examples of these parts include die-casting dies for automobile parts, stamping molds, and electric household appliances. OSG has created various carbide end mills that are exceptional in both processing precision and durability in order to satisfy today's demanding criteria (smaller size, lower weight, and reduced cost). These needs include smaller size, lower weight, and reduced cost. In order to achieve an even higher level of performance, efforts are being put into the creation of new goods that make use of our cutting-edge, patented coating method.
Advantages of Milling Cutter Products
Milling mold components with a high level of efficiency, both for deep side milling and pocket milling
A cutting edge that is flat produces a better level of precision and quality in the machined surface.
Chatter suppression through the use of variable geometry.
Enhanced milling precision thanks to the component's high stiffness.
Rake angle that is positive, which minimizes the amount of force needed for cutting.
Superior surface quality achieved through the use of an advanced multilayer DUARISE/DLC coating..
Garr Tool
The Garr Tool Company has dedicated itself to producing the best quality carbide cutting tools at affordable rates with unmatched customer service for almost 60 years. The present manufacturing facility has more than 140,000 square feet of tidy, effective production area, home to cutting-edge CNC grinding machines operated by responsible personnel. Every day, they manufacture reamers, carbide end mills, and other kinds of cutting wholesale tool end mill designs. They now lead the nation in high-performance solid carbide cutting tool production, with all products being created entirely in the USA. Customers like the fact that they carry a significant inventory of their goods in stock, resulting in an unprecedented turnaround time for orders. Distributors can be found in 35 countries, and end users worldwide trust and take pleasure in the products that originate from GARR TOOL.
Other manufacturers may occasionally have stock problems for certain tool sizes or lengthy delivery for specialties. Garr takes pride in keeping over 99% availability of all of the goods in their normal catalog, thus this does not occur with them.
Advantages of Milling Cutter Products
End mills, drills, reamers, routers, and other solid carbide cutting tools are Garr Tool's area of expertise.
Solid carbide reamers from.059 to.502 in regular sizes and bigger sizes in custom sizes are produced by Garr.
For all types of materials, they provide a complete array of high performance solid carbide drills.
They provide burrs and rotary files made of solid carbide in a range of sizes and forms.
And finally, they produce a broad selection of high-performance 1 8 end mill for practically any use on a shop floor or manufacturing line..
Kennametal
Milling has evolved through time to incorporate a wide range of processes and applications. This means that surfaces, threads, holes, and cavities that formerly needed turning, drilling, tapping, or other processes, may now be quickly machined with milling. You may keep a competitive advantage over businesses that employ more labor-intensive or inaccurate processes by using the appropriate milling equipment.
They share your enthusiasm for accurate and reliable milling at Kennametal. For all your traditional and modern milling needs, their assortment of Kennametal milling tools includes indexable and solid 1 8 end mill. They can also assist you in deciding which of their carbide mills and inserts is best for your application and machinery, as well as in putting improvement strategies into practice.
Advantages of Milling Cutter Products
The most demanding situations may be handled with Kennametal Solid Carbide End Mills.
Their 1/4 flat end millwill provide you the best MRR and durability whether you need one for aluminum, titanium, stainless steel, or another material.
Solid carbide end mills made of Kennametal last longer, cut more quickly, and machine more precisely.
For machinists who require a tool to operate with a variety of materials and different sorts of cuts, general purpose solid carbide end mills is an effective answer.
General-purpose Kennametal solid carbide end mills are flexible and cost-effective while yet retaining excellent metal removal rates.
Onsrud
LMT Onsrud has been supplying high-quality cutting tools for a variety of sectors, including wood, composites, and exotic metals, for more than 75 years. Cutting tools that are On Spec, On Time, and produced to your strict requirements are what they strive to offer to our customers. Composites are now a widely used component in a variety of industrial sectors. Onsrud has created a variety of high-performance composite tools to suit strict requirements. Titanium, stainless steels, end mill for tool steel, and their MaxQ series of 1/4 flat end mill may be utilized in metalworking to achieve the highest rates of material removal for slotting to profile. A complete series of 3/16 ball end mill for aluminum and non-ferrous materials has been created by Onsrud.
Advantages of Milling Cutter Products
Solid carbide tools are more brittle and need robust toolholding mechanisms, but they have a longer tool life and can cut more quickly than other substrates.
Uncoated tools are excellent for a variety of applications since they only have the basic substrate and don't have any further treatments or coatings.
A razor-sharp cutting edge and simple chip evacuation are made possible by the polished flute.
Their milling cutters are utilized with solid surface, metal, wood, and plastic. A spiral with an upcut is utilized for better chip evacuation.
With round shanks, a variety of toolholding methods may be used…
Niagara
Niagara is aware that its clients place a premium on consistency, quality, and the highest degree of performance in their products. These foundational concepts start in their specialized research, development, and testing facilities. The information learned from these resources serves as a framework for our own education as well as for them to help their clients develop into knowledgeable and useful experts. Numerous activities in product development and education support Niagara's ongoing success in exceeding industry standards. The company guarantees that the commitment it makes to give consumers the best cutting instruments possible by constantly aiming for excellence and valuing their needs.
Advantages of Milling Cutter Products
By combining the finest carbide substrates with highly wear-resistant coatings, optimal cutting geometry, and carefully regulated edge preparation, Niagara's contemporary carbide tools deliver amazing performance.
Niagara's product line includes a sizable amount of specialized instruments.
Their engineers work closely with you to deliver the best solution to unique machining issues when the requirements go beyond what can be accomplished with regular equipment.
They also provide a speedy delivery option for common instruments that need minor adjustments to fulfill particular dimensional specifications.
Their customized tool program's quick turnaround from quotation to product delivery is a distinguishing feature.
SGS
SGS is an American maker of solid carbide metal cutting tools. They are experts in producing high-performance drills and endmills with a variety of finishes to suit various needs. SGS does its own coating, improving the consistency of their procedures. A complete array of standard inch and metric solid carbide endmills, drills, boring bars, and reamers is also available from SGS. SGS is a producer of specialized cutting instruments. The business produces and distributes round solid carbide cutting tools for the metalworking, aerospace, and automotive sectors in addition to providing tooling services. These tools include end mills, drills, routers, micro tools, and coatings.
Advantages of Milling Cutter Products
The production of harmful harmonics is suppressed by the rhythmic patterns that are formed by the cutting edge of standard 5/32 end mill when the flute spacing is uneven.
By altering the angle at which each cutting edge enters and departs the material during the milling process, the innovative uneven helix design helps to eliminate the harmful harmonics that happen during normal machining.
The fundamental determinant of chip size and form, as well as the pressure and temperature of the cutting zone, is the rake angle.
When pocketing or slotting, the coolant option effectively provides coolant to the cutting zone to improve chip removal.
Over a variety of spindle speeds, variable flute design offers good chatter reduction.
specially produced with a Ti-NAMITE-M coating for applications requiring excellent wear resistance, less friction, and prolonged tool life.
Ti-Namite-A coating is furthermore offered for the best end mill for tool steel performance.
YG-1
Since its founding in 1981, YG-1 has developed into a powerful and reliable business that is well-known across the cutting tool sector. Cutting tool best end mill manufacturers and retailer YG-1 is constantly looking to the future thanks to superb human resources and exceptional technology. It provides drilling and milling tools. Additionally, the company offers thread mills, turning tools, and threading tools such solid carbide tapered ball nose end mill, synchro, combination, spiral flute, spiral point, straight flute, cold forming, and nut taps.
For YG-1, creating a product begins with "Zero," since the company has always aimed to create something original that has never been seen on the market. YG-1 was able to create intriguing products that astounded clients from all around the world by seeking technical advancement via challenging conventional wisdom. New products with great cutting and excellent finished surface are produced by selecting the best raw material, carrying out correct heat treatment, and passing YG-1's stringent quality checks. Every day, YG-1's technical institutes work to position themselves as the cutting tool industry's technological leaders.
Advantages of Milling Cutter Products
A wide variety of Hi-Performance and General Purpose End Mills are available from YG-1. Today, you may purchase here online. Hi-Performance and General Purpose End mills are available from YG.
One of the most cost-effective cutting tools in the world, YG-1 milling tools have a large boost in productivity, which has satisfied many customers.
It is renowned for its exceptional performances and broad range of goods.
Enablingg the coverage of a huge variety of work materials as well as diverse applications.
Accupro
You've come to the correct place if you're seeking for the best Accupro cutting tools for the task. They are a reputable brand in the market for industrial-grade cutting and milling equipment, and they have excellent goods to meet any demand. High-performance metalworking tools from Accupro are the ideal choice for dependable, effective, and efficient operations. They are incredibly accurate, allowing you to fine-tune your cuts and create workpieces with a variety of characteristics. Since of Accupro's extensive experience and track record of success in the production of industrial power tools, you should pick them because their products are of the highest caliber and are built to last. Additionally, they provide premium cutting equipment in every price range. Even better, you can be confident they will perform above and above your expectations since they are built with the best materials and constructed to the highest standards. For instance, the zirconium coating on this Accupro 3-Flute Single End Mill makes it perfect for use with aluminum. In the meanwhile, this Accupro 2-Flute Double End Mill is ideal for basic milling tasks including chamfering, countersinking, and deburring.
But it doesn't stop with their end mills; in fact, their complete range is continuously affordable and continues to be well-liked by top business experts.
Advantages of Milling Cutter Products
For all of your milling needs, Accupro offers high performance solutions.
The milling machine tools from Accupro are perfect for removing tiny chips from surface material, creating workpieces with a variety of characteristics, and perfecting previously performed cuts.
Accupro milling solutions are manufactured to perform and offer a broad selection of end mills for cutting, edging, grooving, shaping, and other tasks.
Their tile cutters are diamond coated for increased durability and speed, and their saw blades are made of high-grade steel for greater sharpness and endurance.
When gradual modifications are preferred, Accupro end mills are superb equipment that offer an improved level of accuracy.
Even when you're using a range of materials in various applications, they are highly durable and cost-effective.
Iscar
ISCAR, based in Northern Israel, is a dynamic full-line producer of precision carbide metalworking tools, manufacturing a diverse variety of carbide inserts, solid carbide tapered ball nose end mill, and cutting tools for virtually all metal cutting applications. ISCAR also offers metalworking solutions in engineering and production to key industries worldwide. Many revolutionary products, custom-designed for customers, have propelled ISCAR to the forefront of manufacturing industries such as automotive, aerospace, and die & mold best end mill manufacturers.
Beginning with the carbide powders and continuing through the manufacturing process, ISCAR, an AS 9100 certified company, maintains a demanding Quality Assurance program that has earned the trust and respect of customers worldwide. Incoming batches of carbide powders are thoroughly tested to verify that the raw ingredients do not depart from the specifications. Standards are entered into the automated quality-analysis software using the benefits of current technology. Throughout the manufacturing process, optical scanning and computer analysis verify that there are no deviations from requirements.
Advantages of Milling Cutter Products
ISCAR has announced a slew of new products, all aimed at improving the three Ps: Productivity, Profitability, and Performance.
New grades and coatings let cutting tools to operate quicker, cooler, resist built-up edge, and last longer.
New geometries are being developed in order to lower cutting forces, conserve energy, enhance chip control, and give more edges per insert.
Multifunction tools with more versatility to complement the "full machining" trend on CNC mill-turn centers.
Stationary tools with stronger self-clamping features that can resist heavy duty interrupted cuts.
It is primarily intended for rough to semi-finish operations, but it also produces a reasonable surface finish even at maximum intensity.
Conclusion
We want to ensure sure you've got the best carbide end mill for your job when it comes time for your next machining endeavor. Of course, all of our options are decent, but if you get into the hobby, there's a whole universe of parts to discover. Have fun and be safe, but most importantly, make sure you have the proper equipment for the task. Get in touch with the best end mill manufacturers, HUANA.