Types of inch size end mills
Choosing the proper end mill before activating a CNC machine may be difficult. There are several factors to consider, including end mill length, geometry, profile type, material, performance, cost, surface polish, and tool life, among others.
This article seeks to teach the fundamentals of end mill science while addressing a simple question: what sorts of inch-size end mills are available?
Forms & kinds
There are as many varieties of end mills as cutting operations: profiling, contouring, slotting, counterboring, and drilling. Here is a detailed article on the major ones.
During heavy operations, roughing end mills are utilized to swiftly remove enormous quantities of material. Their construction allows for little or no vibration, but their finish is rougher. The scalloped outer diameter of roughing end mills causes the metal chips on a workpiece to fragment into smaller pieces. This reduces cutting forces for a given radial depth of cut.
As their name indicates, roughing end mills are primarily used for rough milling when eliminating vast volumes of material. Various helix angles and flute configurations are available for roughing end mills due to the variety of fabrics that may be machined.
Tapered end mills are center-cutting tools meant to manufacture angled slots and may be used for plunging. They are often used in die-casting and molding. They are primarily used for pieces requiring an inclined side wall. They have a 30° helix and three flutes with a square termination. The possible angles for conical mills are 5, 1, 1.5, 2, 3, 4, 5, 7, 10, and 15 degrees TPS.
A tool with a tapered neck will have a growing cross-section, resulting in reduced tool deflection and higher strength than straight reach choices. When comparing the performance and productivity of an end mill with a straightforward reach to the identical end mill with a slightly tapered distance, there are evident advantages in tool performance and production.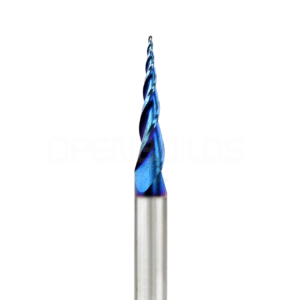 Common square end mills may be used for various milling applications, including slotting, profiling, and plunge cutting. They may be single- or double-ended and fashioned of solid carbide or other high-speed steel compositions.

Corner-radius end mills feature gently rounded corners that assist in uniformly distributing cutting forces to avoid end mill damage and prolong its life. They may form grooves with flat bottoms and slightly rounded inner edges. A Corner Rounding End Mill is often used to add a specified radius to a workpiece or remove a sharp edge or burr during a finishing process.
The points of ball-nose end mills, commonly referred to as "ball end mills" are rounded. They may be either single- or double-ended. They may have either general-purpose or high-performance geometries. They are used for milling corners with a big radius, milling grooves with a wide radius, and contour or profile milling. The smaller diameters are often used for engraving and 3D tooling.
T-slot end mills can cut precise keyways and T-slots for working tables and related applications. Utilize these end mills for general-purpose work in most materials, including aluminum, brass, bronze, iron, and steel. Frequently, they are used to generate slots in machine tool tables, indexing tables, and other work retaining surfaces.
Straight flute milling cutters
End mills with straight flutes have a zero-degree helix. Wood, polymers, and composites are examples of materials where the lifting action of a spiral flute might result in undesirable outcomes. For these materials, end mills with a straight flute decrease edge fraying and give superior surface finishes to those with a helical flute.
The straight flute prevents edges from fraying and gives an excellent surface quality. They are used for milling plastics, epoxy, and glass composites and unique profile milling applications.
Some end Mill Size Standards (metric/inch)
Size Decimal Category
0.1000 0.1000 Micro 12.0mm 0.4724 Metric
0.1010 0.1010 Micro 31/64″ 0.4844 Inch
0.1020 0.1020 Micro 1/2″ 0.5000 Inch
0.1030 0.1030 Micro 13.0mm 0.5118 Metric
0.1040 0.1040 Micro 33/64″ 0.5156 Inch
0.1050 0.1050 Micro 17/32″ 0.5313 Inch
0.1060 0.1060 Micro 35/64″ 0.5469 Inch
0.1070 0.1070 Micro 14.0mm 0.5512 Metric
0.1080 0.1080 Micro 9/16″ 0.5625 Inch
0.1090 0.1090 Micro 37/64″ 0.5781 Inch
7/64″ 0.1094 Inch 15.0mm 0.5906 Metric
0.1100 0.1100 Micro 19/32″ 0.5938 Inch
0.1150 0.1150 Micro 39/64″ 0.6094 Inch
3.0mm 0.1181 Metric 5/8″ 0.6250 Inch
3.5mm 0.1378 Metric 21/32″ 0.6563 Inch
9/64″ 0.1406 Inch 17.0mm 0.6693 Metric
5/32″ 0.1563 Inch 43/64″ 0.6719 Inch
4.0mm 0.1575 Metric 11/16″ 0.6875 Inch
11/64″ 0.1719 Inch 45/64″ 0.7031 Inch
The difference between metric and inch end mill sizes
Metric mills feature cutting diameters and shanks of metric dimensions. They are often used in the automotive and aerospace milling industries. There are both general-purpose and high-performance geometries available. Our whole inventory of metric end mills is given below. These are often classified as square end mills, ball end mills, and variable flute end mills. They are in size from one millimeter to 25 mm. They are available in 2 flutes and four flute geometries and as solid carbide with AlTiN and TiN coatings.
What is the Metric system?
One metric is one-thousandth (0.001) of a meter, which is defined as the distance light travels in a vacuum at 1/299,792,458 seconds.
The metric, or millimeter, is a multiple of the meter, the SI length base unit. In the metric system, the prefix "milli" signifies 10-3. mm may be used to shorten metrics. Therefore one metric can be written as 1 mm.
On most metric rulers, the minor ticks reflect the metric system. As a point of comparison, the thickness of a US dime is 1.35 mm.
Nations Utilizing the Metric System
There are just three nations in the world that do not utilize the metric system. Among the major nations that use the metric system are:
The African nation of South Africa
What is inch system?
An inch is a length measurement unit equal to 1/12 of a foot or 1/36 of a yard. Due to the legal definition of the international yard as precisely 0.9144 meters, one inch is equivalent to 2.54 cm.
The inch is an imperial and US customary unit of length. Inches may be shortened to in; for instance, 1 inch can be written as 1 in.
Often used to represent inches is the sign ′′, also known as a double-prime. Often a double-quote ( ") is used for a double-prime for ease. Commonly, a double-prime is used to represent 1 in as 1."
The ordinary ruler contains 12 inches "standard unit of measurement for inches is the. They are also often measured using measures typically available in lengths ranging from 6′ to 35′. Scales, calipers, measuring wheels, micrometers, yardsticks, and even lasers are some other forms of measuring instruments.
You may get a ruler or tape measure from a local merchant or home improvement center for measuring length. Rulers are available with imperial, metric, or a mix of both units of measurement, so make sure you choose the appropriate variety.
Who Currently Utilizes the Imperial(Inches) System?
This may come as a nice one, but the United States of America, Myanmar, and Liberia are the only three nations that still formally use the imperial system. In Myanmar and Liberia, however, the metric system has been used alongside the imperial system, and both countries are now transitioning to adopting just the metric system. This leaves the United States the most powerful nation that will continue to utilize imperial measures. The United States proclaimed in 1975 that the metric system would be the dominant way of expressing weights and measurements, but this never came to pass. The imperial system was never formally outlawed. Thus the United States will continue to use it
Intriguingly, one would anticipate that the imperial system would be the favored option in the United Kingdom, given that it was developed there over two centuries ago. However, the United Kingdom is midway between the two systems. Even though the metric system is the official measurement unit, people prefer to express length and speed in miles/per hour. Additionally, pounds, gallons, and pints are used to indicate volume.
Measurement Comparison
The most obvious distinction between these two measurement systems.
As their names imply, the metric and inch measuring systems are distinct. In contrast to a metric end mill, which adjusts nuts and bolts to metric, a standard twist changes nuts and bolts to a common metric.
1/4, 5/16, 11/32, 7/16, 1/2, and 9/26 inches are typical fractional units of measurement for standard end mills. In contrast, metric end mills use quantities such as millimeters, centimeters, etc.
Depending on the application, multiple sizes of end mills might be used. For example, while repairing trucks, you will need a big end mill, but when fixing bicycles, you will need a smaller size. The 38 end mill is the most often used standard end mill.
Comparison of Standard and Metric Design
Inch Vs. Metric
Unfortunately, these two kinds of end mills have almost identical construction. It is practically hard to distinguish them at a look.
The form of metric and inch end mills is identical.
Specifically, they all possess six hexagonal heads. You may use plugs, boxes, and openers with versatility. The socket end mill has continuous contact and a ratchet mechanism to facilitate smooth operation in all directions, making it simpler to modify things.
However, if you pay apparent attention, you will see a difference in some instances.
Standard end mill units are represented as fractions, while metric end mill units are displayed as either whole numbers or decimals.
When developing projects in Sketchup, metric dimensions are far more convenient than feet and inches. They are more efficient, and I make fewer mistakes.
Example: what is half of 438mm? So, fifty percent of 400 is 200, and fifty percent of 38 is 19. So, 219 millimeters. Quite elementary material.
However, suppose I need to cut a 17 14″ board in two. What is one-half of 17 14? Did you get it? The answer is 8 and 58″. I would wager that most of us would need more than a few seconds of thought.