Are you new in the industry of milling? Or are you having a tough time recognizing the type of milling? You may need to consider working hard on your milling knowledge. Out of the most common milling tools, there are roughing end mill and finish end mill. They may seem similar to many people, or you can say to people who are beginners or who do not have knowledge about it. However, if you want to progress in the industry and know the clear distinction between both, I recommend you read the blog till the end. In this blog, we will thoroughly look at the difference between roughing end mill and a finishing end mill.
What is an End Mill?
Unlike drill bits, End Mills rotate horizontally or laterally (side-to-side) rather than vertically. Material and surface finish should be considered when selecting endmills. Many types, sizes, and flute shapes are available. Using it, you can slot, profile, contour, counterbore, and ream. End mills are also used for engraving designs, cutting plastic, making molds, and making circuit boards, in addition to cutting precision parts.
What Is Roughing End Mill?
Compared with standard end mills, roughing end mills remove much more metal, including large amounts, quickly and efficiently. When used to remove stock from low to medium carbon steel or alloy steel before finishing, coarse tooth end mills remove large chips from heavy cuts, deep slots, and rapid stock removal. When cutting high-temperature alloys and stainless steel, fine tooth roughing end mills remove less material but apply pressure to many more teeth, ensuring longer tool life and a smoother finish. Metal chips break into smaller segments due to scallops on the outside diameter of these mills. Cutting pressures are therefore lower at a given radial depth. When large amounts of material need to be removed, they are used mainly to rough mill it off. AlTiN or ZrN PVD coating is often applied to carbide, cobalt, and HSS substrates. In terms of pitch, they are available in coarse, medium, and fine varieties. Long, extra long, and stub versions are available. Since the milled materials differ widely, helix angles and flute configurations also vary. They come in a wide variety of diameter sizes from 1/8″ to 3″.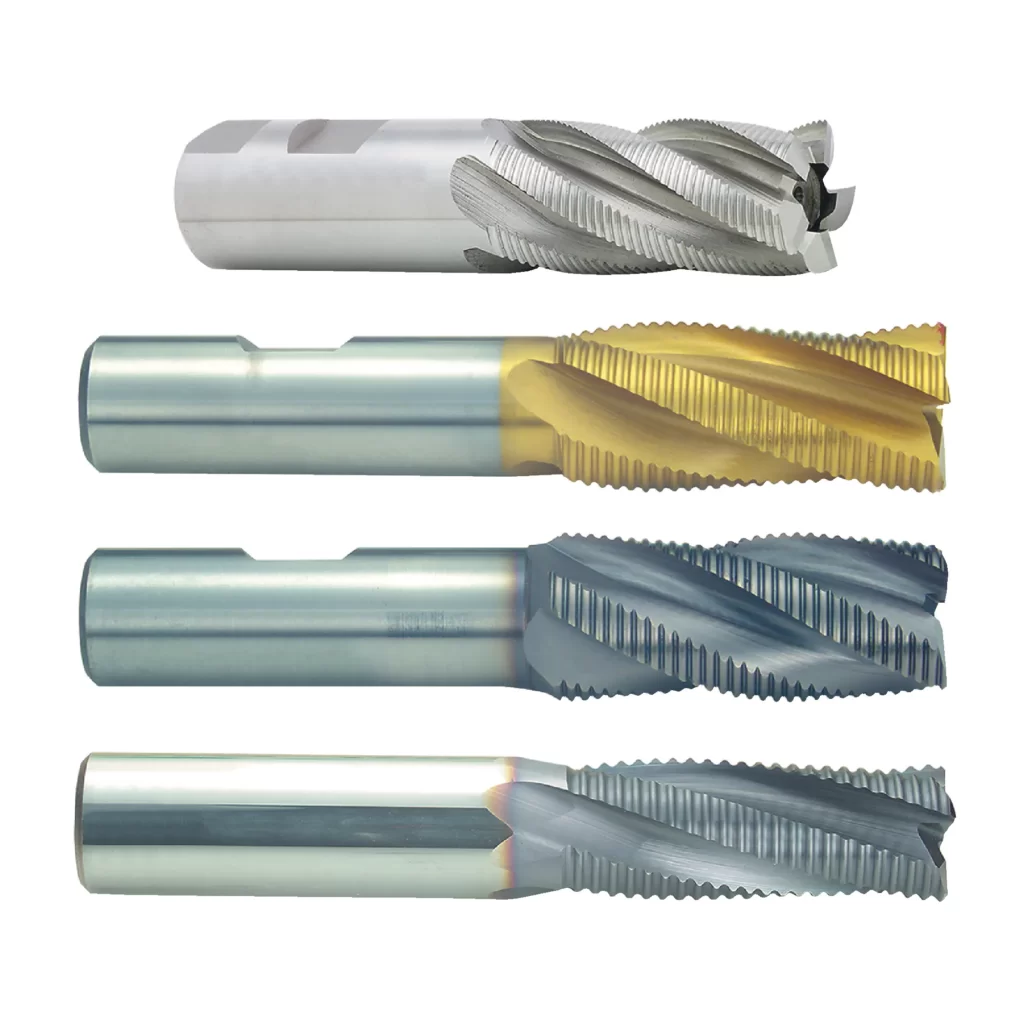 What is Finishing End Mill?
In addition to being smooth as traditional end mills, finishing end mills have the advantage of rapidly removing large amounts of material. A two-step hogging/finishing process takes longer, while this process saves time. Resharpening tools will extend their life without modifying their shape. We offer a wide range of coatings, tool materials, and flute numbers to meet most machining requirements. One square end and a smooth outside diameter characterize a finishing end mill. There are a different number of flutes and helix angles on each helix. These tools are mainly used for side milling operations.

Roughing Vs. Finishing End Mill
A rough cut is applied to impart a basic shape according to desired characteristics as a first step. It is not essential here to consider surface roughness; instead, removing the most significant amount of unwanted material from the surface is more important. In contrast, finishing passes are performed to improve surface quality, dimensional accuracy, and tolerance. Finish passes do not take into account stock removal rates.
Almost every conventional machining process results in the appearance of scallop marks or feed marks due to the velocity of the feed. Roughness on the surface is caused by scallop marks similar to saw teeth. The feed rate is the only factor directly responsible for surface roughness other than tool geometry. The surface finish of a product can be negatively affected by a higher feed rate. A higher depth of cut also degrades surface finish and machining accuracy. As a result of rough cutting, more excellent feeds and deeper cuts are utilized, resulting in poor surface finishes. It also does not meet the requirements for close tolerances and high dimensional accuracy. By contrast, finish passes require very low feeds and shallow cut depths, improving finish, accuracy, and patience.
Surface finishing helps to improve surface finish, tolerance and minimize errors. Roughing is primarily used to remove excess material from a piece. In addition, roughing is conducted at a higher feed rate and a deeper cut depth. A roughing process also removes more material than a finishing process.
The surface quality produced by both the end mills is better if we compare that of the roughing and finishing process. Unlike roughing, finishing can provide high dimensional accuracy and close tolerance, whereas roughing cannot.
It is the degree of roughness that determines the degree of demand placed on the inserts as well as the cutting angles. Surface finish is usually improved by using positive rake inserts when finishing machining. Some aspects of negative rake inserts make them most suitable for rough machinings, such as absorbing cutting forces, which makes higher cutting speeds possible.
 Advantages of Roughing End Miling
It is possible to realize fast feeding when using roughing operation, and this error can be corrected afterward when using the finishing operation to ensure a high level of quality.
It is possible to utilize the advantages of rough and finish machining equipment to the fullest extent by dividing the processing stages.
When rough machining blanks, sand holes, air holes, and insufficient machining allowances can be discovered, the defect can be repaired or scrapped as soon as possible, reducing processing times and costs.
The residual stress will be great after hot working, so separate the rough and finish machining. After cooling, age the product to remove residual stress.
Surfaces from different stages can be protected from wear by rough machining before mechanical finishing.
 Advantages of Finishing End Miling
It has a low feed rate, making it a good choice for beginners.
Despite its small size, it produces a good quality surface finish.
Compared to other methods, it provides highly accurate dimensional measurements.
There is a low amount of material removed by a finishing end mill.
Choosing An End Mill
Milling Performance and Durability
High-quality tools should be designed when milling at high speeds and temperatures (which can cause premature tool wear). Coatings should also resist oxidation at such high temperatures since oxygen becomes reactive. By combining fine-grade substrates with the coating, both toughness and hardness are simultaneously increased.
A great deal of emphasis should also be placed on edge preparation. A homogeneous, deliberately rounded-off cutting edge prevents cracks from forming, minimizes wear, and ensures even abrasion. Various materials can be machined with milling cutters that possess these characteristics.
Cutter Diameter
During rotation, the cutter's cutting edges form a slot whose width is determined by its diameter. The smaller the cutter diameter, the greater the clearance within tight pockets, and the larger the tool, the greater the rigidity for jobs with high volumes. If the cutter diameter is selected incorrectly – either too large or too small – the job can't be completed, or the final part won't meet specifications.
Length of Cut 
During an operation, the most extended contact length should determine the end mill's cut size. Ensure that this only lasts as long as necessary. Minimizing overhang, increasing rigidity, and reducing chatter will be achieved by selecting the shortest tool. To avoid making long cuts in applications that require a depth greater than 5x the tool diameter, it may be best to explore necked reach options instead.
Tool Profile
End mills are most commonly designed with a square, corner radius, or ball profile. There are 90-degree angles on the corners of the flutes on a square profile end mill. By replacing the fragile sharp corner with a radius, corner radius profiles prolong tool life, adding strength and preventing chipping. Lastly, a ball profile is a profile that has flutes without a flat bottom and is rounded off at the end. An end mill with this style is considered to be the strongest. Unlike a sharp edge on a square profile end mill, an entire rounded cutting edge has no corners and removes the most likely failure point from the tool. Part requirements are often considered when choosing an end mill profile, such as square corners within a pocket, which require a square end mill. Consider using a tool with the most effective corner radius possible when designing your part. Corner radiuses are recommended whenever they are allowed by your application. Use a corner radius tool for rough corners, then finish with a square profile tool if square corners are necessary.
 Material Of The Tool
As a result of their limited capabilities, regular carbon steel is usually not an option. Consequently, when it comes to getting the job done at a very reasonable price, HSS (high-speed steel) is the best choice. Furthermore, because of the rate at which it wears out, other options may be better if the product is used for an extended period.
Among them, cobalt-bearing HSS can be milled at even faster speeds than HSS without cobalt. As a result, most jobs can be performed with them, making them suitable for most applications.
Concerning the properties mentioned above of such milling machine tools, cemented carbide is another step toward high-performance milling. The up-front costs are higher but more cost-effective in the long run.
 Material You Are Cutting
It will help you narrow down your end mill selection considerably if you know the material you are working with and its properties. Mechanical properties determine how a material behaves when machining and every material has unique characteristics. The machining strategy is different for plastic materials, and the tooling geometries differ from steel ones. Tool performance and longevity will improve by choosing tools with geometries suited to those unique characteristics.
Number of Flutes
An abrasive milling bit consists of channels called flutes. An angled milling bit's feed rate is determined by how many flutes it has. The downside is you'll end up with a significant milling bit, leaving fewer spaces for metal bits cut off from the workpiece due to a high number of flutes.
High Speed with Good Chip Evacuation
In addition to delivering excellent chip evacuation, helix four- and five-fluted routers have a multi-layer AlCrN coating to provide extended tool life. High feed rates and high speed are designed into the tool geometry. Besides having a radius on the corners, sizes are available in standard lengths and extended reach to accommodate milling in tight spaces.
Tool Coating
Your CNC machining tool has a coating of some kind that also affects the way it performs. A layer, such as titanium nitride can extend the tool's lifetime, but the cost of the coating also increases. Some types of coatings can also reduce the amount of lubricant needed during the use of your tool since they make it less sticky.
 Tips for working with End Mills
Your work will be of better quality if you use the appropriate tooling for the material and project, reducing the need for excessive hand-finishing.
Matching the material feed rate with the end mill's optimal speed is essential.
Your end mill's life can be doubled if your operating speed is reduced by 50%.
Proper chip evacuation is key to optimum cutting quality – heated cutters can cause burned material, burred edges, and dull tooling.
High-production applications and more complex materials require carbide end mills.
To avoid deflection, use rigid end mills if extra-length end mills are needed.
Chips can be prevented from building up with coolant or compressed air.
Instead of using a small portion of the cutting edges, use the entire side. Increasing the surface area of your endmill will extend its shelf life.
Bottom Line
Choosing the right tool is essential when performing CNC machining, as it is a critical factor in the project's success. The CNC machining needs of Huana Tools are more efficient than those of other companies. You must know which tool to use in each position since every position requires a different tool.