Description
HUANA Grade
ISO Grade
Grain Size
Cobalt Content
Densiy
Hardness
TRS
Application
um
%
g/㎤
HRA
N/㎟
HN304F
K20-K30
0.7
10
14.45
91.8
4000
Grade for roughing and semi-finishing milling of heat-treated steel,common alloy steel,cast iron and other soft material below HRC45.Superior microstructure by the customized powder of high quality from H.C.Starck,with allows the particle size distribution to be centralized with better stability and wear resistance.
HN401
k30-k40
0.6
12
14.18
92.4
4000
General processing grade for material below HRC50.Suitable for semi-finishing and finishing milling of non-ferrous metal, common die steel, aluminum alloy and materials with uniform structure.
HN404
K30-K40
0.6
12
14.25
92.4
4200
Grade for roughing and semi-finishing milling of material(HRC45-52),including stainless steel,aluminum alloy,alloy steel,non-ferrous metal.Superior microstructure by the customized powder of high quality from H.C.Starck,which allows the particle size distribution to be centralized with better stability and wear resistance.
HN204N
K10-K20
0.2
9
14.4
93.6
4500
Excellent grade for material below HRC60 such as hardened steel. Also suitable for non-alloy metals, high hard plastics, non-alloy steel, reinforced fiber composite materials, titanium alloy materials,etc., and is widely used in the processing of high speed, high hardness and high wear -resistant materials.Application for high speed cutting tools. The ultra -high toughness allowed by the customized WC powder of nano-particle from H.C.Starck.
HN104U
K05-K10
0.4
6
14.75
93.8
4200
Grade for mills and drills with 0.4mm≤D≤1.6mm.Superior microstructure by the customized powder of high quality from H.C.Starck, which allows the particle size distribution to be centralized with better stability and wear resistance.
Solid cemented carbide rods are widely used for high-quality solid carbide tools such as milling cutters, end mills, drills or reamers. It can also be used for cutting, stamping and measuring tools. It is used in the paper, packaging, printing, and non-ferrous metal processing industries. Carbide rods can be used not only for cutting and drilling tools but also for input needles, various roll wore parts and structural materials. In addition, it can be used in many fields, such as machinery, chemical, petroleum, metallurgy, electronics and defense industries.
Specialized in tungsten carbide round bars, with an outstanding product line of coolant and solid carbide rod, we manufacture and stock unground and ground carbide rods for you. Our h6 polished chamfered cutting tool blanks are the most popular.
Materials
H.C.Starck Powder
Our grade coverage ISO K05 to K40, from machining aluminum, steel, non-ferrous metals, to titanium or we develop grade for your applications. Our 10% cobalt grade MT10S is widely used for machining aluminum and steel or general application. Our 12% cobalt grade MT12S is specially designed for machining stainless steel and our MT25S with 0.4um grain size is meant for high hardness processing. Thanks to our deep cooperation with Germany H.C.Starck, we use the best powder for carbide rod in the world for all our standard grades for carbide rod manufacturing
What is ultra-fine cemented carbide?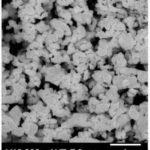 Ultra-fine grain cemented carbide is a high hardness, high strength and high wear resistance both carbide, and the processing of mutual adsorption – diffusion effect is small, suitable for processing heat-resistant alloy steel, titanium, high High strength non-metallic brittle materials and metal materials such as glass, marble, granite, Plastic reinforced glass fiberboard and other cutting and non-ferrous metals tungsten, molybdenum and other alloy processing.
As the ultra-fine grain cemented carbide with high toughness and strength, high hardness and wear resistance, so as a cutting tool to obtain high-precision edge, allowing the use of large rake angle to ensure sharp blade edge. So that it can withstand a large cutting force, and can get a high finish of the machined surface.
It can improve the precision of the tool and the finish of the machined material by 1 ~ 3, especially in the processing of heat-resistant alloy, titanium alloy, chilled cast iron, and other aspects show good cutting performance. Ultra-fine grain carbide cutting tool processing high-strength steel, heat-resistant alloys, and stainless steel, life than P01 or K10 alloy more than doubled.
Such as Meetyou ultra-fine grain carbide cutting tool processing these materials than ordinary carbide cutting tool life is more than 10 times higher. The development of ultrafine grain cemented carbide has been developed to build the foundation of cemented carbide end mills and carbide twist drills.
Carbide end mills and twist drills are generally made of high strength, high hardness, ultrafine grain cemented carbide to ensure the cutting performance of the center edge. Carbide end mills are widely used in the mold industry (especially plastic mold industry), the automotive industry, IT and related industries. The plastic industry has a large number of pre-hardened HRC30-34 plastic mold steel as raw materials, in which the hardness of its machinability is poor, only the use of carbide end mills high-efficiency processing of good surface roughness of high precision mode Cavity.
At present, carbide end mills have been used in automobile production lines, IT and related industries extensive use of Ф0.1 ~ 8mm overall carbide end mill processing glass fiber reinforced printed circuit board around and micro-processing.
Solid Carbide Twist Drill is rapidly evolving to meet the high efficiency of the automotive industry and the processing of plastic reinforced glass fiber boards (PCBs) in the IT industry. Drilling on the PCB, the hole of the hole without glass fiber hair, high-speed steel twist drill cannot meet the requirements, and must use the overall carbide twist drill. With the rapid development of electronics, information and other industries, the demand for carbide twist drill will be growing.