The substance known as "carbide," which more specifically refers to tungsten carbide, is frequently seen in stores. This tungsten and carbon combination has brought about a sea shift in the metal cutting industry over the past several decades, elevating cutting speeds and feed rates while simultaneously extending the useful life of cutting tools. In 1925, tungsten carbide was originally investigated for its potential as a tool material. After some time, Ge established a separate division that is solely responsible for the production of tungsten carbide cutting tools. In the late 1930s, Philip M. McKenna, who would later develop Kennametal, discovered that improving the performance of tools by increasing their speed could be accomplished by adding titanium compounds to the mixture. This started moving closer and closer to the breakneck speed it is at now.
The elements that make up tools and blades, collectively referred to as "tungsten carbide rod," are really composed of tungsten carbide particles and other components that have been bonded together using metal cobalt as the binder.
A company that specializes in tungsten carbide rods suppliers, HUANA manufactures and delivers carbide rods china of the highest quality for customers like you. Their product range of tungsten carbide rods is amazing.
What Is Tungsten Carbide Rod?
Tungsten carbide rod is just another name for carbide round bar or tungsten steel round bar. Cemented carbide is a type of composite material that is manufactured by the process of powder metallurgy. It is made up of refractory metal compound (hard phase) and bonding metal.
A tungsten carbide rod is a type of inorganic material that is composed of tungsten and carbon atoms in equal proportions. It may be utilized in the production of industrial machinery, tools, abrasives, and forms; yet, in its purest state, it takes the appearance of a light grey powder. Cemented carbide has a carbon content that is three times higher than that of steel, and its crystal structure has a density that is higher than both steel and titanium. Its hardness is equivalent to that of diamond, and the only abrasives that can be used to polish it are made of cubic boron nitride. It can only be polished into a cemented carbide. A new technique and a new material have been developed: tungsten carbide rod. The majority of its applications are in the production of cutting tools for metal, as well as for wood, plastics, and other materials and industries that need high levels of hardness, wear resistance, and corrosion resistance.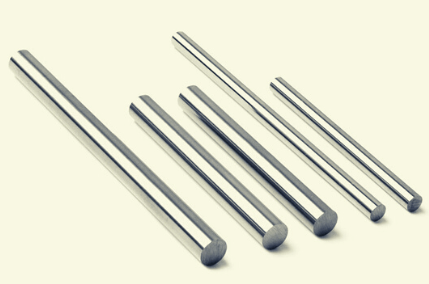 Elements of Tungsten Carbide Rod
One of these metal carbides is tungsten carbide, and it possesses many of the same qualities as the others. The reaction of tungsten hexachloride with methane or methanol, which serves as the source of carbon in the process, results in the production of this substance. In its physical state, tungsten carbide has the appearance of a fine grey powder. Tungsten carbide is an inorganic chemical compound that may be represented by the chemical formula WC. There are an equal amount of atoms of carbon and tungsten involved in the creation of tungsten carbide.
Produced in a vacuum or hydrogen reduction furnace, the product has refractory Tungsten material (Wc) micron powder as its primary component and either cobalt (Co), nickel (Ni), or molybdenum (Mo) as its binder. Tungsten carbide rod possesses a multitude of exceptional qualities, including high levels of hardness and strength, great resistance to wear and corrosion, and remarkable stability even when subjected to high temperatures. Cast iron, nonferrous metals, plastics, chemical fibre, stainless steel, and high manganese steel are just some of the materials that can be cut with this tool. Additionally, it can be used to make drilling tools, mining tools, wear parts, precision bearings, nozzles, and metal moulds, among other things.
How To Make Tungsten Carbide Rod?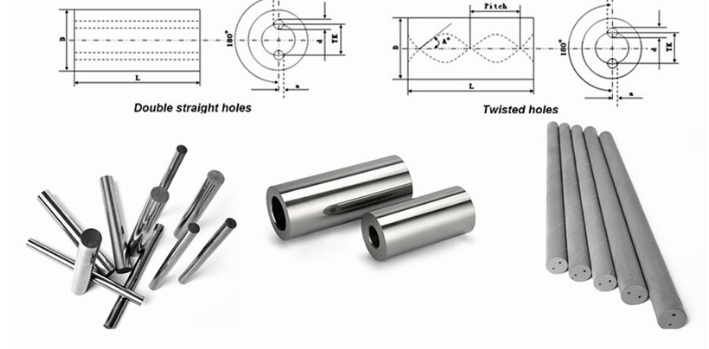 The demand for tungsten carbide rods is steadily growing in tandem with the unrelenting advancement of today's scientific and technological endeavours. Here are the some steps involved in making of tungsten carbide rods:
Grade Design
CYC grades are designed upon application. The combining of the powder is the first step in our method. The term "raw materials" refers to a variety of components, including WC and Co.
RTP Ball Milling
A wet milling machine will then be loaded with the WC powder, cobalt powder, and doping materials that have been combined together. The wet ball milling process might take anywhere from 16 to 72 hours, depending on the manufacturing technology. The ball grinding mill has the ability to manufacture powder of any grain size, including fine and ultra-fine powder. There is a wide selection of CYC-designed grades available, ranging from extremely fine to coarse grain size. In order to prevent grain contamination, the various grades are ball-milled, sieved, and granulated in separate systems before being combined.
Spray-Drying Process
The powder is transformed during the spray drying process into outstanding homogeneous particle sizes that have excellent flow ability. As a consequence of this, the dimension variation on the sintered blank is significantly reduced. In order to guarantee that the material is completely clean, the prilling tower is sprayed with drying spray. Following the completion of the mixing process, the powder will be sprayed with dry air to produce granulate or dry powder. If the material is formed via extrusion, the powder that has already been mixed will be combined once more with adhesive.
Extrusion
Extrusion pressing is used to make rods of various shapes and sizes, including helical varieties, with or without axial perforations. Achieving uniform shapes requires both automatic extrusion equipment and a high level of technical expertise. The extrusion process is a critical stage in the production of tungsten carbide rods. Extrusion requires the work of pouring the dry mixture of a specific grade and a certain proportion of molding plasticizer into a double-screw mixer, and then repeatedly rolling stirring and mixing the material within a given amount of time. After a period of rolling milling lasting between 2.5 and 3 hours, the plasticized mixed billet is formed into homogenous spheres. Following this step, the material is released, and the mold is pre-extruded.
As a result of comprehensive and varied forming solutions, it is now possible to make a wide variety of rods through the process of extrusion pressing, in addition to the direct pressing of blanks such as rotary bur blanks, disc cutters, and other similar items. The use of specially produced grades based on the application, as well as high precision press equipment designed and constructed in-house, allows for tighter tolerance control, which in turn ensures that superior performing goods are sent.
Preforming
Turning, milling, drilling, and cutting are all processes that can be performed on green blanks in order to perform the part to net shape in accordance with the customer's drawing. This can significantly increase the customer's productivity when it comes to the production of specialized and complicated tools.
Drying Process
A vacuum drying furnace is utilized at this step of the process in order to remove the plasticizer from the blanks.
Sintering
The blade undergoes a heat treatment at a temperature of 1500 degrees Celsius for a period of 15 hours. Cobalt and tungsten carbide particles that have been heated go through a process called sintering, which bonds them together. The process of treating the powder mixture in a sintering furnace accomplishes two goals: first of all, the blade undergoes a sizeable reduction in volume as a result of the treatment, and the block shrinkage ratio must be precisely calculated prior to sintering in order to achieve the desired tolerance; second of all, the powder mixture is transformed into a new metallic material in the form of a cemented carbide. At this stage, the blade has achieved the desired level of hardness; yet, it is not yet at the point where it can be sent. We are going to use the coordinate measuring machine to do a thorough check on the size of the blade before moving on to the subsequent production phase.
In order to reach accuracy tolerances of h6/h5, the majority of the rod blanks will need to be centerless ground. In addition, the services of length cutting, chamfering, slotting, and cylindrical grinding can be provided for customers who specifically require them.
Inspection
In order to assure both quality and performance, the essential qualities of the raw material, RTP, and raw sintered components are examined and analyzed in our laboratory. We are going to carry out a string of comprehensive checks. For example, testing the straightness, sizes, and physical performance of the object, etc. Either the tungsten carbide rods suppliers will be refined in our center-less grinding department or they will be stored in our warehouse for future usage.
Advantages
As a consequence of this, Tungsten Carbide Bar tools, in compared to other kinds of HSS tooling, are both cost-effective and efficient. They also have a long lifespan. They are able to tolerate extreme temperatures and spin at very high speeds, both of which cause many tools to get worn out.
Carbide-based tool holders and machine tools have a longer shelf life as a consequence of their durability and their ability to preserve their cutting edges. This is because of their capacity to withstand wear and tear.
When it comes to finishing and surface-finishing, carbide tooling delivers superior performance than other types.
Carbide Rod is available at a lower price point compared to other types of devices. They also have a high resistance to cracking and are quite robust overall.
Carbide tools are known to have the highest standard of quality, and yet they are one of the most affordable types and manufacturers of tool holders. Because carbide tools are so durable and have a long shelf life, it is in your best financial interest to avoid making frequent tool purchases.
What to Look For When Purchasing Tungsten Carbide Rods
Before purchasing a tungsten carbide rod, you need to have a solid understanding of the alloy grade of the rod, also known as the physical performance specifications of the tungsten carbide rod. This is of the utmost significance!
Before purchasing ground carbide rods , it is important to examine their dimensions. Because of their perfect dimensions, carbide rods china may cut down significantly on the amount of time spent deep processing, which in turn improves production efficiency and lowers the expenses associated with processing.
When shopping for ground carbide rods , it is important to pay attention to the flatness, symmetry, and other geometric tolerances of the inspection plane. The high geometric tolerance accuracy of the carbide rods manufacture allows for the production of goods of a better grade and a significantly easier processing.
Application of Tungsten Carbide Rods
High red hardness, good weld-ability, great hardness, and high wear resistance are some of the qualities that may be found in carbide rods manufacture. The primary applications for these components are found in the production and processing of solid wood, density boards, and grey cast iron. Materials made of non-ferrous metals, PCB, chilled cast iron, toughened steel, and materials used in brakes. Tungsten carbide rods made of an appropriate material should be chosen, and this decision should be made after carefully considering the application. Ground carbide rods  have outstanding durability, a high level of hardness, a good level of wear resistance, a high level of elastic modulus, a high level of compressive strength, and a good level of chemical stability (acid, alkali, high temperature oxidation resistance).
HUANA Grade
ISO Grade
Grain Size
Cobalt Content
Densiy
Hardness
TRS
Application
um
%
g/㎤
HRA
N/㎟
HN304F
K20-K30
0.7
10
14.45
91.8
4000
Grade for roughing and semi-finishing milling of heat-treated steel,common alloy steel,cast iron and other soft material below HRC45.Superior microstructure by the customized powder of high quality from H.C.Starck,with allows the particle size distribution to be centralized with better stability and wear resistance.
HN401
k30-k40
0.6
12
14.18
92.4
4000
General processing grade for material below HRC50.Suitable for semi-finishing and finishing milling of non-ferrous metal, common die steel, aluminum alloy and materials with uniform structure.
HN404
K30-K40
0.6
12
14.25
92.4
4200
Grade for roughing and semi-finishing milling of material(HRC45-52),including stainless steel,aluminum alloy,alloy steel,non-ferrous metal.Superior microstructure by the customized powder of high quality from H.C.Starck,which allows the particle size distribution to be centralized with better stability and wear resistance.
HN204N
K10-K20
0.2
9
14.4
93.6
4500
Excellent grade for material below HRC60 such as hardened steel. Also suitable for non-alloy metals, high hard plastics, non-alloy steel, reinforced fiber composite materials, titanium alloy materials,etc., and is widely used in the processing of high speed, high hardness and high wear -resistant materials.Application for high speed cutting tools. The ultra -high toughness allowed by the customized WC powder of nano-particle from H.C.Starck.
HN104U
K05-K10
0.4
6
14.75
93.8
4200
Grade for mills and drills with 0.4mm≤D≤1.6mm.Superior microstructure by the customized powder of high quality from H.C.Starck, which allows the particle size distribution to be centralized with better stability and wear resistance.
Conclusion
The production of tungsten carbide rod is becoming increasingly mechanised and simplified as a result of advancements in industrial technology. Additionally, the use of HUANA tungsten carbide rod will continue to expand in the future to facilitate the growth of industrial technology. HUANA carbide rods manufacture have a significant number of advantages, which is one of the reasons why they are one of the most common tools that are used these days. HUANA carbide rods manufacture also have a number of other advantages. Because of their adaptability, they are of incalculable use to industrial mechanics who work with CNC and lathe equipment.