Drill bits are cutting instruments that are used to remove material in order to make holes, and the cross-section of these holes is usually invariably circular. Drill bits are among the most practical and adaptable instruments that can be purchased. There is a wide variety of material that may be drilled, and each type of material requires a certain diameter and type of drill bit. HSS Drill bits come in a variety of sorts and sizes. For the vast majority of tooling and machining processes, an hss drill bit that is tailored precisely for the undertaking is available.
It is possible that you will be startled to learn that employing the incorrect one will not only slow down production but also cost more than you might initially believe it would. This is the reason why it is essential to select hss drill bits that are tailored specifically to the task at hand. In that case, you run the risk of having to replace the tools and the parts more frequently than necessary. In addition to this, there is a possibility that the object being worked on may be harmed, which will force you to begin over. The selection of the appropriate drill bit may save both time and money for machinists and fabricators, who use hss drill bits on a regular basis. When selecting a drill bit for your next project, there are a few factors you should keep in mind if you want to achieve the greatest possible outcome from your machining efforts.
What Exactly Is Meant By The Term "Drill Bit"?
An hss drill bit is a type of tool that may be attached to the chuck of a drill, which is the component of the drill that rotates. When the bit is driven into a surface, it creates a drill hole by removing material from the surface in front of it as it moves forward. Users are able to produce holes of varying sizes by using several types of hss drill bits, each of which is designed to remove a specific quantity of material.
HSS drill bits are also available in a number of lengths, and they can be crafted from a wide range of different materials. When faced with the task of selecting a drill bit to utilize, do-it-yourselfers frequently experience feelings of being overwhelmed due, in large part, to the vast number of possibilities available in drill bits. You may quickly reduce the number of available alternatives and locate the hss drill bit that is best suited for the task at hand if you make a handful of minor considerations.
Why Use A Drill Bit Made Of High-Speed Steel (HSS)?
There is a wide variety of drill bits on the market, and their classification is based on the materials that were used in their production. High-speed steel, soft low-carbon steel, high-carbon steel, cobalt steel alloy, and high-speed steel are some notable examples of these types of steel (HSS). In addition to them, there is tungsten carbide and polycrystalline diamond (PCD). While different materials are better suited for certain applications, high-speed steel drill bits are in extremely high demand for a variety of reasons. HSS drill bits are able to handle hard materials such as steel and metals with ease, in contrast to standard drill bits which are unable to cut through steel-based materials. As a result, high-speed steel drill bits are utilized largely for the purpose of cutting materials for metals, and they are constructed out of high alloy tool steels.
In addition, high-speed steel is used in the industrial business as a tool due to the efficacy with which it can grind. Drill bits constructed of titanium and coated with titanium oxide are both included in the category of high-speed drill bits. These drill bits have a high resistance to corrosion and are quite durable. They are able to bore through tough materials such as steel and metals, in addition to wood. Because of this, they are superior to many others in terms of their durability and resistance to heat.
How to select the appropriate high-speed steel (HSS drill bit) drill bit
Before you can select the appropriate drill for your task, you need to first think about the material that will be drilled. Hardness and other mechanical qualities of a substance are unique to that material. This is the reason why there is such a wide variety of drill bits.
Before deciding on a hss drill bit, the following are the most important factors to take into consideration:
HSS drill bits material
Different sorts of drill bits
Different types of drill bit coatings
Different bit angles
Different bit lengths
Different types of drilling holes
Different Types Of HSS Drill Bits
Only half of the story can be told by looking at the material that a drill bit is composed of. In addition to this, you need to select anything that will produce the particular kind of hole that you want. There is a wide variety of drill bits available in a variety of sizes and shapes, but the following are some of the more frequent ones:
Straight Shank Twist Drills
The twist drills with a straight shank were developed for the purpose of cutting metal, but they are equally useful for drilling into wood and plastic. Because high-speed steel is typically used in their construction, twist bits already have a wide range of applications.
Additionally, there is a wide range of variability in both the diameters and lengths of straight shank twist drills. Many drills will be sold by the manufacturer alongside a collection of twist bits, and many customers will never need to purchase more accessories for their drills since they will never need anything else. A twist drill with a straight shank has a pointed tip that is very sharp, and the bit has many flutes that spiral along the shaft of the bit. When the tip is driven into a surface, it dismantles the material and channels it through the flutes so that it is no longer in the way. This results in the formation of a hole in the surface that is clean and precise.
HSS taper drills feature a tangged conical shank, which allows them to fit straight into the tapered holes of drill press spindles, drive sleeves, or sockets. They are designed for drilling in ferrous and non-ferrous metals for general purpose applications. Because of their mix of hardness and toughness, tools made of high-speed steel are ideal for the majority of general-purpose applications. This makes them resistant to wear. The spiral flutes of HSS taper drills are built with a greater flute angle to facilitate the easier removal of chips during drilling. For very precise drilling of larger bore diameters, high performance HSS taper drills are typically the tool of choice. HSS taper drills are also utilised for heavy-duty geometry, which entails drilling in materials that have a high tensile strength and being used in situations that are quite harsh.
The center drill is a type of end cutting tool that has two flutes that are grooved on both of its ends. These flutes are used to make guiding holes on the work piece so that the drill may be guided. Two distinct varieties of center drills are produced: type A, which is used to create center holes that do not have protecting chamfers, and type B, which is used to create center holes that do have protecting chamfers. In most cases, the point angle of a center drill will be 120 degrees.
Masonry drill bits feature a design that is comparable to that of twist bits; nevertheless, they have been developed especially for drilling into bricks and concrete. Their cutting edge is modified in a very modest way, and the flutes have been widened so that larger chunks of stone may move through them. Masonry bits are also often crafted from high-speed steel; however, there are some producers that opt to add cobalt and carbide for an additional layer of abrasion resistance. There are masonry bits that are more specialized than others and are meant to be used with hammer drills. The bits of a hammer drill are moved in a hammering motion forward and backward by the drill rather than rotated by it.
HSS Drill Bit Materials
Because of its adaptability and reasonable cost, high-speed steel is the material that is most frequently used for the construction of drill bits. The term "general purpose" drill bit is the one that best describes HSS. Drill bits produced from HSS dill bit may be used to drill through drywall, steel, and other metals in addition to drilling through wood. HSS is so versatile that it may even be used to make masonry bits. If you purchase a drill that comes with a set of hss drill bits already included in the packaging, then you can very much be certain that all of the supplied tools will be made of high-speed steel. HSS M42, M35, M2, 4341, and 4241 hss drill bits can be utilized for drilling plasterboards, wood or aluminum planks, as well as for the installation of taps. HUANA is pleased to supply you with high-quality hss drill bits that will ensure efficient drilling. Professionals working in the construction business have a significant need for flexible drill bits.
Bricks, blocks, stones, and even mortar may be drilled with them thanks to their practicality. In addition to the hss M42, M35, M2, 4341, and 4241 drill bit types, there are also hss M42 drill bits. They make it possible to swiftly bore holes through a variety of materials, and their primary use is to drill certain covered regions. You may use either a standard file or a diamond file to sharpen this particular kind of drill bit. Diamond tip drill bits are the best option to go with whenever you are working with tiles that have a higher level of resistance, such as stoneware tiles, or whenever you need to produce holes with a small diameter. Because they are more durable and provide a higher level of precision, they are an excellent choice for drilling any tile.
No matter whatever drill bit you decide to use, you should always use cold water to prevent the bit from overheating. Your equipment will have a longer shelf life as a result of this straightforward procedure since it will be protected from harm. You may regulate the speed of hss M42, M35, M2, 4341, 4241 hss steel, which enables you to gradually raise the speed based on the depth of the bit. This is in addition to the other benefits and features of hss M42, M35, M2, 4341, 4241 hss drill bits.
Advantages of HSS drill bits in general include:
Having an application temperature of above 600 degrees Celsius;
Having fast cutting speeds; having high strength (high breaking strength);
Having good grindability during production;
Having good regrindability of blunt tools;
Having a relatively inexpensive price.
Determine Which Aspects of the Flute's Design Are Most Preferred
Flutes can serve a variety of purposes, from simple removal to providing a passageway for cutting fluid to come into contact with cutting surfaces. The body of the drill is designed with flutes, which are grooves that are able to penetrate the surface that you are working on. There are many variations of the flute, but the following are the ones that are most often used today:
When the stiffness of the drill is more important than the evacuation of the chips, you should choose a straight flute, which is suited for usage in certain situations. Additionally, it is perfect for the quick chipping of material; in this case, rotating the workpiece rather than drilling it is utilized.
The design of the parabolic flute boasts numerous advantageous characteristics, including a smooth and inexpensive evacuation, rapid cycle durations, a high feed rate, and a low peck cycle. It works when the geometry is open, and the spiral is rapid.
There is no need for concern on your part about the means by which the design of your choice may be obtained. Because HUANA allows for the customization of designs, all you have to do is specify what you want, and you'll have it!
Learn the Type of Coating That Should Be Used
When exposed to damp conditions, the ability of your drill bits to resist rusting will be directly proportional to the kind of coating that you employ. Additionally, the coating minimizes the amount of friction that occurs, which in turn reduces wear and tear. We use a method called thermal spray coating to apply coatings, and these coatings can take a few distinct shapes. Among the most notable are:
The use of cobalt in processes that involve high temperatures has widespread acceptance. When high-speed steel is unable to cut through a particularly tough metal, such as stainless steel, adding cobalt to the mix may be the solution. It works well in applications in which a high amount of heat is required for the material. The fact that the cobalt coating might break easily is the one and only drawback of using it.
Drill bits with a titanium coating have an increased level of resistance to heat and corrosion respectively. It is quite powerful while at the same time being very light. It makes drill bits last longer and has a variety of applications, so it's handy in a lot of different situations. Titanium coating finds widespread application in a variety of materials, including metals, plastics, woods, iron, and steel.
TiCN (Titanium Carbonitride)
One of the most durable and resistant to wear coatings currently in use. TiCN has a bluish-gray color, and it may be utilized in the manufacture of drill bits for cast iron, aluminum, and stainless steel.
This coating for drill bits is one of the least desirable options available. On the other hand, it works extremely well on drill bits made of materials that have a distinctive brittleness, such as steel. Because friction causes a considerable reduction in effectiveness, we frequently utilise zirconium nitride to bolster the material's strength in order to achieve more precise drilling.
Coatings made with black oxide may only be applied on non-ferrous materials, such as brad tip. It has the same anti-corrosion and anti-friction properties as other coatings.
Determine the Angles of the Drill Points
There are a few different ways that point angles can be implemented in drill bits. However, throughout the course of time, angles between 118 and 135 degrees have emerged as the most common. It is recommended that you utilize an angle of 118 degrees while working with soft materials like aluminum and wood. When compared to angle 135°, it has a more pointed tip and uses a more compact chisel. If, on the other hand, you are working with tough materials such as stainless steel, the angle of 135 degrees could be your best choice. When compared to angle 118°, it is more concave, has a greater pitch, and a longer chisel.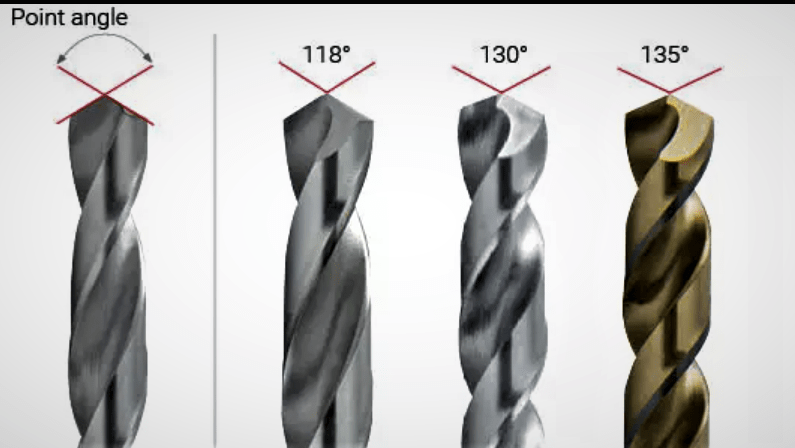 Find the Right Drill Point Length for Your Project
Jobber, taper length, screw machine, mechanics, and taper shank are some of the possible lengths for drill points. Other available lengths include jobber, mechanics, and taper shank. When working on tasks that need a high level of accuracy and precision, it is often better to utilize shorter drills. This is because working with longer drills may be difficult. In addition to this, they are more durable and hardy than the others. However, depending on the job at hand, there may be situations in which you need drill bits that are far longer than is typical.
Determine The Type Of Holes To Drill
When you need to drill into a board, regrettably, it is not as simple as going to your toolbox and picking out a wood drill bit to use. In addition to this, you need to consider the specific sort of hole that you want to make before you begin. It's conceivable that you're drilling a pilot hole for a screw, but it's also possible that you need a hole that's much larger and can fit a piece of dowel. Either way, it seems like you're doing some kind of drilling.
There is a large range of drilling holes, and there are drill bits that are designed to create each particular kind of drilling hole. The reality of the matter is that there is a broad variety of drilling holes. Always begin by establishing the form of the hole you wish to produce, and only after that should you pick the suitable size drill bit for the work at hand. This is a very important step that should never be skipped.
Conclusion
The selection of a suitable high-speed steel (hss drill bits) drill bit should be given considerable attention before being used in any project or application. This will result in significant benefits. If you make the right choice, you may be able to extend the life of your drill bits in a number of different ways. These ways include matching the suitable bit to the substrate material, finding the perfect fit for the perfect fit for the depth and diameter of the hole, or even the amount of work that needs to be done. This, in turn, helps to raise production by allowing you to accomplish more with each drill bit that you use, which increases the amount of work that can be done.