The public has more strict criteria on the end mills they buy because of the widespread usage of CNC machine tools. These needs include the milling cutters' size, stiffness, accuracy, durability, strength, and stability. The selection of the appropriate carbide end mill is of utmost significance if one want to increase the effectiveness of the milling operation.
When choosing a carbide end mill, it is important to take into account how well the material cuts. It is advised, for instance, to use carbide end mills with improved wear resistance when working with work parts made of titanium alloy, high-strength steel, and stainless steel. These cutters can withstand more use.
What You Should Think About Before Getting an Carbide End Mill
End mills are purposefully designed tools, and each tip shape provides a different kind of clearing path that may be used in a variety of contexts. The nature of the project, the kind of material that has to be cut, and the surface quality that must be achieved all play a significant role in determining which end mill should be used. If you choose the improper cutting tool, you run the risk of swiftly damaging a work piece, which will force you to throw out the whole batch. This is not only a very inefficient use of your organization's time but also a considerable financial burden.
If you are searching for the best carbide end mill type for the task, there are many considerations that need be made, but if you ask yourself these important questions as you go through the process, you will be more equipped to make the proper choice.
Your decision will be heavily impacted by these three important considerations:
What kinds of forms do you want the milling machine to make for you?
Which kind of material will you be milling?
What are your objectives in terms of performance and surface polish, while ensuring that the cost remains within a range that is acceptable to you and remaining within the capabilities of your CNC machine?
Your answers to these questions will help you decide the appropriate tool geometry, which will depend on the sort of project you are working on, the material that is being cut, and the surface finish you want to achieve. So let's get started on the theory, and if you have any questions along the way, I'll address them with some actual instances afterwards.
Geometry of Carbide End Mills and Fundamental Concepts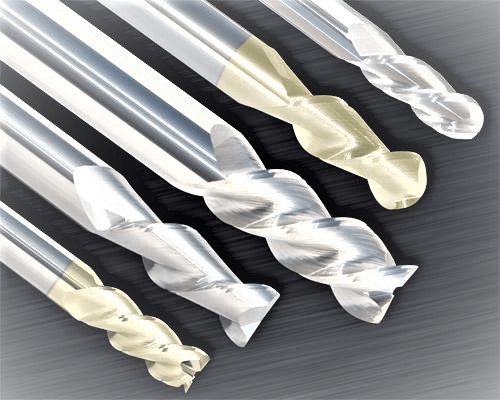 The success of the tool is directly proportional to how carefully the end mill shape is selected. If you want to increase the likelihood that you will be successful with a particular tool, it is in your best interest to pay careful attention to the components that the maker of the instrument suggests using. The speeds and feeds that the manufacturer suggests using for that particular material are also very important.
Overall length
Let's say you have a high component and you want to mill an extremely deep pocket within it. In order to mill the bottom of the material without your spindle mandrel meeting the stock of the material, you will require a long tool. Therefore, the depth of the cut that your end mill has to make into the material will define how long it needs to be. The term "stick out" is used to refer to the idea that is linked with this finding. The distance from the end of the tool holder to the tip of the end mill serves as the defining dimension for it.
Another thing to bear in mind is that the cutting depth of your end mill should never go beyond the length of the flutes. If you cut deeper than the length of the flutes on your tool, the chips won't clear as they should, heat will build up, and you run the danger of damaging it.
At this point, it could seem to be a good idea to invest in end mills that are as long as physically feasible so that you have the ability to utilize them in a greater variety of settings, right. In fact, this is not the case since the stick out of a tool contributes to its overall lack of rigidity. If you work it too hard and it sticks out too far, the cutting forces will cause it to bend, which is referred to as "tool deflection." If it sticks out too far and you work it too hard, it will break."
Carbide milling cutter
Select a milling cutter based on the parameters of the region to be treated. When processing thin-walled or ultra-thin-walled work pieces, the end edge of the over-center milling cutter should have an appropriate centripetal angle to lower the cutting force of the milling cutter and the cutting portion. When working with soft materials like aluminum and copper, utilize an end mill with a slightly greater rake angle, and keep the number of blades as low as feasible.
When selecting a milling cutter, strive to match the milling cutter's size to the surface size of the workpiece to be treated. Carbide end nd mills are usually utilized in production for the peripheral contour processing of flat workpieces; cemented carbide milling cutters are favored for milling planes; and high-speed steel end mills are favored for milling bosses and grooves. in manufacturing Corn cutters with carbide inserts are suggested for rough cutting the surface of the blank or hole; for certain three-dimensional profiles and changeable bevel contour contours, utilize ball end milling cutters, ring cutters, tapered milling cutters, and discs.
Helix angle
Helix angles of general-purpose end mills are normally around about 30 degrees. During the milling process, a reduction in the cutting forces, as well as a decrease in the quantity of heat and vibration, may be achieved by increasing the helix angle. Therefore, end mills that have a larger helix angle have the tendency to generate a superior surface finish on the workpiece they are used on.
Unfortuitously, it comes with a trade-off of some kind. The end mill will become less robust and will not be able to withstand heavy depths of cut when fed at high rates. Therefore, angle cutters with a lower helix are more robust, but the surfaces they cut leave a rougher finish.
Flute Count
Flutes are helical grooves that wrap around the sides of an end mill and give the tool its name. When chipping lengthy materials like aluminium, tools with a lesser number of flutes (two to three flutes) will provide greater area for the flutes themselves. A greater number of flutes results in a smaller flute spacing, but it may lead to improved productivity in materials that need shorter chipping, such as iron and steel with a medium to high carbon content. A four flute endmill is recommended for slotting applications when working with steel, stainless steel, high temperature alloys, and iron. This kind of endmill may also be an excellent general-purpose tool. Applications that have a shallow radial depth of cut are the best candidates for higher flute counts because they provide more room for chip evacuation.
Shapes  and Types
Stainless Steel End Mill Made
For each step of the work piece's processing, we have the option of selecting a different kind of end mill made of stainless steel. For instance, during the rough machining step, our primary objective is to eliminate the margin. Once this objective has been accomplished, we may use a big milling cutter that has improved stiffness but lower accuracy and greater chip removal performance. During the phases of semi-finishing and finishing, the most important thing is to make certain that the machining precision and product quality are both satisfactory. At this point, you should choose a finishing milling cutter that has more endurance and greater precision than the one you are currently using.
Ball nose mills feature a radius at the bottom, which creates a finer surface finish in your workpiece. This results in less labor for you, since the item does not need to be finished any further once it has been created using a ball nose mill. Applications such as pocketing, shallow slotting, contouring, and milling contours are some of the uses for these tools. Because they are less likely to damage the material being worked on and provide a beautiful rounded edge, ball nose mills are an excellent choice for 3D contouring. After you have removed big portions of the material using a roughing end mill, continue on to the next step with a ball nose end mill.
Square end mills, which more often go by the name Flat End Mills, are used to create a sharp edge at the bottom of the slots and pockets that are cut into the workpiece. In addition to slotting, profiling, and plunge cutting, they are utilized for general milling applications.
Comparable to square end mills and flat end mills, but the cutting edge on them is round, earning them the nickname "bull nose" (not to be confused with Ball nose as mentioned above). They have a usually longer tool life and are less prone to chipping than other materials.
Roughing end mills are excellent for working with vast surface areas because they feature multiple serrations (teeth) in the flutes that enable them to rapidly remove huge quantities of material while leaving a rough finish. They are also known as Corn Cob cutters and Hog Mills, both of which get their names from the pig, which is said to "grind" away at, or eat, whatever that is in its path.
The Materials Used In End Mills
This part may easily warrant its own essay, but in the interest of brevity, let's discuss the two most common materials used in the production of cutting tools: high-speed steel and carbide.
High-Speed Steel, often known as HSS, has a lower cost than the other option, it has a good resistance to wear, and it can be milled into many other materials, including wood, metals, and plastics.
End mills made of coated carbide are more costly than those made of high-speed steel (HSS), but they provide more stiffness and can be operated at speeds that are two to three times quicker than HSS. They are also very resistant to heat, which enables them to grind materials that are more resistant to abrasion.
If this is the case, are carbide end mills worth the additional cost? Yes, without a doubt.
They are able to operate far quicker than HSS, which means that they will significantly boost the productivity of your machine. The fact that they are also more durable and have a longer tool life makes the initial financial outlay worthwhile.
Including a quality coating on your end mills is an additional simple method that may improve their performance. TiAlN (titanium aluminium nitride), the most popular one, will enable you to cut 25 percent quicker on average without requiring an excessive amount of additional financial investment.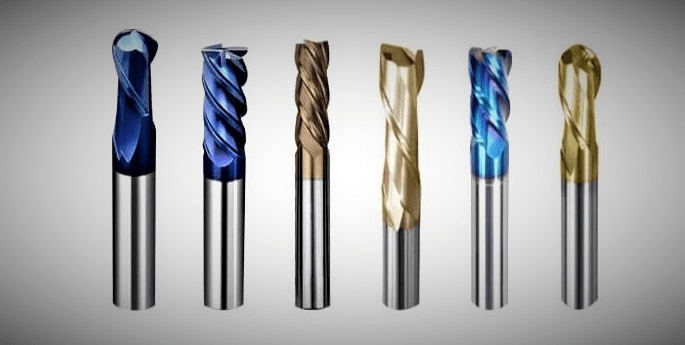 If performance is not a primary concern of yours, then you should go for carbide end mills that have a diameter of 8 millimeters or less. When the tool stiffness can be compensated for by its greater diameter, HSS should be considered for bigger cutters since it may save you some money. In addition, if you are just starting out with CNC milling, keep in mind that you will likely make some errors and damage a few end mills before you get the hang of things. Therefore, you should invest in some superior HSS ones as well.
Conclusion
Carbide end mills provide you a great deal of flexibility in terms of the machining tasks you may do. We hope that by reading this post, you will have a better understanding of the many kinds and the uses for each. No matter the task, Huana is pleased to provide a comprehensive selection of carbide end mills that are developed to provide you with an advantage over other businesses in your industry. Huana is ready to assist you with any issues you may have about the selection of the appropriate end mills or other cutting equipment for your business. Simply ask any questions you have about end mills, and we will do our best to answer them.