When dealing with fasteners, it is important to ensure that you have a rivet or bolt that is robust and long-lasting and that is also appropriate for the task at hand. There are thousands of different blind threading inserts available for you to pick from. These inserts are quite adaptable and among the most common fasteners. The material composition and the intended use should be considered when selecting the appropriate threading insert.
What exactly is Threading Insert?
A threading insert is a sleeve with an interior that is threading and designed to accommodate a bolt or other threading insert. The insert can have varied dimensions and sizes like 16FR and 16IR, be made of different materials, such as carbide threading inserts, 16ER threading inserts for lathe, and high-speed steel thread inserts, and come in various configurations or tooling. As a result of the insert's design, it can hold fast in thin or soft materials, contributing to the threading fastener's level of security. Threading inserts offer several benefits, particularly when the connection in question is a load-bearing one. These benefits are especially relevant in the case of devices requiring disassembly and reassembly or making use of particularly soft materials. For instance, flexible polymers have trouble gripping a threading bolt because the threads in the tap hole aren't strong enough to withstand the stress. Rather than relying on threads drilled into the soft workpiece itself, you can use a threading insert, providing more strength, versatility, and typically more resistance to wear and tear over time.
The Benefits of Using a Threading Insert
When a threading fastener is being installed into an object made of a soft material, it is common to use threading inserts as a substitute for the threading fastener. When working with hard materials, it is often possible to drive a screw or bolt into the object without first having to use a threading insert. Driving a screw or bolt directly into an object made of a soft material, on the other hand, can cause damage to the thing. Utilizing a threading insert is a quick and easy solution to the problem. Following the placement of the threading insert within the object, the threading fastener is then screwed into the insert using the screwdriver.
When an existing threading hole has to have, its threads stripped, another scenario in which threading fasteners are employed is. A threading insert can be utilized if the ridges of a threading hole have deteriorated to the point that they cannot support or retain a threading fastener. Last but not least, threading inserts can be utilized when an object cannot withstand the whole length of a threading fastener because it is too thin. Even though there is a possibility that some of the threading inserts may stick out of the rear of the object, it will still be possible to drive a screw or bolt completely through it.
Various Methods of Threading Insert Installation
When it comes to installation, there are various options available for threading inserts of several types like carbide threading inserts, 16er threading inserts, threading inserts for lathe, and high speed steel threading inserts available at HUANA. Examine this list to help you decide which way of installation is most suited to your program.
Insert molding When a threading insert is molded into a plastic component, the overall molding time is extended because additional time is required to load the insert. Insert molding. Sink marks are another likely result of molded-in inserts. They are frequently utilized in conjunction with thermoset (non-meltable) polymers.
Post-molded Inserts Decrease Downtime Associated with Molding a Thread or Insert into a Plastic Component By eliminating die damage caused by poor placement, post-molded inserts eliminate downtime associated with molding a thread or insert into a plastic part. The assembly process is sped up, the time spent in the open press is cut down, and sink marks are eliminated.
Ultrasonic installation is the most frequent method for placing threading inserts into thermoplastic materials. The ultrasonic installation gives rapid and positive anchoring. Hence it is the method of choice. After the hole has been molded or drilled, an insert is put inside it, and this insert guides it and provides resistance. During the "weld cycle," an ultrasonic horn makes contact with the insert, and it then offers ultrasonic vibrations that go through the insert. During the horn driving the insert into position, frictional heat is produced almost instantly, melting the plastic. After the vibrations have stopped, the machine will keep the clamp pressure on until the plastic has cooled, preventing any back-out.
During the thermal process, also known as heat insertion, the threading insert is inserted into a hole that has been molded or drilled. The pressure is delivered using a heated probe that makes contact with the top surface of the insert as well as the minor thread diameter. There is a localized melting of the plastic, and it flows in and around the knurls and serrations. When the desired depth is attained, the probe is withdrawn, and the plastic begins to resolidify, securing the insert in its position. After the search has been removed, there is a possibility that a small quantity of the insert would withdraw (back-out). Thermal or heat insertion is an excellent alternative to the ultrasonic approach; nevertheless, the thermal or heat insertion procedure is more time-consuming. Some advantages include the following:
Multiple inserts can be fitted simultaneously, even on different levels.
As opposed to caused by ultrasonic waves.
Equipment that uses heat is less costly than equipment that uses ultrasonic waves.
How do the thread inserts improve work?
Threading inserts made of stainless chromium-nickel steel are mechanically implanted without extra locking pins, sealants, or adhesives: they may be screwed into the previously prepared specific thread like a commercially available screw. The thread insert comprises a rhombically profiled wire fashioned into a helix and a driving pin withdrawn after installation at the preset breaking point.
The diamond-shaped cross-section, precise material selection, and meticulous manufacturing procedures benefit surface quality, wear resistance, thread friction, corrosion resistance, and heat resistance.
Ideal for Larger Inserts
Cold Insertion: Some inserts can be pushed into place after molding. On the other hand, pressing inserts into hard plastic may cause undue tension. A bigger boss (or wall thickness) is necessary to prevent stress fracture. Compared to thermal or ultrasonic installation, pull, torque, and jack-out strengths are lower.
Consider The Following Variables:
A plastic that contains lubricants, fillers, or glass: If the filler or glass content of the plastic surpasses 40%, assembly or performance issues may occur.
Molded Holes vs. Drilled Holes: Molded holes outperform drilled holes because a robust skin of denser material forms around them during molding. This is especially true for structural foam polymers, which are porous beneath the epidermis.
Plating and Color-coding: We provide a comprehensive variety of plating and color-coding services—common metal finishes. Inserts of comparable size and configuration are frequently color-coded to avoid accidental mixing (inch threads vs. metric threads).
How should threading inserts be used?
The insert generally used has a smaller outer diameter of roughly 8.5mm. A 9mm pilot hole should be enough for anything like this. In softwoods, 8mm is sufficient for a perfect fit. Always use the pilot hole size recommended by the manufacturer. A depth-stop on the drill can aid with drilling depth – this is especially useful if there are many to fit.
It might be difficult to get the screw into the hole. Some feature a built-in hex socket. So make a slot for flat-bladed screwdrivers. An easier alternative is to utilize the machine screw you want to use in the final fitting and secure it with a locking nut. The insert nut may then be thoroughly driven home using an impact driver. Remove your machine screw after loosening the locking nut using a little wrench. This procedure can also be used on unheeded threading inserts.
I like carbon steel insert nuts since they are strong and unlikely to break. If the fitting is subjected to moisture, corrosion-resistant nuts should be used. Brass insert nuts are available. However, they are normally only appropriate for soft materials since they will break upon insertion.
How to Select the Right Threading Insert?
Threading inserts are available in various configurations and various materials for a variety of diverse applications.
Inserts made of brass, for instance, work wonderfully with both wood and particleboard. In instrumentation and telecommunications, threading plastic inserts are utilized because they are nonconductive, the threads produce a durable grip, and they can be built and dismantled with minimum wear. In addition, the threads allow for easy assembly and disassembly.
On the other hand, molding and metalworking use stainless steel inserts; they are typically employed for repair work or manufacture. Because it is resistant to corrosion, stainless steel is excellent for cleanliness applications, such as preparing food and beverages.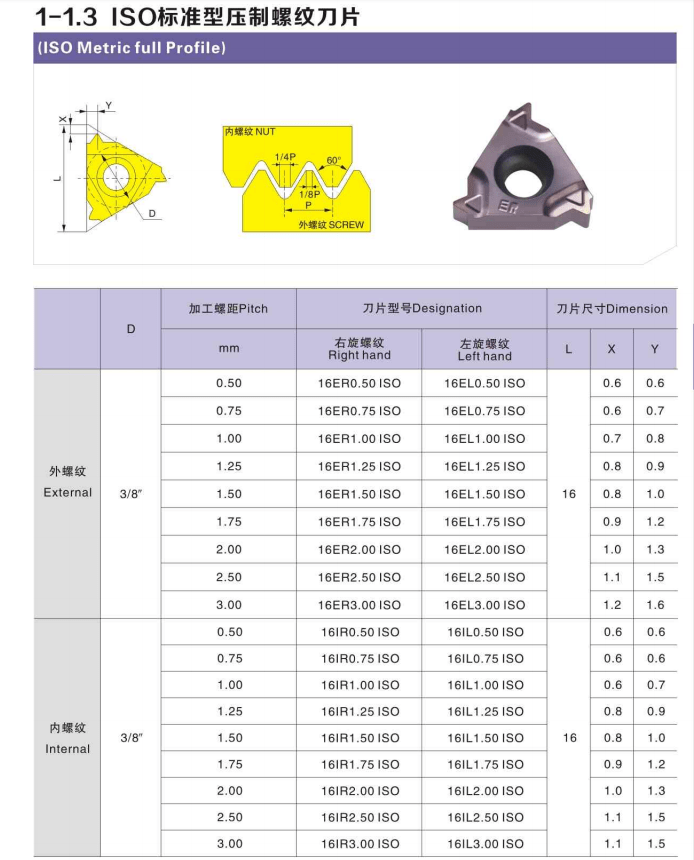 Applications for Threading Inserts
As soon as you understand the threading insert's adaptability, you may begin to comprehend the many options. Because of this, threading inserts are often used in various industries, including building, manufacturing, assembly, and maintenance. The following is a shortlist of sectors that rely heavily on threading inserts:
Aerospace and Aviation: In aerospace and aviation, the first threading inserts were utilized to secure deicers to aircraft wings.
Automobiles: Inserts are used throughout automobile bodywork, including walnuts, rubber bodies to reduce vibration, and inserts to fasten metal and plastic body pieces. Inserts are utilized in the automotive industry.
Boatbuilding: When it comes to boatbuilding, threading inserts are utilized in wooden and fiberglass vessels to secure the hull and the trim. These inserts are constructed using materials resistant to corrosion, such as brass, coated steel, and others.
Furniture: In the last section, we discussed furniture made of wood. Inserts can be used to attach metal to wood, for joining plastic, and for various other purposes in the construction and repair of furniture.
Appliances: Whether they're securing a plastic cover or circuit board controls, threading many household appliances, including inserts.
Threading inserts are often utilized for green energy applications such as anchoring solar panels or erecting windmills since they are long-lasting.
Blind threading inserts are designed for both productivity and durability, and they can be extremely adaptable. If you need assistance picking the correct threading insert for the job, a knowledgeable distributor can help you analyze your alternatives and make the best decision.
The Drawbacks of Threading Inserts
Threading inserts with diamond-shaped cross-sections that screw into receiving threads are typically constructed of stainless steel wire.
During installation, the coils are compressed and then expand against the housing. The tension that results keeps them in place.
While Heli-Coils is a good alternative for soft materials, they aren't always the greatest option for all materials or budgets. The following are some disadvantages of employing threading inserts:
Drilling and tapping costs. They charge more than normal drilling and tapping. For prototype models, the cost of threading inserts plus additional installation costs might soon add up. These prices become much more prohibitive at higher manufacturing levels when an alternative solution like Loctite can save tens of thousands of dollars.
Insufficient power. Coils are generally composed of strong materials, such as stainless steel, despite their shallow depth and inherent weakness. Aluminum, plastic, and other softer materials work well with them. However, unless they have a specific coating, they aren't strong enough to successfully fasten stainless steel parts.
Installation time is lengthy. It takes roughly 30 seconds to install one coil. While this may not seem like a significant amount of time during the prototype process, it significantly impacts production manufacturing lead times.
Conclusion
HUANA can carry out same-day shipping on most orders and provides a wide selection of threading inserts that may be used for all types of applications. Thanks to its worldwide distribution and excellent relationships, HUANA is the industry leader in threading insert offerings, which allow for a huge array of options. Don't hesitate to contact us; we are here to assist you.