Stainless steel is a material that has an extremely high level of hardness. As a result, it is essential that the machinery and the tooling be of a very high quality, as well as very durable and stiff. This kind of material may make the machine clatter, which can be troublesome when it comes to the machining of parts. When it comes to CNC machining of stainless steel, there are a few excellent options available. High Speed Steel (HSS), such as tungsten or molybdenum HSS. High Speed Steel (HSS). The hardness, abrasion resistance, and strength of these HSS tool materials all play a role in their use. To get optimal results, the technique may make use of a variety of grades. In the aerospace, automotive, and marine sectors, stainless steel is often utilised for CNC Machining and CNC turning because it is a very adaptable metal. Stainless steel is also used to make surgical instruments. The medical, semiconductor, and food processing industries are putting pressure on the suppliers of today to demonstrate that they are skilled in the machining of this hard material. The resistance to corrosion offered by stainless steel is well-known, and the material's availability in a broad range of alloys and grades enables it to serve in a diverse range of contexts. Stainless steel may be used for a number of different things.
Stainless Steel is one of the grades of stainless steel that is used most often in industry at the present time. CNC machining of stainless steel may be an essential process for any machine shop that is attempting to thrive in this cutthroat business since it combines elements of both science and art. Because of the many years that businesses such as HUANA CNC equipment have spent machining this material, we are aware that working with stainless steel combines elements of both art and science.
What is meant by the term "CNC Machining"?
First things first: before we can get any farther into the specifics of figuring out the many rules that govern the machining of stainless steel, we have to have a handle on what "CNC machining" actually means. The CNC machining process is a computerized subtractive method that makes use of the most recent tools and technology to control the motion of the device that is being utilized for any activity.
It is possible to mill stainless steel?
The question of whether or not stainless steel can be machined is the most crucial one that has to be answered. Would it be possible to manufacture the stainless steel using CNC technology?
Machining is an option for working with stainless steel. As a matter of fact, stainless steel machining is quite popular due to the material's excellent and unrivalled strength-to-weight ratio. Stainless steel can't be beat in this regard. Because of this ratio, the pieces may be produced out of material that is less thick. This process of machining stainless steel further boosts the material's strength due to stainless steel's resistance to the damaging effects of high temperatures without causing it to crack or shatter. It is possible to make it work utilizing a variety of cold hardening procedures as well as heat curing processes. The utilization of these procedures is flexible and can be determined by the requirements of the application. This indicates that the machining process may be altered to suit whatever function we require the stainless steel for in the first place.
To acquire the grade of stainless steel that is required, one may make use of a wide variety of machining strategies, as well as different kinds of tools and pieces of machinery. Stainless steel can be machined in a variety of ways.
This article will discuss the best CNC tools for Stainless Steel, which is suitable for your project. HUANA has been focusing on stainless steel processing for more than 10 years; the following is the recommendation of HUANA stainless steel CNC tools.
Stainless steel special milling cutter
When milling stainless steel, an extreme pressure emulsion or vulcanized cutting fluid is recommended as the cutting medium. The milling speed of the Stainless steel special milling cutter that is constructed of stainless steel should be between 40 and 60 meters per minute. Greater than 0.1mm should be the feed rate in order to prevent the cutting edge from cutting into the hardened layer and to hasten the pace at which the tool wears out. Some manufacturers may process stainless steel using tools that have a high degree of hardness.
Stainless steel special milling cutter may be used successfully even when working with common types of stainless steel, such as 304 and 202. When machining stainless steel, quenched and heat-treated stainless steel, imported and high-hardness stainless steel, in addition to using high-hardness tools, machining stainless steel requires a sharper cutting edge. If possible, try to use a stainless steel special milling cutter that adopts Japanese Sumitomo AF308 material and Balzas coating, and uses German Walter five-axis imported grinding machine for production and processing, the helix angle is 38/41, and the unequal When machining stainless steel tools, the kind of cutting that is used is a very critical consideration. If you want to make sure that your stainless steel special milling cutters function well, you have to go through all of the necessary steps.
Solid Carbide drill for stainless steel
Solid Carbide drills for stainless steel are not only more heat-resistant than high-speed steel and cobalt but are also tougher and stronger than high-speed steel and cobalt drills. Stainless steels produce a great deal of heat. Because of this, you are able to push them more quickly and forcefully, which eventually results in a process that is more efficient and ultimately leads to larger revenues per component.  Shops that use workholding that is less than stiff, toolholders that are worn or inadequately maintained, and machine machines that are older and slower could benefit more from employing Solid Carbide drills for stainless steel . In order to make holes in stainless steel, you should go with a Solid Carbide drills for stainless steel.  Solid carbide drills for stainless steel are of such high quality and durability that they are able to withstand the intense pressure of stainless steel while yet easily slicing through the material.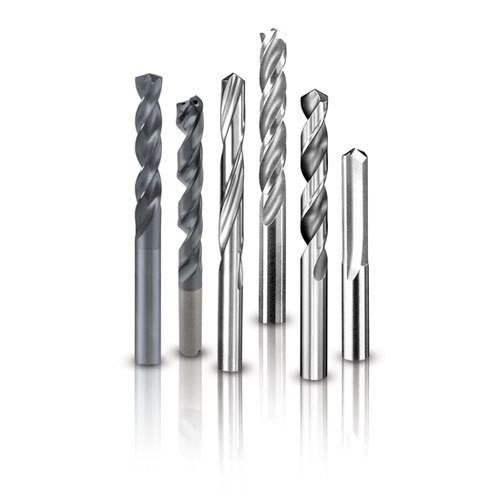 Using the craftsmanship of the classic American Kennametal drill, excellent post-processing, yes, the drilling is more efficient. The HUANA Solid Carbide drills for stainless steel are built particularly for the applications involving stainless steel, and they provide outstanding performance as well as a long life for the tool.
Carbide Inserts Special for Stainless Steel
Stainless steel is a kind of metallic substance that is distinguished by an exceptionally high level of purity. There is alloyed steel as well as unalloyed steel; however, only the alloyed kind of steel may also be stainless.  Because turning operations often produce greater friction and heat than those involving many other materials, selecting the appropriate insert grades is essential when working with stainless steel like carbide inserts special for stainless steel.  HUANA has introduced M2 geometry with robust DLC coating for milling inserts APMT1135 1604, which makes machining stainless steel more long-lasting. On the HSS tool, the DLC coating of carbide inserts special for stainless steel is created utilizing the most advanced PVD process currently available. When turning stainless steel, the milling inserts APMT1135 1604, PVD-coated grades are the first-choice grade at every stage of the process, from semi-finishing to roughing. Because of its high resistance to both heat and mechanical stress, it offers superior edge line security for both interrupted and continuous cutting.
When turning stainless steel, you should be able to remove a sufficient amount of material so that surface work hardening issues are avoided. This applies to both the main and secondary cuts that are performed during surgeries involving several cuts. As the tool advances into the workpiece, the feed rate must be kept constant. When using a form tool to turn deep or intricate structures, slower speeds should be given some thought. MA.MS and other famous Japanese Mitsubishi grooves have been introduced by HUANA for their turning blades, and at the same time, the company has adopted silicon-containing coating, which is more wear-resistant.
 Thread milling cutter for stainless steel
Because of its durability, longevity, and resistance to corrosion, stainless steel is a material that is widely used in manufacturing. This is one reason why stainless steel is so popular. Stainless steel is utilized in practically every industry, including the building and construction industry, the automobile industry, the transportation industry, and the consumer products industry. The qualities that lend stainless steel its allure also contribute to the material's reputation for being difficult to work with. Milling stainless steel demands the appropriate apparatus, tools, and method, all of which must be considered.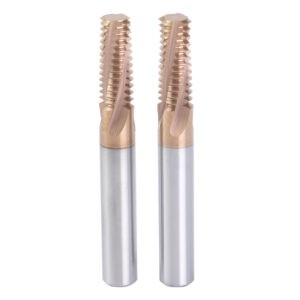 There are a few factors contributing to the rise in popularity of thread milling. In addition, thread milling is an excellent choice for tough and pricey materials like stainless steel and high-temperature alloys since it works so well with these materials. As an alternative to tapping and thread turning, thread milling has gained more and more popularity in recent years. Not only are thread milling cutters capable of being incredibly versatile and utilized for a wide variety of applications, but they also have the potential to be an economical choice. Therefore, HUANA has single-tooth, three-tooth, full-tooth and other designs, supports non-standard customization, and the finished thread has good finish.
Important CNC Machining Principles for Stainless Steel
Stainless steel has steadily gained a significant role in a variety of industrial sectors over the course of many years, including the automotive industry, aerospace, the marine industry, the medical industry, and others. At the current time, stainless steel is undeniably one of the industrial alloys that is used the most. However, it is crucial to have an understanding that machining and tool maintenance are quite important when working with alloys such as stainless steel.
Because of their high work hardening rates and poor chip breaking qualities during the machining process, austenitic forms of stainless steel, such as grades 304 and 316, are now among the most commonly machined kinds of stainless steel. The machining of the aforementioned grades is affected by a wide variety of circumstances, each of which plays a critical part in ensuring the grade's effective completion. In addition to this, the fundamental operating principles of CNC machining tools are broken down as well.
Among the many companies that produce CNC tools for milling stainless steel, HUANA is among the most prominent. We provide our clients with a comprehensive selection of stainless steel goods that are suitable for a broad variety of industrial applications by adhering to the most recent technical advancements and standards established by the industry.
When working with stainless steel, there are a few things to keep in mind:
The cutting edges are kept sharp at all times since having edges that are rough or dull might cause the task to become harder.
Chip breakers are often employed to ensure that the swarfs are kept away from the job being done.
Coolants and lubricants are utilized so that there is no heat elimination on the edges, or so that it is avoided.
Rigidity In Both The Machine And The Tooling
When machining stainless steel, it is necessary to bear in mind that there should be no dwell or friction as a result of the vibration of the machine and the tool chatter. In addition, it is essential that the machines have the capacity to create the deep cuts that are necessary for the machining of austenitic stainless steel without compromising the surface speed or the feed that has been established.
In addition, one more thing that has to be taken into consideration is the fact that the machines shouldn't be susceptible to excessive vibrations in the machine bed, gearboxes, drives, and boxes. This is one of the things that need to be taken into consideration. Both the total distance between the toolbox support and the cutting tip, as well as the shank-cross area, should be manageable. Additionally, the cutting tip should have a significant cross section. The fact that the heat may be redirected away from the cutting faces is still another benefit. In conclusion, the arbors that are used to manage barrel milling cutters have to be robust and its supporting components ought to ideally be located near to the ends of the cutter in order to provide the most possible support.
Materials Used in Tools
High-speed steel (HSS) and carbide tools are often used throughout the machining process while working with stainless steel. Carbide tools are also an option.
Molybdenum and tungsten are the two optimum high-speed steels (HSS) that may be employed, and both of these HSS are used in machining procedures that require slow machining and high-feed applications. The abrasion resistance as well as the hardness of the tungsten kind make it an excellent option for the role. Additionally, it is essential to keep in mind that if the tools are susceptible to edge chipping, it is advised that a harder grade be used. This recommendation is something that must be kept in mind at all times.
When machining stainless steels, the speed and feeds generated by carbides are often greater than those produced by HSS. This allows carbides to find uses in the process. The machining of ferritic and martensitic grades of stainless steel often requires the use of complex carbides, whereas machining duplex and austenitic grades of stainless steel typically requires the use of tungsten carbide variations. It is essential to take into account the fact that coated carbides have increased resistance to both wear and fracture.
The Provision of Lubrication and Cooling
Because of the combined effects of the deeper cuts and high feed rates that are required to combat the effects of work hardening and the low levels of thermal conductivity exhibited by stainless steel, it is extremely important to make use of cutting fluids when machining stainless steel. The primary reason for this is to deal with the combined effects of these factors. During the machining process, the corrosion resistance of stainless steel can be severely compromised if the surface is allowed to become overheated. In addition to this, overheating is another factor that may contribute to distortion.
Another advantage of employing cutting fluids as a lubricant is that wear and tear are considerably reduced, and at the same time, machining swarf is removed. This is possible because cutting fluids include anti-wear additives. When performing activities that entail rapid cutting, the need of cooling overtakes the importance of lubricating. Mineral oils and water-soluble oils that are emulsifiable are examples of common types of lubricants that are utilized.
Considerations to Make When Selecting a Stainless Steel Grade
When choosing a material for a project of any sort, it is frequently important to take a number of different variables into account. This is true regardless of the type of project being worked on. It may be challenging to pick just one grade of stainless steel due to the wide variety of grades that are now available. Having said that, you should be able to figure out which school level is most appropriate for you if you give the following points some attention and give some thought to which grade level is most appropriate for you.
Tensile strength is usually a decisive factor in selecting the best material for a project, which is why it is vital to take this attribute into consideration. We strongly recommend that you create a knowledge of the pressures and loads that will be encountered by your parts and then compare this information to the various tensile strengths that are available. Once you have this information, you can then select the appropriate tensile strength for your parts. Getting rid of any materials that won't supply the required amount of strength will be made much simpler for you as a result of this.
Treatment with heat It is essential to bear in mind that even while heat treatment can improve the hardness of your components, this improvement could come at the expense of other mechanical properties if the treatment is performed poorly. This is something that you should keep in mind at all times. You should also be aware that austenitic stainless steels can't be heat-treated; as a result, you can't choose this sort of material for your project because of this limitation.
When working on some projects, it is essential to determine whether or not a component possesses magnetic properties. Keep in mind that because austenitic steel has a very specific microstructure, it does not display any magnetic characteristics.
Expenses However, it is essential to keep in mind that the cost of the materials is just one component of the overall cost of the project as a whole. Your objective should be to minimize the number of machining procedures that are necessary and to reduce the complexity of your components to the greatest extent possible. You will end up saving money as a result of this.
The availability of grades
Before submitting a request for a price estimate to a CNC machining company like Get It Made, make sure you find out which grades of stainless steel they provide; it's possible that they have popular grades in stock or have easy access to them. It is in everyone's best interest to avoid making grade or brand preferences for materials, since this can drive up prices and increase the amount of time it takes to complete the project. In the areas of our website that are devoted to each of our processes, you will find information about the material grades that are used the most frequently..
Conclusion
Machining stainless steel doesn't have to be a difficult process. Milling steel can be a source of troubles, but they don't have to be if you choose the right material grade for each item, pick the right cutting tool, and optimize the operating parameters. Because there are so many variables that can affect stainless steel, it is essential to select the right balance of these parameters in order to produce flawless components every time. On the HUANA website, you may browse through a variety of machine tools, or you can get in contact with us right away. We are always available to give you with honest advice and direction in order to assist you in selecting the appropriate instrument for the task at hand. Contact HUANA to receive a price estimate from the professionals that specialize in CNC tools for your stainless steel parts.