Aluminum is a material that is used extremely often in a variety of different sectors, and in order to cut aluminum, you will need a metal CNC machine that is specifically designed for aluminum. You need to locate the appropriate machine to cut your metal, regardless of whether you are doing this as a hobby or for a job. Aluminum is a malleable metal, yet due to its inherent softness, it may be challenging to deal with. In point of fact, when it is chopped or machined, it may develop a gooey accumulation. The ideal solution is to use a CNC (computer numerical control) machine, which cuts materials in accordance with the instructions that are given to it. Examples of CNC machines include inserts and drill bits. CNC tools have the ability to cut mild metals such as aluminum, while CNC metal mills have the ability to cut harder metals such as steel, stainless steel, brass, titanium, magnesium, and many more.
Advantages of Aluminum Machining
Simple to Process.After the addition of certain alloy elements, it is possible to produce forged aluminum alloy with great forging function or deformed aluminum alloy with high processing plasticity. Both of these results may be achieved by the alloy.
A high degree of conductivity.Aluminum is second only to silver, copper, and gold in terms of its ability to carry electricity and to transfer heat.
A high level of strength.Strong materials may be made from aluminum and aluminum alloys. The matrix strength may be enhanced after a certain degree of cold working, and some trademark aluminum alloys can also be strengthened by heat treatment.
Having a low density Aluminum.Aluminum alloy have a density that is close to 2.7g/cm3, which is about one third of that of iron or copper.
Aluminum Material Characteristics and Standard Grades
Which grade of aluminum should you select for your particular project? There is a wide variety of aluminum available in a variety of grades, and each of these grades offers a unique set of advantages. In this piece, we will go through the key distinctions between 1100, 6061, and 3003 aluminum, as well as provide some additional suggestions about which kind of aluminum should be used for certain types of projects.
Different Aluminum Grades
The various grades of aluminum are the first aspect of the material's makeup that should be brought to your attention. There are three primary varieties of aluminum, namely 1100, 3003, and 6061. The pricing point and end-use application of the aluminum will be determined by the grade of the metal. For instance, 1100 is a material that has a cheaper cost compared to 6061, but it cannot be utilized for high-temperature applications such as cooking utensils or pot lids.
Pure aluminum with a little amount of manganese added to it to boost its strength is called 3003 aluminum. Its nominal composition as an aluminum alloy is 1.2% manganese, 0.12% copper, and 98.6% aluminum. It can be welded easily, it has a relatively cheap cost per pound, and it is versatile enough to be employed in a variety of contexts. Although it does not have the same level of corrosion resistance as grade 6061 or 1100, it is a more cost-effective alternative to those grades for some applications.
Aluminum in the form of 3003 is the most prevalently used kind of the metal. Although it is a versatile alloy that may be used for things like cooking utensils and the lids of pots, it is not suitable for use in environments with high temperatures such as an oven or a grill.
The grade of aluminum known as 6061 is sometimes referred to as "The Workhorse Aluminum." In comparison to alloys in the 300 family, its resistance to corrosion is much higher. Additional advantages include its high heat welding characteristics as well as its strength in comparison to alloys of the same thickness as 250.
This aluminum alloy is suitable for use in the production of goods that are subjected to a significant amount of wear and tear, such as guttering or furniture with exposed corners. Because it has greater corrosion resistance in comparison to other grades, its increased strength also makes it the ideal choice to use in circumstances where there is a high amount of humidity. This makes it the greatest option to use.
Because it is manufactured to a minimum purity level of 99%, this kind of aluminum is the purest that can be purchased in industrial quantities. It is very easy to manipulate and has great ductility. As a result of this, it is an excellent option for tough forming operations. Although this metal does not become more brittle when treated or heated in the same way that other metals do, its resilience to corrosion and ability to be welded make it an extremely useful material. In applications that need for thermal conductivity, its high thermal conductivity offers it an advantage over competing materials.
Aluminum 1100 is a versatile metal, which means that it can be fashioned into a variety of various forms and products without compromising its properties. These items may be found in the manufacturing business and include chemical equipment, dials, fin stock, railroad tank wagons, and nameplates. This malleable but sturdy alloy is used by a variety of industries, including plumbing and lighting, in addition to a large number of other producers in a wide range of fields, including those who produce cooking utensils and rivets for building projects.
Aluminum is among the most versatile metals that can be found on our planet. It is an essential building material that can be utilized in many various ways, from construction to culinary utensils, and it has a broad variety of applications that can be carried out with its help. Nevertheless, whether you want aluminum grade 3003 or any other grade, you will need to locate the appropriate source..
What Are The Difficulties In Processing Aluminum Parts?
Teeth that have rotted away, a knife that won't move, and an unqualified finish on the machined surface while tapping.
Because aluminum alloy has soft qualities and a low melting point, it is easy to have difficulties with it, such as rotting teeth or a stuck knife, in an atmosphere that is not optimal for processing. In addition to modifying the processing settings, such as avoiding medium speed processing that is prone to causing the knife to get stuck, it is recommended that a cutting fluid that is effective at both lubricating and cooling be used.
A surface that is moldy and has not been machined.
Cutting fluid is the root of the majority of issues that arise during CNC machining of aluminum alloy. Because there is not enough attention paid to the design of cutting fluid products, it is difficult to machine without encountering complications. Mildew is one of the manifestations that might occur as a result of the non-machining of aluminum alloy, which has a sensitive reaction to the corrosion inhibition ability of cutting fluid. Mildew formation on aluminum alloys is often brought on by an inadequate ability of the cutting fluid to suppress aluminum corrosion and an insufficient ability of the cutting fluid to regulate microbial growth. The mildewing phenomena that are brought on by the two separate causes are distinct from one another, but in the vast majority of instances, the mildewing is brought on by an inadequate ability of the cutting fluid to prevent aluminum corrosion. If mold grows, our first order of business should be to enhance the cutting fluid's ability to prevent corrosion and to find a better way to store the parts once they have been machined.
The residue left on the surface after the machine has been used has an effect on the subsequent cleaning.
After being machined, aluminum alloy will often need some kind of cleaning treatment. If the cleaning capacity of the aluminum alloy cutting fluid is poor, it will leave residue on the machined surface of the aluminum alloy, which will either harm the look or later need a different treatment for the code spraying. In most cases, it is connected to the process of designing emulsification systems and cleaning procedures for cutting fluid goods.
The procedure generates a significant amount of foam.
When possible, cutting fluid foam should be avoided throughout the machining process. As a consequence of inadequate cooling brought on by foam and excessive tool wear, the machining process will produce subpar results and have a low overall efficiency. Especially with the renewal of machine tools, the five axis machining center has higher requirements for cutting fluid foam. If the cutting fluid lacks the ability to prevent foaming and deforming, it will cause an abnormal elevation of the liquid level, which will in turn trigger the liquid level alarm and cause the machine tool to stop working normally. Not only is the addition of defamer a solution to the problem of improving the performance of cutting fluid foam, but also the system design of cutting fluid products may provide a solution to this problem.
The cutting fluid has a short life expectancy.
When milling aluminum alloy work-pieces, such as pistons, gearbox cylinder blocks, and other similar components, one of the most typical issues that arises is that the service life of the cutting fluid is significantly shortened. The service life of cutting fluid is not only correlated to the cost of investment and the frequency of groove changes, but it also has an effect on the quality of the processing, the working environment on-site, and other factors. After a certain amount of use, groove fluid will begin to adhere to surfaces and get contaminated, which is the primary indicator of how long cutting fluid will remain effective. Sticking makes it difficult for aluminum chips to separate from the surface of aluminum parts, which results in indentation and corruption, which reduces the machining quality of cutting fluid and worsens the on-site working environment. Sticking also makes it difficult for aluminum chips to separate from the surface of aluminum parts. When it comes to the formulation of cutting fluid, stickiness is connected to the choice of emulsion system as well as the capacity to exert control over microorganisms. The introduction of microbial nutrients into the cutting fluid and the choice of a sterilizing and bacteriostasis system are both linked to corruption. Obviously, this also has something to do with the application and upkeep of cutting fluid at the location.
Warner Provides Professional Aluminum Processing Solutions
3 flutes high-gloss aluminum milling cutter
Aluminum is one of the materials that is machined the most often since most forms of the material have good machinability. As a result, aluminum is one of the materials that is most frequently utilized in manufacturing. Because of this, there is often a lot of rivalry in the market for aluminum machining. While the number of flutes in the tool is increased, it becomes more difficult to adequately evacuate chips at the high speeds that may be achieved when running aluminum. This is due to the fact that aluminum alloys produce huge chips, and the chip valleys on an end mill become narrower as more flutes are added to the tool.
On the other hand, three-flute end mills have been shown to be more effective in a variety of aluminum finishing procedures; when used with the appropriate settings, these mills may also function well as roughers. High-gloss aluminum milling cutter with three flutes and the option of a DLC coating, which, depending on the thickness, may provide two to three times as much additional life to the cutting edge. The diamond-like carbon (DLC) coating is a one-of-a-kind thin layer that is mostly made of carbon and has outstanding adhesion resistance, a high degree of hardness, and superior friction and wear qualities. Despite the fact that machining aluminum presents a unique set of hurdles, the material's many desirable characteristics help to mitigate a number of these obstacles.
Ball Nose for aluminum 3D machining and contour machining
The mold and die business, the fabrication of turbine blades, and the fulfillment of general component radius requirements are all areas in which ball nose end mills shine. These end mills are suitable for machining three-dimensional contour forms in aluminum. Ball nose are used in the machining of three-dimensional shapes and five-axis items while working with aluminum. Ball Nose for aluminum 3D machining and contour machining is a good tool for performing final surfacing and may also be used for light machining. It is designed for usage with aluminum.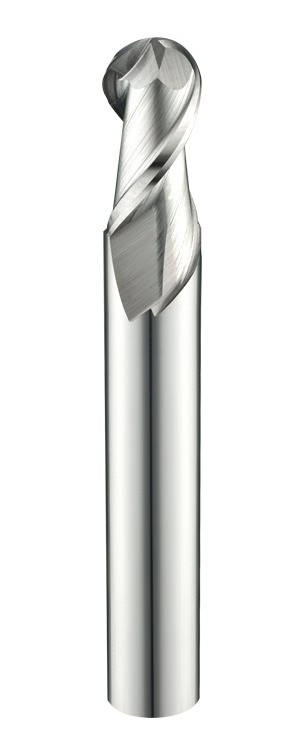 These tools are ideal for working with hard alloys, exotic composites, aluminum, and brass, as well as plastics and unusual composites. The rounded cutting edge of the tools provides very little chipping and smooth surfaces, making them the best choice for the job. These micro-grain carbide tools have a long lifespan and are available in a wide variety of cutting diameters and lengths, shank diameters, coatings, and shapes for use in specialized applications.
Aluminum Inserts
When it comes to machining aluminum, there are several different elements that might aid increase efficiency. Selecting the appropriate insert is very necessary for successfully machining aluminum in order to maximize productivity and profits. Aluminum inlays provide exceptional protection against wear and corrosion. Insert shape, rake angles, and the relief angle are three of the primary geometries that have a significant impact on an insert's performance. Other notable geometries include the relief angle. Because aluminum is a slippery and free-machining material, sharper angles are often suggested to aid shear through the material rather than forcing the material through with an honed or dull cutting edge. This is because aluminum is a free-machining material.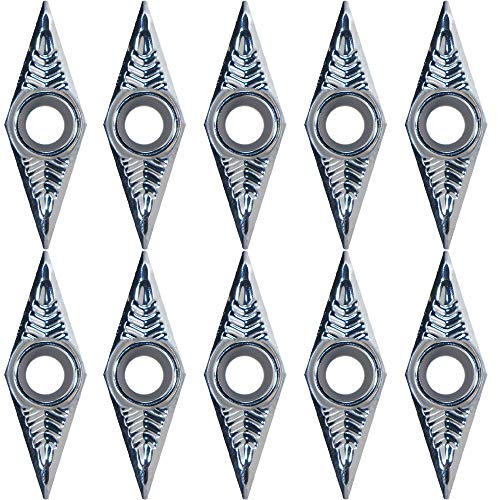 When creating smaller batches or prototypes, the most important criterion in selecting an insert may simply be what tool holder the shop has available for that application. In general, a large number of holders will have specialized geometries for machining aluminum. Inserts of common forms such as circles, triangles, squares, parallelograms, and diamonds may all be used productively. However, when selecting an insert shape, it is typically advised that the most acute angle be picked after evaluating the specific application, clearance, depth of cut, feed rate, and amount of interruption that the application will allow. This is done so in order to provide the best possible cutting results. The configuration of the insert has the potential to enhance the application's productivity, effectiveness, and tool life. For instance, utilizing a sharp 35° diamond in a high-speed finishing application in the single-point turning of aluminum would be beneficial. On the other hand, you may want to avoid using a sharp 35° diamond shape on sand-casted aluminum with a rough surface and instead use a round-shaped insert..
Drill bits for aluminum
Without the assistance of a drill bit, it is not feasible to conceive of a hole that would serve its purpose. It is essential to keep this fact in mind since drill bits are unable to create holes in all surfaces. Because of its low density, aluminum is easy to carry, yet it is notoriously difficult to drill. This indicates that drilling holes in metal is a challenging endeavor. Aluminum cannot be drilled into precisely round holes without the use of a high-quality drill bit.

If you use the finest drill bits for aluminum, you can find that drilling is a lot more pleasurable experience that also takes much less time. It will ensure that your exercises are as exact as precise as they possibly can be. Since aluminum is a soft metal, it may be drilled with a conventional high-speed steel (HSS) drill bit without any problems. However, due to the low melting point of aluminum, a drill bit made of cobalt would be the superior option to employ in this situation. The cobalt drill bit will disperse heat more quickly, which will, in the end, help to reduce the amount of heat that is built up.
What Aspects Of Machining Tools Should We Take Into Account?
Approach Angle And Rake Angle
The rake angle is the angle formed by the cutting tool tip in relation to the clamped work-piece on the CNC machine tool. Depending on the location of the tool insert, the angle might be positive or negative. We like to work with aluminum pieces that have good rake angles. Because it is a soft metal, we must reduce cutting resistance throughout the manufacturing process. Because chips build around the tool throughout the machining process, the ultimate product quality suffers.
Rake angle is seldom used in CNC milling. This is due to the fact that the approach angle specifies the connection between the component and the tool location on the CNC tool post.
Small to medium-diameter tools have weak stiffness and are more prone to bending under the impact of radial cutting force, whereas large-diameter tools are more stable and have distinct anti-vibration needs. Furthermore, it is discovered that the feed rate is not the most important element influencing the radial cutting force. The radial cutting force varies relatively little between different tool feeds (typically 0.25mm and 0.35mm per tooth). The edge band on the blade of a standard aluminium alloy milling cutter with a diameter of 25mm is 1°, 0.1mm broad, and ideally matched with the curved cutting edge.
On the CNC machine tool, this parameter also establishes the interaction between the tool and the clamped workpiece. The tool insertion is the reference point in this parameter. It, like the rake angle, can be either positive or negative.
A positive clearance angle is recommended for processing CNC aluminum components, whether for fast prototyping or large manufacturing. The operator may vary the back angle by using indexable blades. The release angle ranges from 20o to 30o, which might result in a higher surface finish for aluminum items.
Chip buildup will impede high-speed machining of aluminum components. Chips are generally sticky, which can make maintaining the cutting space on the CNC surface difficult. The design of chip breakers used in CNC machine tools is heavily influenced by the rake and relief angles.
Conclusion
While this article provides valuable information about best CNC tools for aluminum, there still exist many other factors you need to consider before determining the right tools for your job. As we always tell our customers, the right choice will depend on the geometric complexity of your design, choice of material, surface finish, and acceptable tolerance range, among others. Sometimes, a single cutting tool will suffice; other times, you might have to rely on two or more cutting tools to create your parts. If you are looking for the best CNC tools for aluminum processing, just contact HUANA