CNC processing may seem intimidating to those who are new to it…
The catalogue has so many end mills. What is the difference between them all? How should I choose the end mill for my CNC machine?
Let's begin by answering the question, what is a CNC End Mill used for?
End Mills are milling cutters used in CNC machines to remove metal.
It is possible to choose from a wide variety of diameters, flutes, lengths, and shapes when choosing a screw. However, they are primarily chosen based on the workpiece's material and required surface finish.
End Mills
Metals and plastics are typically machined with end mills with multiple flutes. Two or more helical flutes are usually mounted vertically on the blade. The end of an end mill is usually cut as well as its side when it is used. A solid end mill may have a holder and insert or be of solid construction. The tip or end geometry can be changed to meet your needs.
A drill bit only cuts straight down, vertically into the material, while an end mill rotates horizontally or lateral (side to side). Therefore, it is essential to choose the right endmill based on the material that will be cut and the required surface finish. Endmills come in various lengths, diameters, flutes, and types. Slotting, profiling, contouring, counter-boring, and reaming are performed with end mills. Cutting precision parts with end mills can result in any manufacturing part, including machine parts, jewelry designs, wood engravings, signs, plastic cutting, molds, and circuit boards.
What are The Major Types?
End mills w.r.t shapes
 Ball nose end mill:
It has a radius at the bottom, allowing for a smoother finish. In addition, the radius at the bottom makes for a smoother pass which is ideal for 3D contour work, shallow slots, pocketing, and contouring jobs.
V-bits: 
These V-shaped passes are used for engraving, cutting narrow, and engraving lettering and lines with beautiful details, especially for signs, and are also available for extraordinary sharp edges. V-bit end mills can be found in two different forms- a 60° V-bit and a 90° V-bit.
 Fishtail end mill: 
A thin cutting edge at one end of a fishtail end mill allows it to plunge straight into your material without breaking it. As a result, it produces a flat surface, prevents splintering, creates clean edges on thin materials, and creates pockets with flat bottoms, perfect for plunge routing and precision contours, such as signs. In addition, if you utilize fishtail end mills to cut an inset piece of geometry, you can also get nice square corners at the bottom of any inset section of geometry.
Square end mill:
This mill type generates flat-surfaced cuts in a workpiece with perfect 90° corners. It can also mill side cuts, face cuts, and other operations. In addition, a square endmill can be used for roughing or finishing.
Bull-nose end mills:
In addition to a flat bottom and rounded corners, corner radius end mills combine fishtails and ball-noses to create a combination cutter. The milling of moulds is often done with bull-nose end mills.
End mills w.r.t number of flutes
In the machining process, the spiral-shaped teeth on the end mill provide an empty path for removing cutting chips. As a result, it is more common to find end mills with two and four flutes than those with three and four flutes. Smooth surfaces are created by more flutes, while fewer flutes best achieve chip clearing and heat control.
2 Flute end Mill
As a result of the large chip sizes produced by wood and aluminium, this tool is suitable for use with these materials
 4 Flute end Mill
Other materials can be machined with this cutter, including harder ones than those that can be cut with two flutes.
Hot Selling End Mills in Asia and the Middle East
Suppose you belong to any country from Asia or the Middle East, including India, Turkey, Egypt, Vietnam, Malaysia, South Africa, UAE, or Iran. In that case, you must consider the following hot-selling EndMills from Huana Tools.
HUANA 55HRC end mill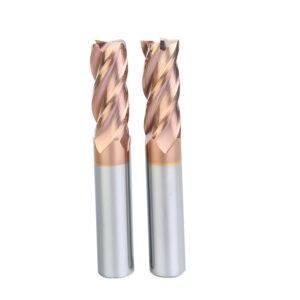 Solid carbide corner radius end mills from Huanan are made from 55HRC material with a 90mm to 120mm corner radius, making Huanan one of the most experienced end mill manufacturers and suppliers in China.
A solid carbide corner radius end mill has two major characteristics: it is robust and can work with any universal end mill. Additionally, it has a long lifespan and can be used to machine curved surfaces. The materials used in the manufacture of this product are premium grade. It is designed and constructed to resist weather conditions and corrosion and wear over time. Therefore, this product is built to last a lifetime, which means that it is built to last a lifetime.
When ultrafine particles are used as the base material, and Pilates (gray smoke) is applied to the surface of the mill, 55HRC becomes a highly versatile material, especially for 4-blade flat-end mills. In addition to 45 steel, low carbon steel, prehardened steel, and stainless steel, the machine is suitable for processing a wide range of steel supplies. Titanium can also be ground on the machine.
The item in its current form is coated with TiSiN, a silicon-containing compound, which gives it excellent surface hardness and high thermal resistance.
Featuring a spiral angle of 35 degrees, it can adapt to materials and the hardnesses of materials that are being processed.
A cost-performance ratio makes it valuable for the manufacture of molds and products because a cost-performance ratio makes it a cost-effective material. The Chamfered edges prevent the material from being broken at high speeds. The machine can work with various metals, including carbon steel, alloy steel, cast iron, and steel that has been hardened.
Additionally, the unique cutting edge of the blade can significantly impact how it performs during the actual cutting process by affecting how it performs during the process of cutting. As a result, we expect that tools and machines in the future will be much more efficient and will last a long time before they have to be replaced.
As they are smooth and wide, there will be less difficulty in removing cuttings from the flutes since they will be able to remove them more easily. As a result of its high heat resistance, this material is ideal for processes involving high speeds as well as high speeds of processing. There will be no problem identifying any damage caused under the orange coating, as any abrasion will be easily visible. When carbon tungsten is used as raw material, there is a high degree of toughness and grain size as it possesses a high degree of hardness. It is possible to reduce the friction coefficient, improve lathe efficiency, and thus speed up production by polishing the surface.
Aluminum Milling Cutter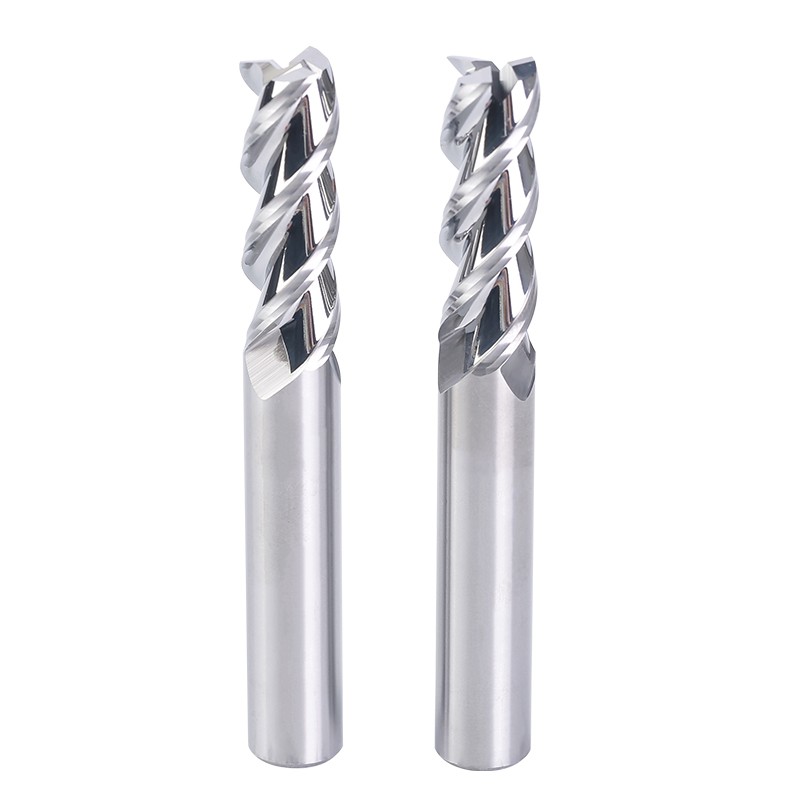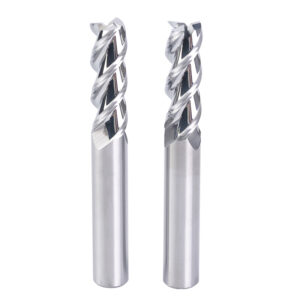 It is a lightweight, highly formable, workable, and highly machinable metal commonly used in manufacturing. Aluminum is a highly formable, workable, lightweight metal. Nearly all industries can be found using parts made from this material for various purposes. Moreover, aluminum is becoming a popular choice for prototypes due to its low cost and flexibility, making it an ideal material. Aluminum end mills are usually available with two or three flutes depending on the type of end mill you choose. Increasing the number of flutes in aluminum would make it more difficult to evacuate chips from a large amount of chip material at the high speeds aluminum can run. In this case, the reason is that aluminum alloys are known to produce large chips, and as the number of flutes in an end mill increases, the chip valley on the end mill gets smaller. Typically, the helix angles for aluminum are either 35°, 40°, or 45°, with other specialized angles available upon request. Effective chip evacuation is one of the most critical factors when machining aluminum. Variable helix tools can reduce chatter and harmonics and increase material removal rates. As long as the end mill runs at the appropriate speeds and feeds and is loaded with the proper chips, standard 2-3 flute end mills can discharge chips quite effectively. When polishing aluminum milling cutters, Warner uses a 45-degree helix angle design, better suited to cutting and finishing the aluminum milling cutter more efficiently. In addition, it is equipped with a C angle for tip protection. DLC coating can extend the service life two to two or 2-three times.
Ball Nose End Mill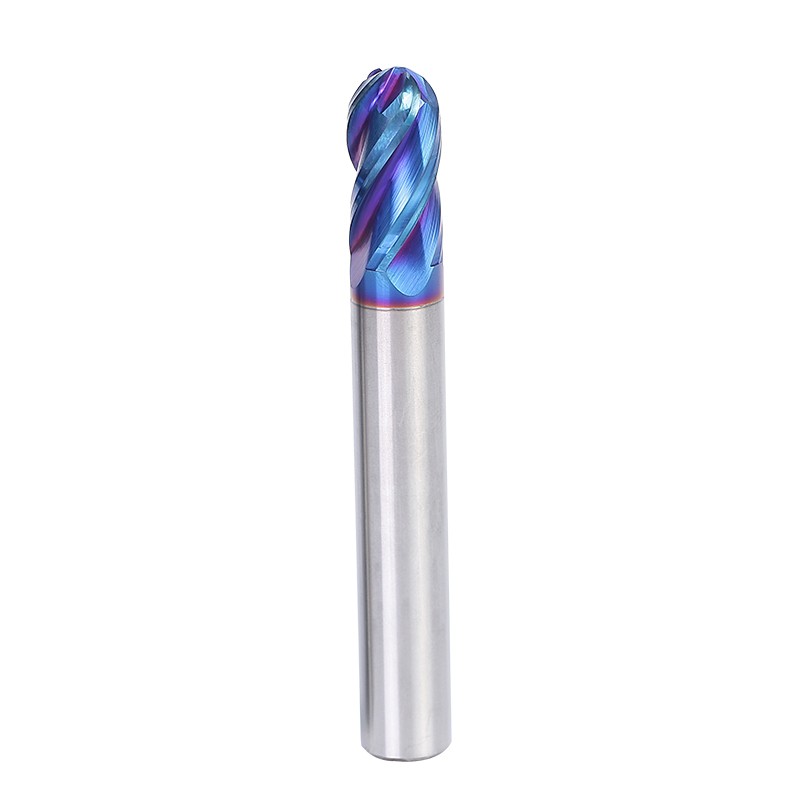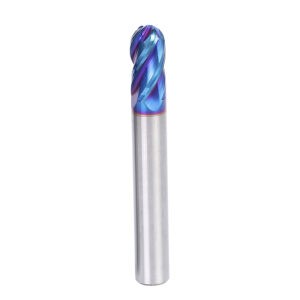 Similar to other solid carbide end mills, these are manufactured on special CNC grinding machines using diamond-impregnated grinding wheels. It is possible to grind ball nose end mills with more than one grinding wheel, similar to what you will see with most other machining end mills. This requires multiple wheels to be mounted together in a wheel pack so that these wheels can be used for contour milling, shallow slotting, pocketing, and contouring, all of which are commonly used for contour milling applications.
Because they leave a nice rounded edge, ball nose mills are ideal for 3D contouring. Straight-end mills have simple edge shapes, whereas helix-shaped end mills have more complex edge shapes. It is possible to divide the helix angle into 30 degrees, 45 degrees, 50 degrees, and so on, based on their angles.
When large areas of material need to be removed, it is best to use a roughing end mill first, followed by a ball nose end mill to complete the job. The ball-nosed end mill includes 2 and 4 blades. First, how these end mills are used must be introduced, etc. Carbide Variable Helix Angle End Mill for General Use with 4mm Diameter and 0.5mm Corner Radius, with a plain shank of 65mm length and 5mm flute length, and made of AlTiCrN coating.
It can also be used for Stainless Steel, Titanium Alloys, Heat Resistant Super Alloys, General Steel, Cast Iron, and Hardened Steel up to 58HRC.
Stainless Steel Milling Cutter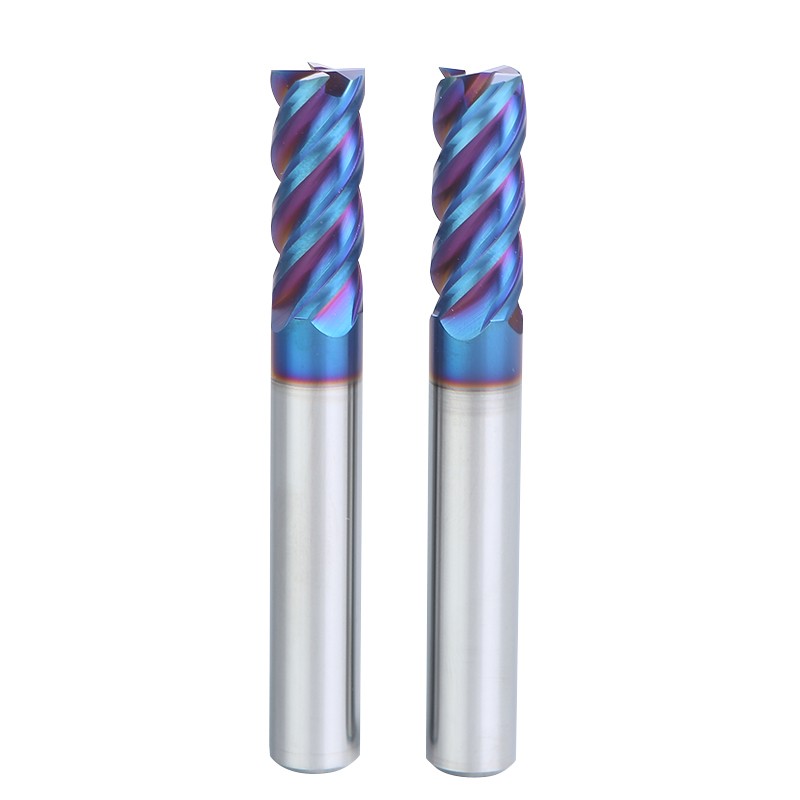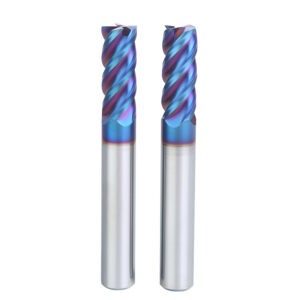 In many shops, especially those that manufacture aerospace and automotive parts, stainless steel can be just as common as aluminum. The downside of working with stainless steel is that it is challenging compared to working with aluminum. If you are roughing with an end mill with 4 or 5 flutes, it is recommended to use a four or 5-flute end mill. Five flute end mills will allow for a higher feed rate than their four flute counterparts, but both types are well suited to rough applications. Because stainless steel contains a large amount of Cr, Ni, Mn, and other elements, it is plastic and rigid compared to ordinary steel. It can harden during processing because of its high-temperature strength. There is a large amount of load generated as a result of this. Furthermore, during cutting austenitic stainless steel, some carbides will precipitate inside the cutting tool, contributing to the increase in wear on the cutting tool during the process. Using AF308 material and Oerlikon BalzerS coatings, Warner solves the problem of cutting and prolongs machining life.
Tungsten Steel Milling Cutter
It can also be considered a tool made from tungsten steel, called a tungsten steel milling cutter. It is mainly used for CNC machining centers and engraving machines, but there is also a larger market. As another solution, tungsten steel milling cutters can also be mounted to a milling machine to process heat treatment materials, which are relatively complicated and uncomplicated. Tungsten milling cutters' wear resistance and strength are more significant than steel milling cutters. To improve machine efficiency and thus decrease manufacturing time, it is crucial to reduce the frequency of tool changes on the machines. The cutting edge can be used reliably with a very high level of sharpness and a smooth surface free of burrs. A vital feature of this material is using a superfine material to ensure excellent engraving and milling performance. Throughout its more than 15-year history, Warner has focused on tungsten steel milling cutters. The stocks of standard products are over 3 million dollars, which is more than any other manufacturer worldwide. We provide stable quality products as well as OEM services to our customers.
How Can You Choose Them?
There are many important considerations to be kept in mind when buying an end mill.
Size 
Consideration for end mill size is the cutting diameter, the shank or arbor diameter, the flute or cutting edge length, the overall tool length, and when the tool has an angle or radius.
Choices of construction
A single-end or double-end construction is usually the only option for cutting ends. An end mill with just one end has cutting flutes or edges, which is the most common configuration. With double-end mills, the tool can be reversed or flipped when one end wears out, enabling it to be used again with the other.
 Flutes 
There can be a great deal of variation in the number of flutes on an end mill. Therefore, a clear understanding of how many flutes you need is crucial to ensure you get the best results.
Using two cutter flutes allows the chip to be ejected freely and can also handle large chip loads. There is no doubt that multi-flute end mills offer a much better surface finish than single-flute end mills and offer a higher feed rate. If you apply the rule of thumb here, the more flutes you add, the better your finish and the more powerful your core will be; on the other hand, it will be more difficult for you to eject chips.
To keep your multi-fluted end mill from dulling or burning, you must also increase the feed rates. As long as you know the chip load/tooth, you should be able to multiply it by the number of teeth to find the feed per revolution if you know this.
Materials 
Choosing the suitable material for the end mill can play a large part in understanding how much cutting power an end mill can handle in terms of cutting depth. Certain materials may be used for higher speed applications, such as carbide, cobalt, and diamond, while others may be used for general metal machining, such as steel. Micrograin carbide is an option for end mills that can also be used for surface finishing applications, and ceramic is another material option that can also be used for end mills.
Diameter
The width of a slot is defined by the cutter diameter, which is the measurement of the tool's cutting edge as it rotates. It is possible to fail the job if you use the wrong cutter diameter – either too large or too small – due to the incorrect selection of the cutter diameter. The smaller the cutter diameter, the better the clearance within tight pockets, whereas the more influential the tool, the more rigid it will be in high-volume applications.
Coatings
Also, end mill machines should be coated to provide additional production, won't rust and abrade, will increase the tool's hardness, will provide lubrication, improve smoothness, and increase their life. Some manufacturers may also offer other end mill options and considerations.
Standards -0
Designing and constructing end mills properly requires adherence to several standards. The following are some examples of these standards.
ASME B94.19 
This Standard intends to cover all one-piece steel milling cutters and end mills designed to operate at high speeds. A general definition and a description of the dimensions and tolerances are also included.
BS ISO – 1641-1 
The Cutting Cutters With Cylindrical Shanks – Part 1: End Mills And Slot Drills
ISO 1641-3 
As part of ISO 1641, several milling cutters with 7/24 taper shanks are specified in their general dimensions and designations.
What does coating do?
Essentially, the purpose of a coating is to extend the life of a tool and increase its performance by improving efficiency.
An end mill is covered with a coating similar to its clothes. The right clothes should be worn at different times depending on the occasion. For example, swimsuits are required when people are in the water, while spacesuits are required when people are in outer space. It would help if you chose the coating depending on your processing conditions.
Bottom Line
To offer the best products, techniques, and services to our worldwide customers, we have established several top factories in China and professional technology teams. In the future, we will rely on our client's satisfaction, professional operations, and professional service.
Over 20 countries have placed orders with us, and our reputation has been well established. As one of our main quality policy objectives, we strive to achieve 0% deficiency and a never-ending improvement process. I want to remind you that if you need anything, please don't hesitate to contact us.
We have been praised domestically and internationally for our high quality, reasonable prices, on-time delivery, and customized and personalized services to help customers succeed.
Fortunately, we have a friendly and easy-going team eager to work with all customers from both home and abroad. Furthermore, we are committed to ensuring customer satisfaction at all times.
We can provide quality products at the best prices to different markets, as we understand the market demands in different countries. Our company has already established a team with professional, creative, and responsible members to develop clients with the multi-win principle.