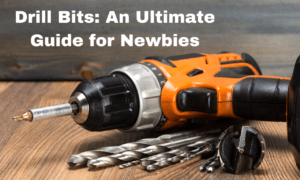 You can have numerous options to make a hole in the wall to hang your favorite painting on it. However, you should know that you are choosing the right way. It is commonly seen that making a hole using a hammer may cause the nearby areas of the hole to get cracked; thus, one of the most reliable methods to make a hole is drilling. To drill a hole, you will need drilling bits. They are a crucial element of the process that ensures smooth drilling ahead. However, the size and the type of drill bits depend on the hole you want to drill.
Drill Bits
In essence, a drill bit is a tool used to remove material from a surface to make holes, and it is almost always circular in cross-section. Drills come in various shapes and sizes, which you can use on different materials to drill holes.
What Are Drill Bit Sets?
These sets typically consist of different-sized drill bits to serve various purposes. Using circular torque or rotational force, drill bits drill holes into different materials. Typically, drill bits have a shank attached to a chuck, which is a clamp inside the main body of the drill.
What Is HSS Drill Bit?
HSS bits are hard and much more heat-resistant than high-carbon steel, a form of tool steel whose advantage is its high-speed properties. Drill bits composed of high-speed steel (HSS) are suitable for drilling soft metal materials such as aluminum, wood, fiberglass, and PVC. The heat generated by cobalt drill bits dissipates rapidly, despite their extreme hardness. Stainless steel and titanium are among the tough metals that can be bored using this machine.
Other Types Of Drill Bits
Wood Bits
Drill bits featuring a brad point have a cutting edge on the outside that cuts the diameter of the hole before it breaks through the center. This results in the bit not grabbing and the hole being very clean. There are drill bits that you can purchase with small rubber rings that allow the user to select the depth of the drill bit.
Masonry Drill Bits
With Hammer drills, bricks, concrete, and stone can be drilled with these bits. Besides the hexagonal shank, some professional-grade masonry drill bits will also have percussion ground carbide tips. The tungsten brazing on the bits' tips can melt under the heat of use, causing the tips to move and chip when drilling. Using the right drilling RPMs will help you keep the bit's temperature down and clean its flutes.
TiN HSS Bits
This sort of drill bit's cutting life is greatly extended by titanium nitride coatings that reduce heat buildup and enhance lubricity. Like regular HSS drill bits, you can use them on wood, metal, and plastic.
Cobalt HSS drill bits
Cobalt and nickel are solid alloys of high-speed steel used to manufacture these drill bits. These machines can drill stainless steel and bronze, cast iron, cast steel, and holes in welded surfaces.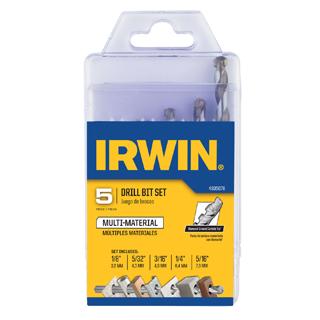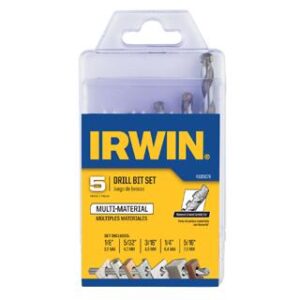 Rivet Bits
The flutes on these drill bits help you drill more holes from one drill bit since they are designed specifically for drilling holes for rivets. You can only drill a shallow hole through thin metal with these bits if the diameter of the hole is larger than 1.25 x that of the bit. Moreover, it is important to drill larger holes than rivet sizes to allow for rivet expansion and reduce fatigue on the metal.
Spade Bits
The broad brad-point of a spike bit is used exclusively for drilling large holes in wood with an easily recognizable spike and two-angle spurs. To reach a greater distance, you can add an extension shank to their 14″ hex shank. Several sizes range from 6mm to 38mm in diameter.
Auger Bits
They are designed only to drill into thick, hard, dry wood and can drill very large holes. The drill bit's tip is threaded with a screw, which allows the bit to be pulled into the material without pushing, and its single-spur cutting edge leaves a smoother finish. The flutes on the drill bit enable the wood chips to be removed as quickly as possible. Often, hexagonal shanks are used to secure a firmer connection between the chuck and the bit.
Forstner Bits
Fortner bits are specialty tools used to drill concealed hinge holes. Flat-bottomed tools are the ideal way to bore large holes in wood. Large holes in wood can be filled with these, as they can stop just short of going through. Forstner bits can be either continuous or saw-toothed. Saw-tooth bits leave relatively rough holes but are best for drilling larger holes and enduring longer, while continuous rim bits leave a very clean edge and are best for smaller holes. Although you can use these bits with a handheld drill, they require significantly more forward pressure to be operated.
Countersink Bits
A countersink bit is a tool that allows you to make a beveled opening above a pilot hole. Several different sizes are available for them, including 13mm, 16mm, and 19mm. In addition, metal and wood ones are also available in several types.
Countersink HSS Bits
To drill pilot holes for countersunk screws, the cornerstone for the best all-in-one solution is a combination of countersink and HSS drill bits.
You can adjust the screw to fit the drill bit to your needs, and an Allen key is needed to secure the drill bit to the bit. The gauge usually indicates whether they are designed to pre-drill 6G, 8G, or 10G screws.
Self Centering Bits
Pilot holes in hinges and other hardware can be drilled accurately using self-centering drill bits. An end of this drill bit aligns itself automatically to the center of the countersunk holes on the hardware, which allows it to sit comfortably in them. The spring-loaded drill bit pops out of the metal sleeve and into the work by placing pressure on the drill bit, leaving behind a perfectly centered hole. Like drill/countersink bits, a small grub screw replaces the internal HSS drill bit, just like drill/countersink bits. Bits that center themselves automatically are also characterized by their pre-drill bit size and the type of screw they are designed for. Bits that center themselves automatically are also characterized by their pre-drill bit size and the kind of screw.
Spear Point Bits
Designed specifically for drilling holes into a glass and ceramic surfaces, including porcelain, these tungsten carbide drill bits have a smooth cutting edge. The tip of the drill is made of precision diamond ground carbide for precise pilot drilling and has a shaver, rather than a cutter, to ensure an accurate hole is made. You need to scratch off the tile's surface or adhere some masking tape to the tile if the drill bit slips along the surface before drilling. You must use a very slow speed with a very slow pressure, and you must use the coolant to avoid any hammer action. In the same manner, you could also use a masonry drill bit to achieve this goal; however, a masonry drill bit will not leave such a smooth finish.
Diamond Bit
Hard-surfaced masonry, including porcelain, is usually drilled with this specialist drill bit. You must maintain a 45° angle throughout drilling to prevent the bit from slipping. As drilling proceeds, you should gradually straighten the angle. Moreover, it needs to be supplied with water constantly and run at very slow speeds to be efficient.
Since these drill bits are designed to bore larger holes, the size of the bore may be slightly bigger than stated.
Special Direct System Bits
Rotary hammer drill bits with SDS bits quickly boreholes into dense masonry. Their shanks are equipped with special slots that make it possible to change drill bits rapidly. Different types of SDS drill bits will produce different amounts of power. In general, SDS-Max and SDS-Plus are the most common types. Due to their design, these bits last much longer than standard masonry drill bits and drill into extensive masonry with efficient results.
Is an HSS Drill Bit For Metal?
You can indeed do drilling on metal with HSS drill bits. To enhance the corrosion resistance of these bits, chrome and vanadium are added to the carbon steel to improve its corrosion-resistant properties. Because of this, they are highly durable, able to drill through metal surfaces with little difficulty, and can meet the demands of any project.
You can use an HSS drill bit for drilling metal surfaces such as iron, steel, brass, copper, aluminum alloy, and other non-ferrous metals. HSS drills bits have a higher resistance to high-speed drilling heat created by high-speed operations when drilling metals. It is so remarkable that the temperature of their heat can reach 650°C when they are operating; it is so durable. Therefore, they are suited for drilling hard surfaces at speeds up to several hundred meters per minute.
Bit Tip
You can also choose a drill bit by looking at the shape and angle of the tip of the drill bit based on the materials that you will be working with:
First are the Bits with a 118º point tip. They are used to tackle softer materials such as wood and soft metals because the steeper slope allows them to drill deeper into them. The pointed end also assures that they stay in place and that the entry and exit holes produced are clean and tidy.
Stainless steel and metals are good drill materials for drilling into with 135o point bits. These flatter points are suited for drilling into hard materials such as metals. Their flattened tip could require a pilot hole because their slipping might be a problem as their tip is flatter.
High-speed helix bits are among the toughest bits available. Because of their more aggressive drilling angle, they provide faster drilling and a longer lifespan.
What Drill Bit For A Brick?
Drill bits that can drill through concrete are called masonry bits. In addition to drilling through concrete, these drill bits can also drill through brick and stone. When drilling solid concrete, tungsten carbide drill bits are the best choice. These bits do not require hydraulic fluid to cut holes in concrete. Drill bits have large tips that fit correctly in holes because the shaft below them is larger in diameter than their tips. When drilling through concrete, you should drill at a slower speed to minimize damage to the bit and reduce overheating. The lengths and sizes of drill bits are standard.
It is more efficient and effective to drill hard surfaces with carbide or durium tips with masonry bits. You can use the drill bits used in masonry to work with any drill, but regular drills are not always the best option for tough tasks.
Steps To Drill A Brick Wall
After you have marked the hole location, selected the drill and drill bit, and selected the drill bit, you are ready to drill into the brick wall.
If the walls are smooth, you may want to poke a small hole into the plaster or brickwork with your hammer and nail punch to assist the drill bit in finding the point, or use a smaller drill bit first that is easier to control.
Use the slowest speed setting, and do not use the hammer action with soft masonry if your drill has different speed settings.
Choose a fast speed and hammer action if dealing with dense and hard material.
To achieve the best results, you should use the slowest possible speed to complete your task.
The clutch should be set low on a masonry/hammer drill when drilling a brick wall so that the drill will stop when the clutch engages. The drill will stop spinning if a bit gets stuck here, so you can adjust it higher as necessary.
Do not push too hard when drilling the brick at the beginning – let the drill and drill bit do their job. In advance, this is very important since if the drill bit becomes too hot, it will burn and lose its sharpness.
You can prevent the drill bit's flutes from getting clogged up by quickly moving the drill bit back and forth to clear out dust and debris once the hole has started to form.
If dust or debris sticks to the drill bit after reaching the desired depth, keep spinning the drill and moving the drill back and forth to remove them. This will allow the plug to penetrate and grip the cavity walls well.
Make sure you install a Rawl plug of the correct size in the hole so that it is flush with the wall when you're done.
If there are more holes to be drilled on the brick wall, repeat the process.
When you are finished, place the timber or anything you are attaching to the wall over the holes you drilled.
you should install the screw, and you should tighten the screw until it bites into the wood with a battery drill/driver using a slow speed
During the installation of the Rawl plug, you will feel the screw tighten as you move it inside the cavity, and you will feel the plug expanding inside the masonry wall.
What Are Other Drill Bits Suitable For Metal?
In the context of home repair, drilling through steel is not a common task, and drill bits for metals are the most expensive available. It would help if you used a hard, heavy-duty drill bit to accomplish the job, as regular drill bits cannot break through steel. When doing a metalworking project, you can always depend on two types of drill bits: titanium and cobalt.
Drill bits coated with titanium oxide are high-speed steel drill bits (HSS). HSS drill bits are hard, corrosion-resistant, and made of high-speed steel. Compared to regular HSS drill bits, these drill bits last much longer and can cut through any metal sheet, not just metal. Since titanium drill bits are coated with a protective layer, they cannot be sharpened, although harder than cobalt drill bits. It is a drill bit made from cobalt steel that you can sharpen and use the bits repeatedly. Furthermore, they also possess high resistance to heat and are highly abrasive and hard. Moreover, they can efficiently drill stainless steel, cast iron, and titanium.
Drilling The Metal
After preparing yourself and getting the right equipment, you can finally start drilling. You should take it slow and try not to exert too much pressure. It is also a good idea to use as much lubrication as possible. Creating too much heat can create a whole range of problems. Trying to avoid it is your priority. Work at a slower pace than you think is necessary.
If you see smoke, you should stop what you are doing. Smoke means that the drilling creates too much heat, which can be dangerous. It would help if you stopped the drilling, and the process should be allowed to cool before it is restarted. Ensure that you run at a very low speed and add more lubricant to the mix.
You will have to clean the hole if it is still a little rough after drilling. If you manually insert the bit multiple times into the hole, it should help remove a lot of metal shavings. It is vital to avoid getting cut by sharp metal edges when using this technique. Therefore, it is important to wear gloves designed specifically for this work.
Tips For Drilling Holes
Watch the Speed
When drilling holes, be sure to drill at the slowest possible speed. There is an approximate relationship between the diameter of the drill bit and the speed of the drill bit, and vice versa.
Cleaning the Drilled Hole
It is important to remove the debris from the hole periodically. Every so often, back out of the hole to remove the material collected in the hole. Therefore there will be no overheating of the drill bit or the drill motor because of overloading the drill. It is particularly necessary when it comes to the flat bits that do not have flutes.
Make Sure to Lubricate
You must lubricate the drilling bit and the workpiece with light machine oil if you are drilling steel. In this instance, you would be able to use an oil if you were using an oil pillar drill. You can also cool the drill bit by dipping it periodically into a light oil whenever you use a power drill. The lubrication of softer metals, including aluminum or brass, which have sticky swarf, is best done with kerosene or soapy water. You can also use water to lubricate diamond drill bits. There is no need to lubricate wood or masonry bits.
Clamp Workpieces
Drilling small objects is dangerous. Be sure to place them in a vice or clamp them securely with G-clamps or quick release clamps so they won't move around. Consequently, if the bit gets stuck while drilling, the workpiece may spin around uncontrollably as it does so. You don't have to worry about this with heavier or fixed objects in most cases.
Sharp Bits
Please make sure the bits you use are sharp enough before using them. A sharp bit is essential when drilling plastics, especially acrylic because it reduces friction and heat, which would elevate the friction level further and lead to the plastic melting and coating the bit. Use the slowest speed possible when drilling plastics, especially acrylic. You can best drill plastic using a lip and spur wood bit or a brad point wood bit.
Conclusion
In today's world, drills are fairly flexible, and, as long as we use drill bits that fit into the chuck, most modern drills are capable of working with drill bits of different lengths. Drill bits from other manufacturers will generally work in drills made by the same manufacturer, provided the overall size of the drill bit is compatible. Usually speaking, drill and bit manufacturers all use standard sizes on their products.
Typically, we recommend you begin by assessing what kinds of materials you will be drilling. You can choose by looking at the bit's tip if you're in a hurry and know you'll be drilling various materials. Otherwise, it would help to look at the materials the bit will drill. When selecting the bit style, make sure it is appropriate for your needs. As a result, it is important to keep in mind that it is possible for certain designs of drills to be ineffective at certain kinds of tasks, no matter which bits are fitted to them. Huana Tools provide you with the best quality drill bits according to your desire.