Every shop should have at least one router since it is one of the most helpful and flexible equipment for woodworking. Obviously, it would not be very useful without the router pieces. In addition, if you've never done this before, the hundreds of different alternatives might be overwhelming. How do you choose? The following is information that is necessary for you to know on the applications of the finest router bits for your projects.
For the majority of tasks, you won't need a chest of drawers full of various router bit profiles to get the job done. Instead, you should only purchase various router bit profiles when you really need them. Straight or spiral bits, corn teeth end mills, engraving bits with different sizes of bearings, flush-trim and pattern bits are some of the router bit profiles that are used the most often by woodworkers. You may explore the vast possibilities of your router without breaking the bank if you invest in quality parts that have a long lifespan and are properly selected.
One Flute Spiral Bits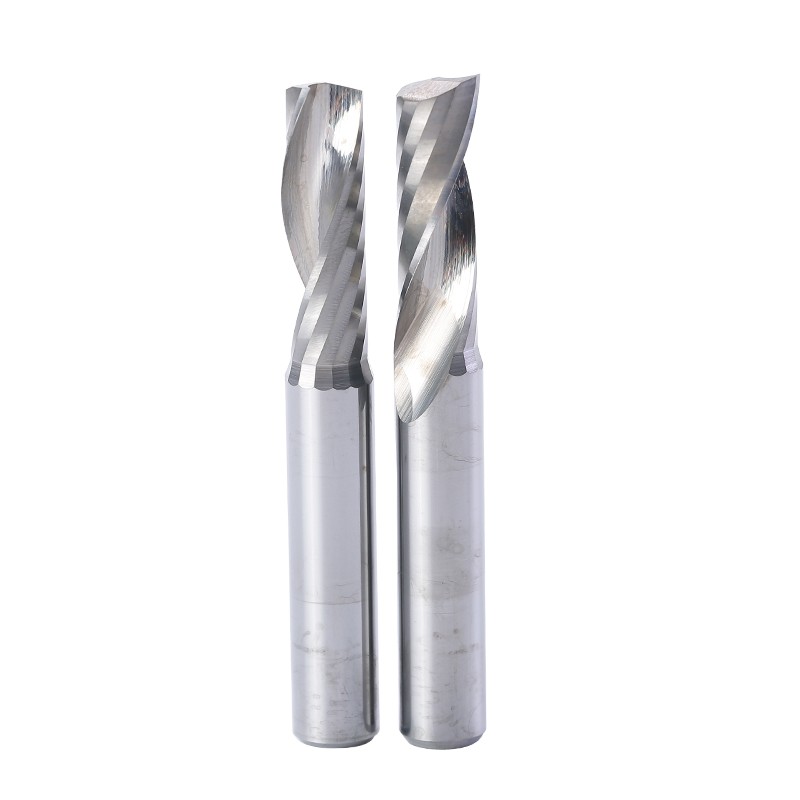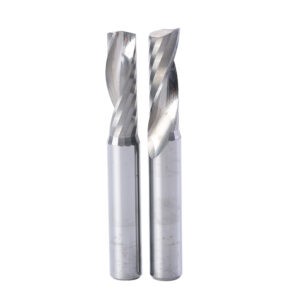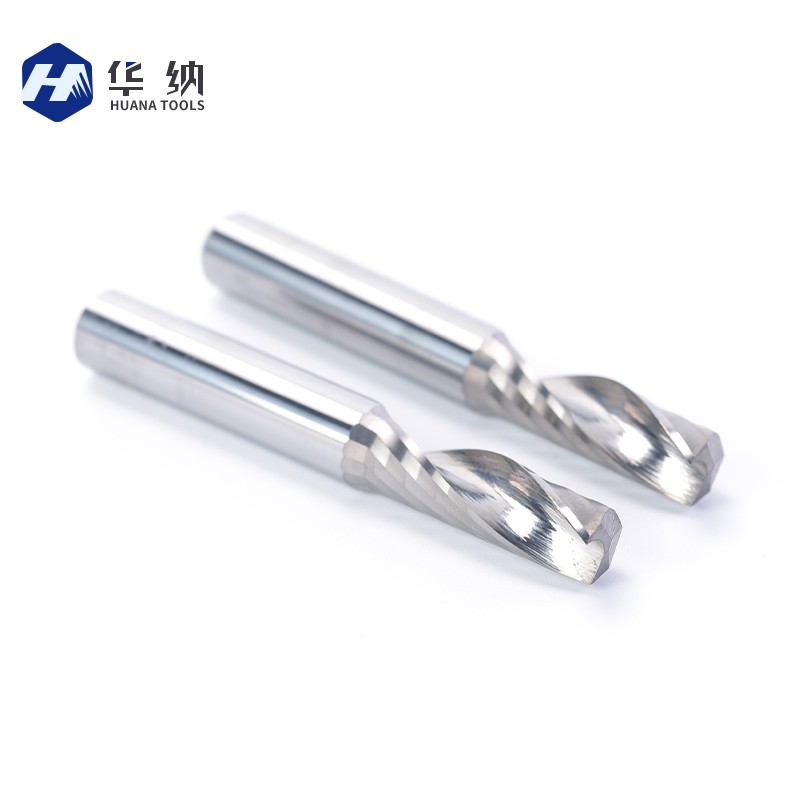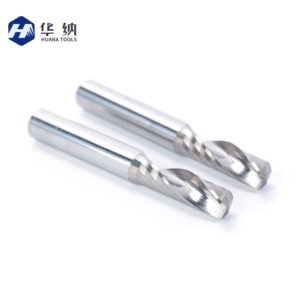 Spiral bits with a single flute have rapidly become the most popular and preferred form of spiral bit. The use of just one flute enables a quicker initial pass and results in very clean edges on both the top and the bottom of the workpiece. This is a significant benefit when working with plywood and on the CNC. The coating on these one-flute spiral bits ensures that they will survive at least two to four times as long as bits that are not coated. This results in the maximum possible value. In situations like these, investing a little bit extra money up front might wind up saving you a significant amount of cash in the long run. One flute spiral bits outperform other types of bits by a factor of one hundred and last one hundred times longer.
These tools have a design that only has one flute, which makes carving on materials such as acrylic, PVC, plastic, solid wood, MDF, multilayer board, and aluminum more time and labor efficient as well as more effective. What is the end result? Greater flexibility than conventional bits, increased productivity, and superior quality finishing. For plunging, routing, and cutting aluminum profiles, as well as plastics, with outstanding efficiency and a fast feed speed. The use of one flute spiral bits is possible on machining centers, CNC and hand-held routers, as well as aluminum copy routers, if the routers are supplied with chucks or adapters.
Corn Teeth End Mill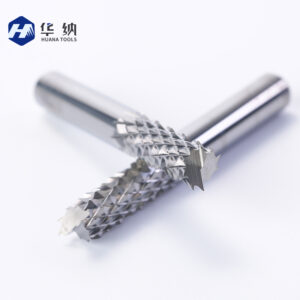 The aerospace and automobile sectors are both potential users of end mills with corn teeth. The presence of a turnaround table sets this particular kind of milling cutter apart from the others. In addition, the corn teeth end mill is of the kind that has three linear axes and two rotating axes, all of which are capable of being adjusted in accordance with the particular model that is being used. A corn teeth end mill is a tool that is required for the processing of a variety of components. It is also used for the machining of a variety of materials, including circuit board, high density fiber board (HDF), hard wood, carbon fiber, fiberglass, and HDF composite board. Because of its adaptability and high level of accuracy, the corn teeth end mill is capable of performing a wide range of operations, both simple and complicated. Huana tools now gives you the option to choose the corn teeth end mill that you want.
Two Flutes Spiral Ball Bits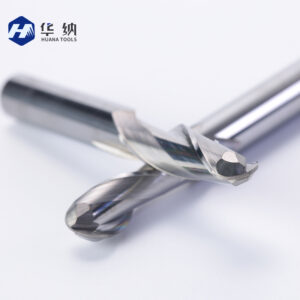 Smooth contouring and precise detail passes may be accomplished with a CNC router using two flutes spiral ball bits. These bits are often used for complicated forms such as 3D carvings. Because of how the tips are designed, tool marks are minimized, which results in smooth curves that are hard to create with flat end bits. Larger bits are used for smoother projects with more gradual slopes, while smaller bits are utilized for projects with more detailed detail. Two flute spiral ball bits are used for projects with more complex detail. These bits are also ideal for routing fluted columns and channels in cutting boards and countertops edges. Two flutes spiral ball bits appropriate materials: The materials acrylic, PVC, MDF, and HARD Wood, wood, plastic plate, double-color sheet, and other materials including but not limited to
Two Straight Flutes Bits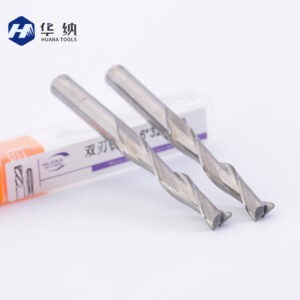 Bits with two straight flutes feature cutting edges that are highly sharp and are used for plunge cutting to provide a surface finish that is clean, smooth, and of high quality. These bits include two straight flutes and a hardened steel shank, making them appropriate for use in a router or CNC milling machine to engrave or cut a range of materials, including but not limited to MDF, hardwood, chipboard, softwood, PVC, plastics, acrylics, ABS, and other materials. These are ideal for doing tasks like as mortising, rabbeting, routing grooves, and cutting dados.
Solid Carbide Bottom Engraving Bits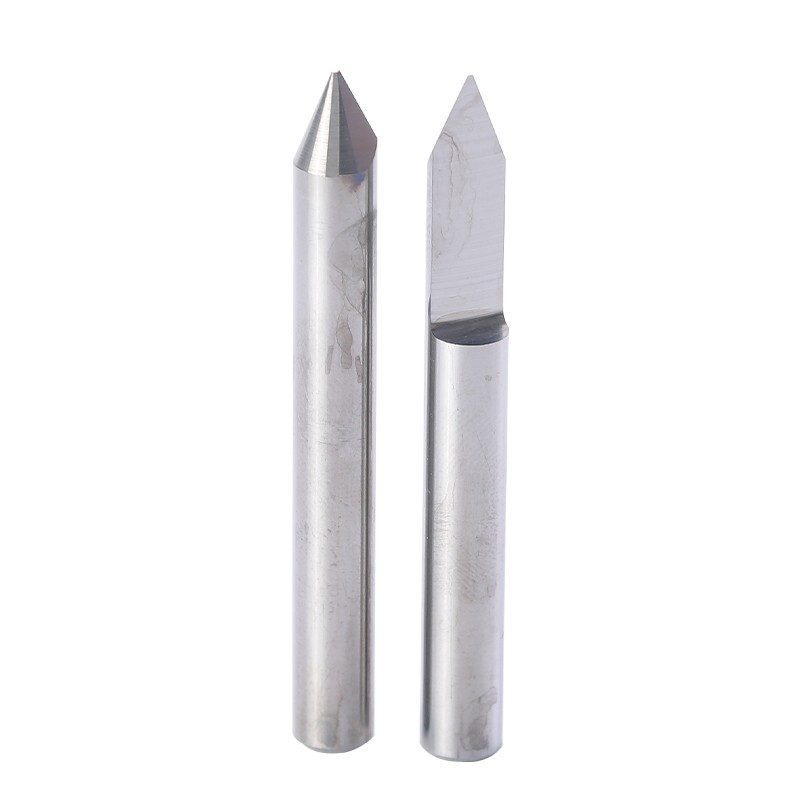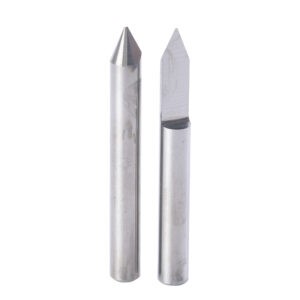 The carbide used to make solid carbide bottom engraving tools is of the highest possible grade. Solid carbide bottom engraving bits are high-grade tungsten carbide material, wearable and strong heat resistance, long service life. Solid carbide bottom engraving bits suited for engraving solid wood, MDF, PVC, Double-color board, ABS, Board, Aluminum, copper, iron, and so on. Make sure to maintain the cutters clean and use them to clear away any additional dirt and wood chips. Solid carbide bottom engraving bits utilize a CNC router machine and woodworking router machine, it is a long-lasting bit with high-quality carbide high accuracy, and an easy cutting experience.
Up&Down Cut One Flute Spiral Bits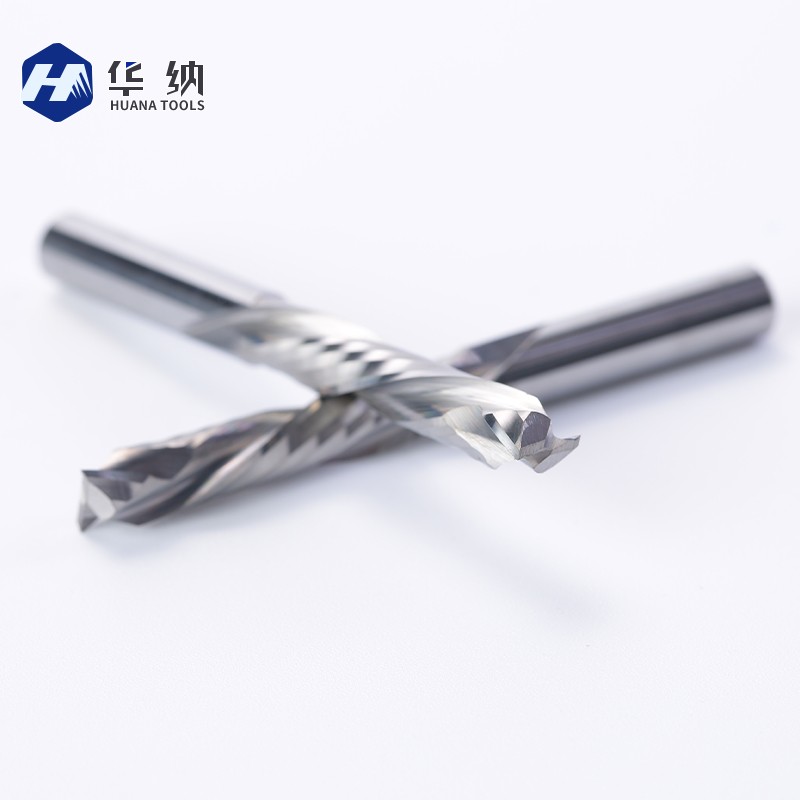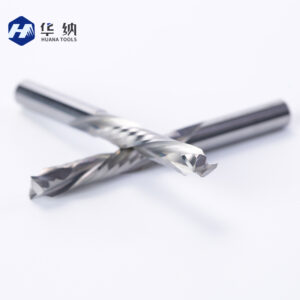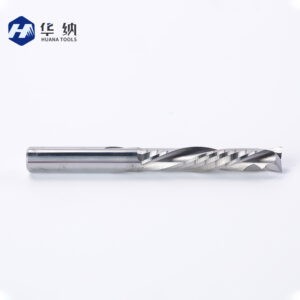 The up and down cut one flute spiral bits employ solid carbide of a better grade, which results in clean cuts, a greater surface polish, and a longer life for the tool. The up and down cut one flute spiral bits are intended to provide the most smooth finish possible, with the downward cut providing better material holding and preventing the work piece from rising while it is being cut. During the cutting process, the downward spiral is very helpful for creating a downward flow of chip debris and holding the item to the table. PVC, lotus board, soft wood, and any other sort of composite board may all benefit from the specific geometry, which is intended to provide the greatest edge finish possible. Additionally, the up and down cut one flute spiral bits employ a better grade solid carbide, which results in clean cuts, an improved surface polish, and a longer life for the tool. The chips are effectively evacuated up and out of the incision using an up cut, which is a highly efficient method. It will leave a finish that is very smooth on the underside of the work piece, but it will leave a surface that is more uneven on the top of the surface (or the side that the bit enters the work piece). A down cut accomplishes precisely the opposite. To be able to drill through the surface while using a down cut, you would need to spin it in the counterclockwise direction. Up & down cut one flute spiral bits will provide a very clean cut on the top of the work piece, but may also offer a smooth finish on the bottom.
Two Flutes 3D Engraving Bits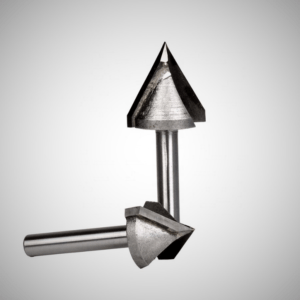 The ability to 3D carving is a popular activity among CNC aficionados, and you may accomplish this with the help of a bit that has two flutes for 3D engraving. When compared to other router bits, they are a good value for the money, making them an excellent choice for beginners. Lettering may also be engraved using these three-dimensional engraving tools that have two flutes. These 3D engraving tools are suitable for: 3D engraving and chamfer angle on Acrylic, Density board, Hard wood, and PVC. Excellent concentricity, a cutting edge that is both sharp and non-stick, and a smooth bottom surface. It works well with CNC routers and may be used for carving signage as well as producing cabinet doors.
Applications of Router Bits
Routers Bits Used in the Sign Industry
Signs and the information that they carry have evolved into an essential component of everyday life. This enormous market is serviced by businesses of varying sizes, but all of these businesses have the same challenges when it comes to the routing of the supplies that are typical of this sector. Different materials, such as wood, aluminum, foam, and plastic, each have their own unique characteristics when it comes to cutting, and Router Bits have made it possible to handle any and all routing issues. This is especially apparent in the manner in which polymers are routed in the sign manufacturing business. The usage of Router Bits has improved the experience of CNC operators by making available more robust tools with refined cutting geometries tailored to the material being processed.
Use Of Router Bits In Woodworking
The router bits have been optimized for optimal performance while cutting softwoods, hardwoods, wood, plastics, laminates, timber wood, and all sorts of laminates. In the landscape of the worldwide woodworking tools industry, router bits for woodworking account for 14% of the total market share. Over the next several years, demand for router bits for wood is anticipated to be driven in large part by the growing trend of automation in various sectors. Future Market Insights presents a comprehensive comparison and review analysis of the woodworking router bits market, which is primarily subjected to growth with rising demand for design furniture from residential as well as commercial sectors. The market for woodworking router bits is primarily subjected to growth with rising demand for design furniture from residential and commercial sectors. The expansion of the furniture industry's use of wood over the last several years has been a significant factor in driving up the demand for woodworking router bits.
Router Bits Used For 3D Carving
In general, you will want router bits for tasks that are performed on a daily basis, as well as certain specialized bits for applications such as three-dimensional carving. Single or double flutes are the most common types of cutting edges found in router bits designed exclusively for 3D carving. The additional length provided by 3D carving router bits is required in order to carve 3D forms out of materials such as solid wood, plastic, foam, and others. The shape of the router bit gives it increased strength while yet allowing for a relatively tiny radius at the very tip of the bit.
Router Bits Used For Grooving and Template Work
Additionally, template routing is flexible. This technique may be used to shape practically any component, no matter how big or little. It is effective for creating both straight and curved cuts, as well as mouldings. A serpentine drawer front, which includes a convex portion between two concave ones, or a simple straight-sided shelf for a corner cabinet, may be used as the component. Even though there are several ways to use router bits to cut grooves, utilizing a template is one of the most precise techniques and, in some situations, the only one. A template provides precise alignment of dividers and partitions while building intricate casework. A graded set of templates that register to the side of the case enable pinpoint precision instead of measuring and recording the placement of panels for matching dividers.
Conclusion
On the market nowadays, you may find hundreds of different router bits, and your CNC router probably has some of them. The particulars of the job at hand as well as the nature of the material you will be working with will determine which solution is the best one to use while working on a project. It's true that most router bits are versatile enough to be used in a variety of contexts, but if you want the nicest finish possible, you should use a bit that was designed specifically for the project you're now doing.
To get a variety of high-quality router bits for your task, get in touch with Huana Tools!