Carbide burrs: what are they?
Simply said, carbide is a strong combination made up of many elements, including carbon. Additionally, high-quality tungsten is typically used to make carbide burrs after it has been heat-treated. Tungsten is more rigid than steel, therefore carbide burrs can cut through hard metals more quickly. Tungsten carbide, a metal that is exceptionally strong and can tolerate high temperatures (approximately three times stiffer than steel), is the material used to make carbide burs. Carbide burs can keep a sharp cutting edge and be used repeatedly without losing it thanks to their toughness. Carbide burs, however, are brittle and have a propensity to shatter under stress. It is advisable to operate them lightly and at high speeds.
Carbide rotary burrs, also known as rotary files or die grinder bits, are used for shaping, grinding, and removing burrs, burs, and sharp edges from materials (deburring).
The most frequent uses of carbide burs are to excavate and prepare cavities, finish cavity walls, complete restoration surfaces, drill old fillings, finish crown preparations, shape bone, remove impacted teeth, and separate crowns and bridges. Their heads and shanks identify burs made of carbide. Which kind of shank is required depends on the sort of hand piece being utilized. The sort of cutting design or head shape used depends on the process to be carried out.
Uses of Carbide Burr
The five most typical applications for carbide burrs are as follows:
Clipping the impeller runners, like in car engines.
Processing pipes, polishing the surface of inner holes on mechanical components, and routing and groove processing of various mechanical parts, as in machine makers and repair shops.
To finish machining the chambers of metal moulds, such as shoe moulds.
For handmade presents, they carve a variety of metals and non-metals.
Cast, forged, and welded components, such as those found in machine foundries, shipyards, and car manufacturers, should have their flashes, burrs, and welded seams removed..
Benefits of Carbide Burrs
Carbide tools provide a number of benefits, which are listed below:
Carbide burrs are ten times more efficient at machining than a manual file and almost ten times more efficient than a tiny grinder wheel with a handle.
Burrs made of carbide cut processing costs overall.
To reduce dust pollution, the burrs use a handle to replace the tiny grinding wheel.
When machining mould cavities with extreme accuracy, carbide burrs assist in producing results of the highest caliber.
Carbide burrs are 200 times more durable than tiny grinding wheels and ten times more robust than high-speed steel tools.
Utilizing carbide burrs is straightforward, dependable, safe, and easy.
Cast iron, steel, carbon steel, stainless steel, marble, jade, copper, aluminum, and alloy steel can all be treated with a carbide burr.
Carbide Burrs With Various Designs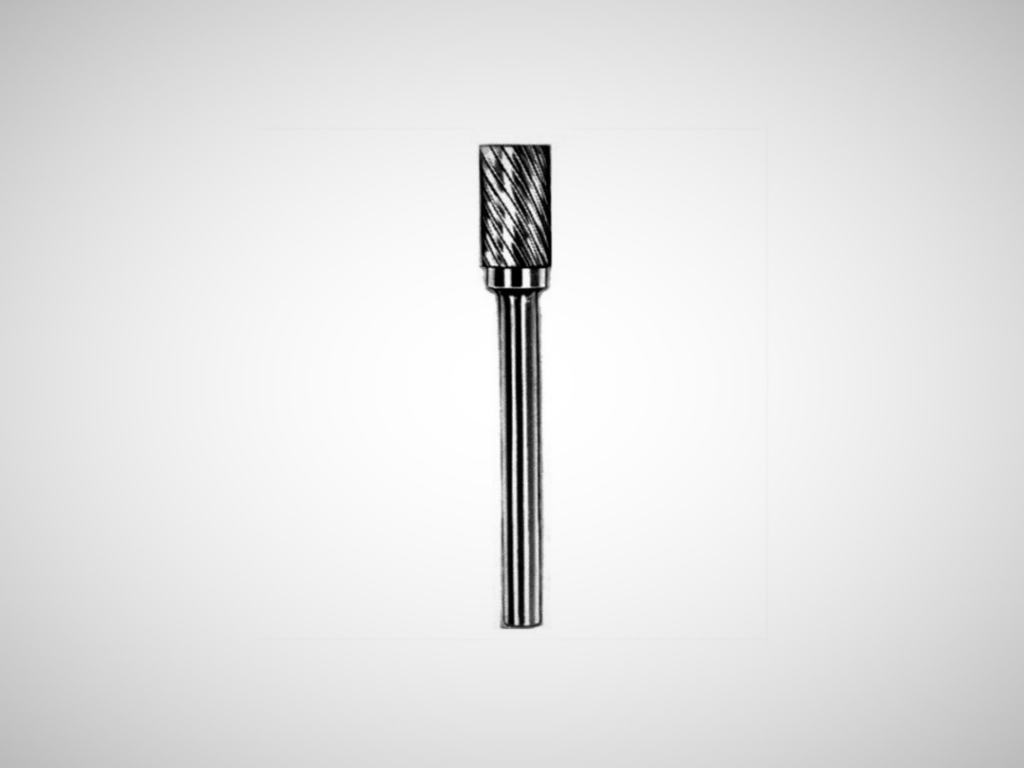 A  Cylindrical in shape are carbide burrs. Carbide is frequently employed in engineering and deburring. Over the long run, it performs better than other materials like HSS (High Speed Steel). For simple material removal, defining, and carving, carbide burrs with a cylindrical end are employed. To create v-cuts, the burr is often positioned at an aim angle. For a variety of stock removal and grinding activities, carbide burrs are employed. They work well on a variety of substances, but they are especially effective on hard ones like metal, ceramic, plastic, and even wood. ideal for usage with flexible shaft systems, micromotors, and air tools. Metalworking along flat surfaces is made possible by cylindrical carbide burrs. These cutters are perfect for steel or aluminum mixing machine lines.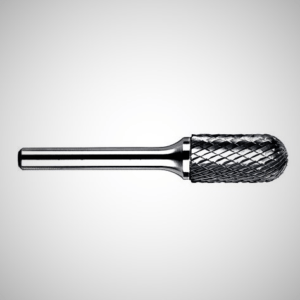 For contour work and surface milling, C Cylindrical Ball Head Carbide Burrs are employed. Huana Tools is renowned for its wide selection of carbide burrs and abundant stock of sizes that others require special orders. Carbide burrs from Huana tools are exceptionally robust and resistant to wear whether you are deburring, chamfering, weld preparation, or removing weld slag. Round nose form is another name for cylindrical ball heads. Use the burr's sides to cut flat sections and round edges, as well as to hollow out and form concave cuts. The area of use for scraping, carving, and defining metals, wood, and plastics.
tungsten carbide cutting burrs in a ball form, Many different materials are used for material removal, cutting, and smoothing. Metals, wood, and plastic are a few examples. It may hollow down a region and make concave incisions in the material or form. This ball-shaped burr is excellent for cleaning deep grooves, holes, and bores in metal components. For a variety of stock removal and grinding tasks, including as deburring, screw removal, blending welds, and blending machine lines, carbide burrs are employed. Carbide burrs with a D-shape or spherical form are ideal for deburring holes and bores as well as working on grooves and slots. ideal for usage with flexible shaft systems, micromotors, and air tools. More control and optimal speeds are made possible by faster speeds or by using equipment with variable speeds.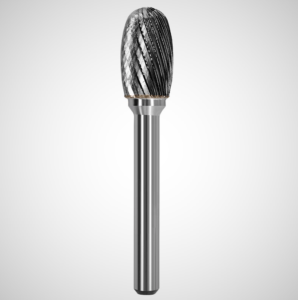 E oval carbide burrs are frequently used for deburring and stock removal in slots. They work well on a variety of substances, but they are especially effective on hard ones like metal, ceramic, plastic, and even wood. The most common materials are aluminum and hard steel. These E-shape Oval carbide burrs are used to make concave cuts, texturing, and round edges. They work well on a variety of substances, but they are especially effective on hard ones like metal, ceramic, plastic, and even wood. The most common materials are aluminum and hard steel. Metals, polymers, and wood are all simple to remove material from, carve, and define. prevalent throughout all businesses. Utilized often by our precision engineering clients to deburr mould tools and do various types of general deburring.
The finishing of different types of metal moulds, the finishing of cast gates for vane wheels, and the chamfering, roughing, and channeling of many kinds of machinery components are all common uses for F Arc round head carbide burrs. They may be used to artistically engrave various metal and nonmetal parts.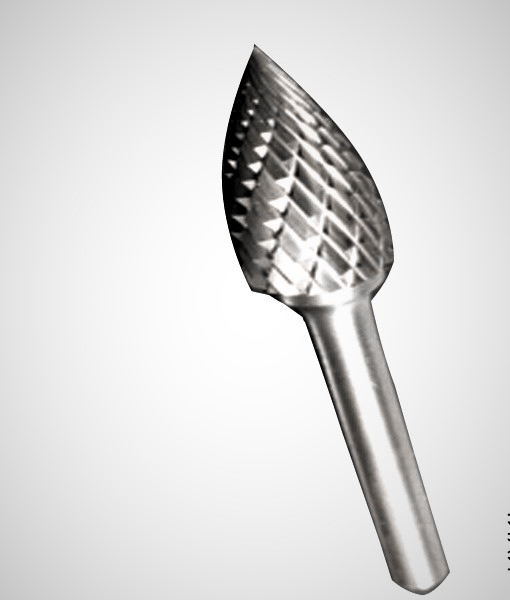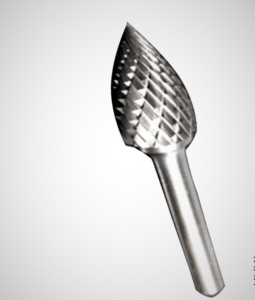 The high-performance G curved tip carbide rotary burrs offer the highest level of cutting edge stability and cutting edge tenacity simultaneously. Cross-toothed G-shaped carbide rotary burrs. Comparatively speaking, cross toothing has a greater cutting capability than plain toothing. This is especially advantageous for materials that are challenging to cut. G-shaped tip to deburr, break edges, trim, process welding seams, and perform surface processing on high-alloy steels, non-rusting steels, acid-resistant steels, heat-resistant steels, die casts, and plastics.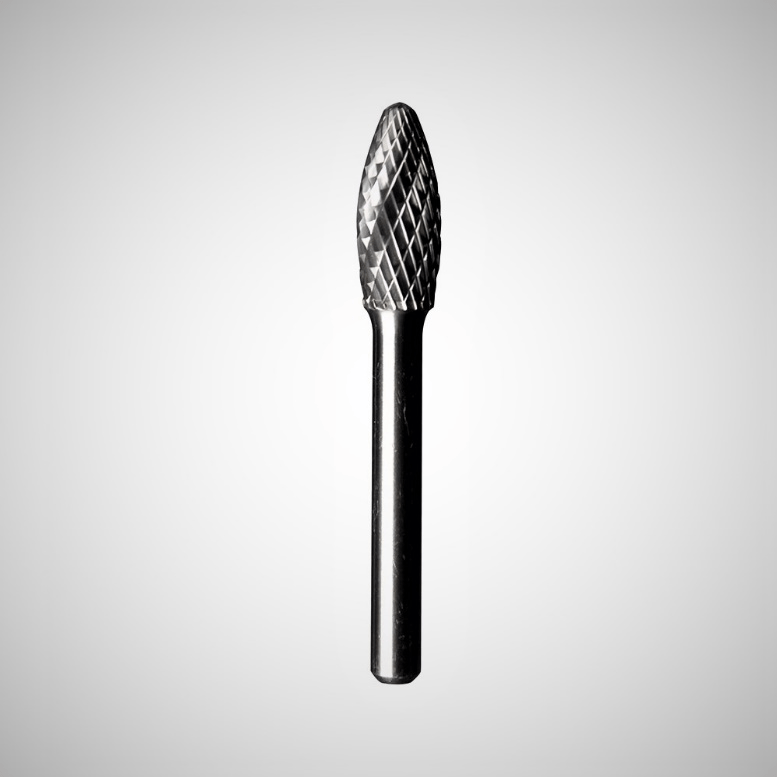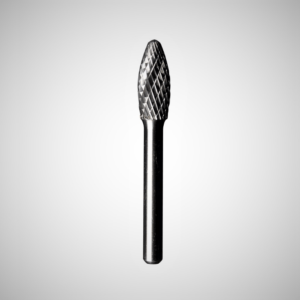 H Torch Rotary files, often referred to as carbide burrs or carbide high-speed milling cutters, are primarily used for processing and cutting different metal work pieces and metal welds, as well as polishing non-metallic crafts like marble, jade, and bone. H Torch is much more productive and offers more financial rewards than other products with comparable tasks because to qualities like high workpiece surface polish, superior processing quality, and extended life. The amount of material removed has risen as a result of the H Torch carbide burr's improved ease of cutting. Suitable for practically all metals, including cast iron, bronze, brass, copper, brass both hardened and unhardened, titanium, and stainless steel. Examples of applications include deburring, contour machining, surface processing, milling in tight spaces, and machining at narrow angles.
Types of Carbide burrs
Single Slot Carbide Burr
One flute runs the length of the burr tip on single slot burrs, a sort of single cut burr. When working with ferrous and soft metals like aluminum, copper, magnesium, and brass as well as other soft materials like plastic, aluma cut carbide burrs are the suggested alternative. Instead of grinding away material, the single groove will peel away material, producing bigger pieces. By using this technique, burr gumming is prevented. This burr quickly eliminates the material while still leaving you with a smooth finish. Long chips can also be made with single-cut burrs. Additionally, you are able to complete tasks like cleaning, milling, deburring, or material removal.
Double Groove Carbide Burr
Crossed double groove designs are more suited for hard things. Two flutes are carved into the double groove carbide burr, forming a crisscross pattern along the length of the burr bits. Compared to single cut bits, these ones can grind more aggressively and remove stock quickly because to the double cut. These burrs will produce smaller chips and are often simpler to use for people who have never used carbide burrs. Additionally, this burr's distinctive form lessens pulling motion. As a result, the burr improves operator control while lowering the output of chips.
Applications Of Carbide Burrs
Carrying is another use for carbide burrs in many applications. The amount and quality of the flow of gas may both be determined through the carrying process. This is accomplished by making adjustments to the ports that are used for taking in gas and expelling exhaust from a combustion engine.
Improved Engine Performance via Carbide Burrs
The utilization of carbide burrs contributes to the improvement of the engine's overall efficiency. The head movement of carbide burrs deserves credit for providing painstaking attention to the component that they are working on, and this credit is given to them. In principle, abrasive polishing has a beneficial impact on the flow of fuel, and this, in the end, is the factor that is accountable for the increased effectiveness of modern engines.
Carbide burrs have a number of essential applications, one of which is in the production of sculptures. By virtue of their vibrating motions, they perform the functions of stone grinders and shapers.
Chopping of Difficult Materials
Carbide burrs have a high degree of hardness and are constructed in such a way that allows them to make clean cuts in a variety of materials. Wood, aluminum, brass, bronze, brass, steel, and aluminum are some of the materials that fall under this category.
Perfect for smoothing, carving, contouring, and deburring welds, moulds, dies, and forgings.
Stone, ceramics, steel, aluminum, hardwood, and plastics are a few examples of the materials that may be ground, shaped, and deburred with carbide burrs. It has a rapid stock removal rate and a quiet, smooth milling operation that lessens vibration. Additionally, it removes huge and quality chips.
Applications In Different Industries
Carbide rotary burrs are often used in a variety of industries, including manufacturing, craft carving, and vehicles. They are employed to perform various operations on metallic and non-metallic surfaces. It involves eliminating scraps, shaping, rounding off edges, drilling, and other tasks.
Mold industry.For completing any metal mould cavity, including shoe moulds and others.
The Engraving industry.For engraving non-metal and metal objects of every sort, such as handcrafted gifts.
Equipment manufacturing industry. For polishing wheel hubs in automobile factories, shipyards, and cleaning the fin, burr, and welding seam of casting, forging, and weldment.
Machinery industry. For cleaning pipes, completing the surface of the inner hole of machine components, and processing the chamfer, round, groove, and keyway of all types of mechanical parts, such as those found in machinery factories, repair shops, and so forth.
Engine industry.Factory making vehicle engines, for example, smooths the flow pass of the impeller.
Welding industry.For smoothing the surface of welding, such as rivet welding.
Electric tools industry. Carbide rotary burrs can be used with tools that are powered by electricity or wind. These burrs provide long service life, gentle finishing, and high-quality cutting. As a result, it can automatically increase production effectiveness. It serves as a crucial tool for bench workers and maintenance professionals as a result.
The rotary tool must be clamped firmly and at the proper location by the person using the equipment. For improved performance, the speed selection also has to be precise.
Conclusion
Carbide burrs are still the best option for many applications in a time when manufacturers want dependable and consistent equipment at a reasonable price. As a result, these benefits provide it a competitive advantage over competing materials in the market. Excellent quality carbide burrs in single and double cuts are available at Huana Tools. You may enhance surface finishing and removal rate with the aid of our burrs. You can contact us with any questions you may have about carbide burrs.