Milling with high levels of automation is a flexible machining method that can produce components in virtually any shape. In the manufacturing industry, there is a wide range of applications for the many distinct types of CNC milling processes. The primary distinction between end milling and other techniques is the kind of tooling that is utilized during the cutting of the material. This page will provide an overview of the many kinds of end mills, as well as the process of end milling and the various fields of industry in which end mills are used.
What Precisely Is End Milling?
Milling is a procedure that may be used to create a variety of milling components, including slots, shoulders, die holes, curves, and profiles. One sort of milling is called end milling. When performing end milling, a cylindrical cutter known as an end mill is utilized. This cutter features several cutting edges on both its perimeter and its tip, allowing it to do both end cutting and peripheral cutting.
What Exactly Does "End Mill" Mean?
The end mill is a type of milling cutter that is capable of cutting in an axial direction. It may be used for end milling, profile milling, tracer milling, face milling, and plunging, among other applications. End mills and other types of cutting tools can be fabricated from a variety of materials, including carbide inserts (which are designed for high production milling), high-speed steel (which is used when a specific tool shape is required), ceramics inserts (which are designed for high-speed machining with high volume), and diamond inserts (offer tight tolerances). When it comes to the construction of end mills, high-speed steel (HSS) and tungsten carbide are two of the most often used materials. The use of end mills enables precise cutting, which may then be used to make milled components for a variety of purposes, such as manufacturing jewelry, signs, moulds, circuit boards, wood engravings, and machine parts, among other things. End mills can be purchased in a wide variety of lengths, sizes, kinds, and flute configurations.
Various Models of End Mills
The square end mill, also known as the flat end mill, is a general-purpose mill that generates flat-surfaced cuts with exact 90° corners in the workpiece. This incorporates milling operations such as side milling, face milling, and more. The roughing step as well as the finishing stage are both appropriate uses for square end mills. These mills have pointed corners that provide an angle of 90 degrees at each intersection. They can have a single end or a double end, and they can be formed of solid carbide or various compositions of high-speed steel. Additionally, they can have a single end or a double end. Carbide square end mills produce the highest volume of work. They might have a broad purpose or they can have a high performance geometry. It is possible to plunge, groove, side mill, face mill, and counter bore with them. These milling cutters are the most often used in the manufacturing sector. They come in a size range that spans a broad spectrum of diameters.
A ball nose end mill with a radius at the bottom generates a rounded pass and is suitable for 3D contour work, shallow slotting, pocketing, and contouring applications because it provides a higher surface polish and makes for a superior overall quality. The edges of this tool are ground to be centre cutting, and the end of the tool has a complete radius that is equal to half the diameter of the tool. They can have a single end or a double end, and they can be formed of solid carbide or various compositions of high speed steel. Additionally, they can have a single end or a double end. They might have a broad purpose or they can have a high performance geometry. Milling a full radius groove, milling contours or profiles, and milling corners with a wide radius are all possible uses for these tools. For engraving purposes, the lower diameters can be employed. They may be purchased in a broad range of conventional lengths and sizes to suit your needs.
Radius end mills have a square nose with slightly rounded corners that assist disperse cutting forces uniformly. This helps avoid damage to the end mill and extends its life. In milling applications that need a certain radius, these end mills are turned against a workpiece to form a flat-bottomed groove with slightly rounded inner corners. They are also often referred to as bull-nose end mills. In order to prevent damage to either the end mill or the workpiece, the cutting head of each end mill is equipped with flutes that convey chips away from the workpiece. On milling machines, whether CNC or manual, radius end mills are utilized.
Roughing end mills, which are often referred to as hog mills, are utilized in situations when huge volumes of material need to be removed in a hurry. The shape of the teeth permits very little to no vibration, although the finish is more jagged as a result. Roughing End Mills, which are also known as ripping cutters or hoggers, are designed to remove huge quantities of metal more rapidly and effectively than normal end mills. Roughing end mills can also be referred to as hoggers. Before beginning the finishing process, roughing end mills are used to remove big chips from low-to-medium carbon steel and alloy steel in order to make heavy cuts, deep slotting, and quick stock removal. Roughing end mills with fine teeth remove less material than standard end mills, but the pressure is dispersed over many more teeth, which results in longer tool life and a smoother finish on high temperature alloys and stainless steel.
Micro end mills are those that have a diameter that is less than 100 micrometres. When the accessibility for machining is governed by the tool diameter, they are frequently utilized for cutting ductile materials for constructions that have short radii, undercuts, and tool diameter determined geometries. Micro end mills with high-speed cutting for use in micromachining; these mills are of a quality that is unique in the world of microtools; they can be used for metalworking with steel, graphite, stainless steel, copper, titanium, cast iron, grey cast iron, non-ferrous metals, aluminum, gold, as well as composites and plastics.
In long reach and deep pocketing applications, long neck end mills offer the most strength. The Long Neck End Mill Series provides low burrs while enabling very accurate copper electrode cutting. High grade copper electrode machining was created by sharpness shearing capability and DLC coating. Developed long-lasting machining on the Copper metal.
Applications of End Mills in Different Industries
Mold processing
Die and mold manufacturing is a specialist field that needs both common and specialized equipment, notably milling cutters, to allow the manufacture of small batches for particular uses. As opposed to conventional mould steels like P-20 and H1355-60HRC Carbide End Mill, clients are increasingly specifying metal for work at mold shops. Aluminum alloys have various benefits for molding, including great machinability, high strength-to-weight ratio, and superior thermal conductivity. Metal removal rates from carbide end mills with the proper cutting geometry and coatings can be four to five times greater than those from moulded steel. Mold finishing time is greatly decreased by readily achieving surface finishes of 16 or higher.
Heat-Resistant Alloy Machining
Traditionally, the highest grade tungsten carbide has been used to create end mills. They have sharp teeth as a result of their design, which enables them to polish with extreme accuracy while yet retaining a high level of brightness. The end mills may be counted on to carry out their intended function even under challenging circumstances. One of the numerous uses for this tool, which also serves a variety of other objectives, is the machining of heat-resistant alloys like titanium, stainless steel, and other materials. Some end mills can be used in processes that are carried out at high temperatures because they have a surface that is much more abrasive. Some end mills have a substantially greater range of sizes and shapes than typical end mills and a significantly higher level of abrasiveness.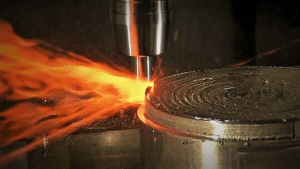 3C Processing
Aluminum and plastics are the two materials most frequently utilized in the 3C sector. Glass, ceramics, and stainless steel have now been included. End mill providers have significant demands as a result of the intense competitiveness in the 3C industry, which necessitates both quick delivery and exceptionally long tool lives. The 3C electronic, parts machining, and precision mould machining industries mostly employ the long neck and micro end mills. The mobile phone, digital, and other electronic goods in the 3C sector are specifically designed for the micro end mill and long neck end mills. They realize the most professional and highest quality processing requirements and have superior production accuracy. These end mills are more durable and produce products with extremely high finishes. comprehensive tool selection in one location.
Aviation Industry
In the aviation sector, milling is widespread. For the components of aircraft wings and engines, complex end mills are employed. In the aviation sector, end mills are now one of the most crucial machining techniques, particularly when working with aluminum alloys.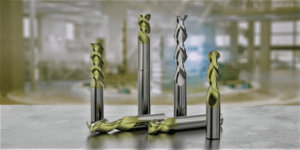 Aerospace components not only make extensive use of innovative structures, technologies, and materials, but also their intricate design and lack of stiffness need the extensive use of high performance standard end mills and specialized carbide end mills to process components like engines. The carbide end mill system can readily interfere with components and holders while cutting elevated portions. As a result, it's essential to optimize the route of the carbide milling tool, employing techniques like spiral interpolation for milling and inserting and milling rather than side milling or straight milling. A powerful machining center must be used to manufacture the turbine cartridge in terms of tooling. The analysis of the processing procedure shows that the chassis requires roughing, semi-finishing, and finishing. In the production of such aerospace components, high performance carbide end mills can be used for roughing, standard high performance carbide end mills, and non-standard high performance unique carbide end mills for semi-finishing and finishing.
Metal Manufacturing
Carbide end mills come in a broad range of lengths, diameters, flute counts, and other characteristics. They are selected based on the material they are cutting and the level of surface quality needed for the job. A highly sharp cutting edge and a tiny radius are only two of the properties that make carbide end mills excellent for use in metalworking operations including turning, milling, drilling, and tapping. For many metal production applications, carbide end mills provide a reliable and long-lasting option. In comparison to other end mill materials, it has various benefits including a long usable life, the capacity to cut at extremely high speeds, and a superior final surface.
A type of industrial equipment called a carbide end mill is used to cut and shape metals and other solid materials. Cast iron, non-ferrous metals, alloys, and polymers are among of the toughest materials, and carbide end mills are employed for high-speed operations on these materials because of their exceptional heat resistance. A345 solid carbide end mills are used to machine non-ferrous metals like aluminum, brass, and copper, whereas 45–50 HRC carbide end mills are required to machine steel. Additionally, the mould P20 steel requires 55–60 HRC Carbide End Mills.
Conclusion
Multiple-flute cutters made of carbide are commonly used for cutting plastics or metals. They generally feature two or more helical flutes and are placed vertically. Typically, end mills are set up to cut on both sides and with their ends. The required finish type must be taken into account when choosing an end mill. Understanding the machine's cutting capacity requires knowledge about the end mill's material. Steel is utilized for conventional metal machining, although hard materials like carbide, cobalt, and diamond can be employed in high-speed applications. In milling operations including profile milling, tracer milling, face milling, plunging, contouring, slotting, drilling, and reaming, carbide end mills are employed. There are several major groups of carbide end mill tools.