Cemented tungsten carbide is one of the few materials that has had a bigger influence on both our economy and our culture as a result of industrialization. This material is utilized in the production of a wide variety of items due to its high hardness and resistance to wear. Some of these products include ballpoint pen balls, fishing rod guide rings, wear parts, dental drill bits, armor-piercing shell cores, and most importantly, cutting tools.
In point of fact, coated aluminium carbides are the cutting tools that see the greatest volume of use on the market. They do, after all, bring great levels of efficiency to the production process, which, in turn, makes many of the items that are used on a daily basis more inexpensive.
Nevertheless, because there is such a wide variety of modern coating methods and coating materials, it is not always simple to establish which carbide inserts for aluminium are the best for a particular application.
When applied to inserts used in aluminum machining, carbide offers several key advantages.
1. Hardness and Wear Resistance: Carbide inserts, known for their exceptional hardness, withstand the abrasive nature of aluminum, ensuring prolonged tool life and minimal wear.
2. Heat Resistance:
Machining aluminum generates heat, which can be detrimental to tool performance. Carbide inserts excel in high-temperature environments, maintaining their hardness and cutting efficiency even under elevated temperatures.
3. Enhanced Cutting Speeds:
Carbide inserts permit higher cutting speeds compared to traditional tool materials. This efficiency is particularly valuable in aluminum machining, where optimizing speed contributes to overall productivity.
Tips When Milling Aluminum
Aluminum is more technologically sophisticated now than they were twenty years ago. They are less heavy, have greater tensile strength, and are more reasonably priced. In point of fact, when you're under continual pressure to decrease expenses, aluminum might be a good option to steel to use. However, there are a number of factors to consider and obstacles to overcome when attempting to select the appropriate tools for your aluminum milling processes.
To begin, it is essential to have a solid understanding of the many kinds of aluminum and to be aware of the fact that each kind possesses a unique degree of strength as well as a unique level of cost and machinability. And that in addition to these categories, there are also various grades, each of which has a unique combination of mechanical characteristics.
You also need to take into account the complicated nature of aluminum's metallurgy. The casting process results in the generation of microstructures that have varying qualities on the surface and within the interior body of a component. The grade of aluminum also differs considerably from one foundry to the next.
CNC routers are commonly utilized with wood and acrylics, but they're also capable of dealing with materials like aluminum. Adapting the method to meet the varied features of aluminum is the key to successful aluminum milling.
Use these hints to overcome challenges and make high-quality parts.
Calculate The Correct Feed Rates and Speeds
Aluminum, like other metals, has a narrower range of ideal feeds and speeds than wood or acrylics. Cutting aluminum necessitates a greater spindle speed, which may push your CNC mill to its limitations.
Feed rates that are excessively sluggish might create friction, which shortens the tool's lifespan. Overburdening the machine with overly fast feed rates can cause it to break. The previous method of "learning by ear" leaves far too much space for error. You can use a feeds and speeds calculator to calculate more precise rates.
Use Smaller Diameter Carbide-Coated Bits
High-speed steel and cobalt are unlikely to be up to the task of cutting aluminum due to the higher RPMs involved. Carbide is a harder material that makes it a better choice for bits. Smaller diameter bits are required for faster milling speeds. Another advantage of carbide is that it is stiff, which protects against tool deflection.
Maintaining a Consistent Temperature
Aluminum is more susceptible to temperature changes, resulting in waste as finished parts are out of spec. Use gear and software that can keep temperatures within safe limits.
Clear Chips Thoroughly
The formation of long, stringy chips is common in aluminum machining. Efficient chip evacuation becomes crucial to prevent chip entanglement, tool damage, and surface defects. Aluminum chips have a "stickiness" feature that leads them to become "welded" to the tool, resulting in poor quality work and excessive machine wear and tear. You shouldn't rely solely on dust collectors. Check the machine frequently to ensure that all chips have been removed. To prevent chips from sticking, spray the machine with a coolant mist or another lubrication.
Take It Slow and Steady
Making deeper cuts to save time may be tempting, but this method might backfire by making it more difficult to clean chips. Stick to frequent shallow passes for better control and access to the chip removal area.
Lower the Number of Flutes
By forcing the chips to be packed in too tightly, too many flutes can exacerbate the chip problem. When milling aluminum, use a maximum of three flutes. Larger chips have an easier time escaping when there is more space between the cutting blades.
Our revolutionary stacked aluminum milling technology eliminates the time-consuming procedure of stacking, drilling, and riveting to produce flawlessly finished parts..
Cutting tool firms, notably HUANA, are always creating innovative turning and milling solutions to assist overcome the variations and problems of dealing with aluminum materials. But this may be an achievement in itself because every material, manufacturer and application throughout the world is unique.
However, here are some crucial recommendations you should constantly bear in mind:
Why Have your workpiece qualities under the best possible control since deviations might negatively affect total production, either directly or indirectly. When the qualities of the workpiece are unknown, you may look to tooling systems and cutting procedures to help compensate for any deficiencies in the quality of the material. The challenge, on the other hand, is in determining which carbide insert for aluminum and tools are suitable for your particular application.
When it comes to turning aluminum, everything relies on the particular application you're using it for. You need to figure out how many different processes are involved in order to achieve your objectives. If the qualities of your workpiece are uncertain, you could decide to incorporate an additional finishing cut, using carbide insert for aluminum which will not cause delays in the production schedule. You may, however, cut down on the number of processes by ensuring that the equipment you use is appropriate for the environment and the specifications of the component.
When compared to turning the material, milling aluminum involves a significant increase in the level of complexity involved in the process. It is crucial to consider the whole cutting solution; however, the type of carbide inserts for aluminium that you employ is only one component of that solution. You need to take into consideration, in relation to your component, the kind of cutter body as well as the number of cutting edges. This is in addition to the carbide insert for aluminum geometries and grades. In addition, heat and coolant should be avoided as much as possible while milling aluminum.
There is no genuine "one size fits all" answer to the question of how to choose the appropriate sort of carbide inserts for aluminium to use when milling aluminum. There are several different factors to consider. But in general, the kind of milling cutter that seems to be making a lot of headway these days would be a negative cutter with carbide inserts for aluminium that have positive rake angles and in a grade that can handle both wet and dry conditions. This would be the type of milling cutter that a negative cutter with carbide inserts for aluminium that seems to be making a lot of headway these days.
You need to give some thought to whether or not your machine tool has carbide inserts for aluminium. Aluminum materials present a higher dynamic load during the milling process, which means that your machine tool needs to be extremely robust in addition to providing high power and high stability. This places strain on the machine as a result of all of these requirements. In these particular circumstances, however, a negative cutter that has a positive rake angle can assist in lowering the power needs of the machine tool and reducing the stresses that are placed on machine spindles as well.
Milling aluminum requires the use of carbide inserts for aluminium, which are employed in the shaping process. In order to acquire the proper form for suitable materials, it will be essential to make use of carbide inserts for aluminium that are of the appropriate quality and shape. When it comes to aluminum milling, HUANA offers a wide variety of forms, sizes, and quality for turning and boring.
Which Groove Suits For Aluminum?
Our extensive collection of light, medium, and heavy duty Groove Aluminum wheels provides options that are suitable for a wide variety of applications and industries.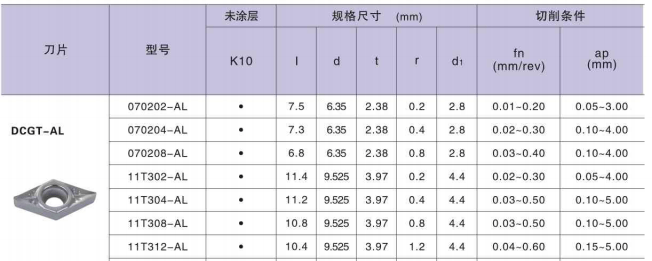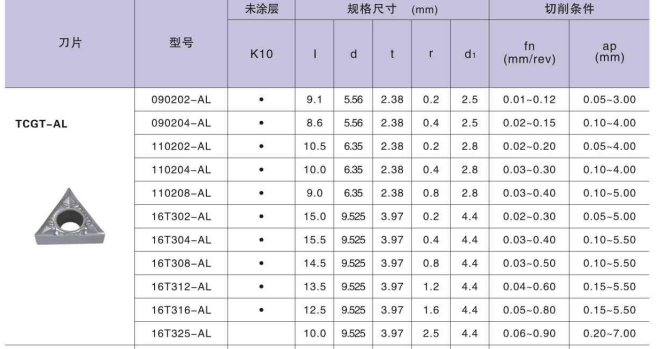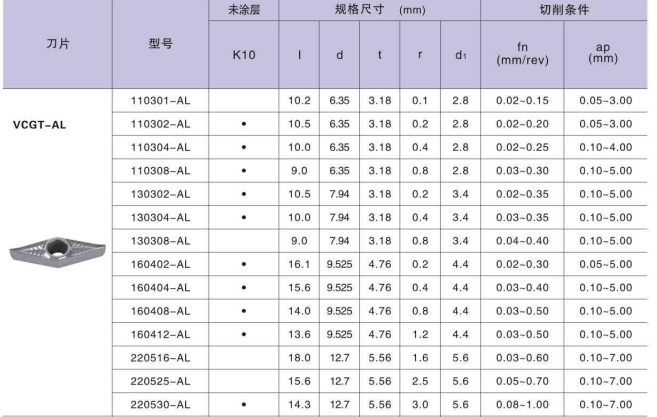 How to buy Groove that suit for aluminum?
The process of choosing the right Aluminum groove that best meets your requirements may be broken down into the following easy phases.
First, Determine The Diameter Of The Wheel
If you are replacing an existing Aluminum wheel, this should be a reasonably smooth process for you; but, if you are ordering for a new application, you should consider how you want to mount it to your apparatus as well as the weight that it needs to hold before placing your purchase.
Second, Select the Appropriate Aluminum Groove Material
When it comes to your castors and wheels, this is potentially a very crucial factor to take into account.
Will the castor be utilized in an outdoor setting?
Will the wheels come into touch with any substances that might be dangerous or corrosive?
Will the wheels be capable of supporting excessive weights, such as up to one ton?
Third, Check the Load Capacity
You need to be aware of the load capacity of your castor wheels in order to prevent them from collapsing under excessive weights. However, you do not want to over-specify the castor wheels (for example, ordering those with a capacity of 500 kilograms when you only need those with a capacity of 200 kilograms), as the cost of the castor wheels will typically increase in proportion to the weight of the load.
How do you determine the load capacity?
Take into consideration how heavy the tool is.
The utmost weight that can be supported by it
First, add all of them together to determine the overall weight or burden, and then divide the amount by three.
The final number will represent the maximum weight that each castor should be able to support.
Inserts For Aluminum Model and Size
When working with turning applications, it is vital to use the correct form of an insert, and this shape is decided by the suitable point angle in order to maximize both strength and economy. The needs of the application and the amount of room available in the application for the cutting tool will determine the appropriate size of the carbide inserts to use when working with aluminium. Large insert sizes necessitate more stability when working with robust machinery; the usual size of carbide inserts for aluminium often climbs up to 25 millimeters. After the project is finished, the height of rotation may frequently cause a reduction in the scale of the insert.
How Do You Determine the Appropriate Size for Carbide Inserts Aluminum?
Eliminate the most important amount of the cut depth.
Find the needed cutting length, also known as LE, taking into account the tool holder entrance angle, the cutting depth, and the machine specification.
Check that the right slice length for the insert is known to you.
Creating a Turning Insert Form
Huana provides you with an easy-to-use chart that will assist you in selecting the appropriate insert form for any project. The design of the insert also has a significant impact on how deeply or at what angle it cuts into the metal. In order to select the suitable turning insert form for your project, you will first need to determine whether it is a rough, completed, or general turning task. When you have an understanding of the overall scope of the task at hand, the next step is to determine the tools that are necessary for the work by conducting some preliminary study to verify that you are employing the appropriate tools.
Contact HUANA For Buying Best Carbide Inserts For Aluminum
But in the end, because there are so many factors to think about, if you want to boost the productivity and predictability of your aluminum milling operations, the best course of action for you is to work closely with the cutting tool provider. This is the best way to achieve your goals. You may get the very best carbide inserts for aluminium in a variety of forms and sizes by getting in touch with HUANA.