During the milling process that is carried out with the assistance of a CNC router, end mills are the kinds of cutting instruments that are utilized. The most frequent kinds of fluted mills that are utilized in modern manufacturing are two-flute mills and four-flute mills. Before you go out and buy an end mill, you need first determine the flute count that would work best for the project at hand. When selecting an end mill, this is one of the most important considerations that you will need to make. If the end mill contains flutes, the chips that are produced during the cutting process will collect in the spaces in between the flutes as the end mill is being run, even if the flutes are not being used. When cutting a material like aluminum, which results in the production of huge chips during the cutting process, it makes sense to utilize an end mill that has fewer flutes than normal. This guarantees that there is sufficient space for the quantity of chips that is being stored. Both the material that is being worked with and the application that is currently being worked on play significant roles in this key step of the process of selecting the appropriate tool. When choosing a tool, it is very important to take into consideration the consequences that the number of flutes has on the other characteristics of the tool as well as how the tool will operate in a range of different environments.
These end mills are able to create clean cuts more rapidly as a result of the varied spacing that exists between the flutes, which also contributes to a reduction in vibration. This helps to increase the life of the tool. They have a high helix angle and a coating that is resistant to wear, which enables them to shear titanium and stainless steel effectively while also removing chips from the surface. End mills made of solid carbide are superior to those made of high-speed steel and cobalt steel because they are harder, stronger, and more resistant to wear. As a result, end mills made of solid carbide have a longer lifespan and provide a better finish on materials that are difficult to machine. Because of their exceptionally high hardness, they are delicate; thus, a setup that is exceedingly rigid, such as a CNC machine, is necessary to prevent the end mill from breaking. This is due to the fact that they have an extraordinarily high hardness.
The Flute Count: Why Is It Important?

There is a one-to-one correspondence between the total number of flutes in a tool, the diameter of its core, and the instrument's overall strength. The greater the number of flutes on a tool, the larger the core will be, which will result in increased durability. End mills that have a higher flute count often have a smaller cut depth, and as a consequence, they are able to be utilized to achieve a smoother finish on virtually any material. This is another advantage of using end mills with a higher flute count. Increasing the number of flutes on a tool does not, however, come free of any downsides or negative consequences. This is due to the fact that an increased number of flutes results in a larger core, which not only takes up more space but also constricts the valleys of the flutes, which would otherwise make it simpler for chips to escape during the milling process. When cutting materials that are tougher and more ferrous and require a faster rate of metal removal, it is recommended to utilize end mills that are more robust and have a larger flute count. This is because these end mills allow for a higher rate of metal removal.
The particular machining application that is being addressed is another factor that affects the ideal flute count that should be used. End mills with a high flute count are an excellent alternative for finishing applications since chip evacuation is not as essential of a factor in these types of applications as it is in roughing applications. Finishing applications involve the removal of only very small quantities of material. Roughing operations, on the other hand, will benefit from having a lower flute count since it is essential to have a wider flute valley in order to evacuate chips at a greater frequency. This is why roughing operations will benefit from having a lower flute count..
End Mills Geometry Basics
In general, instruments that have a greater number of flutes have a bigger core and smaller flute valleys than instruments that have a lesser number of flutes. Depending on the specifics of the application, having a bigger core and more flutes might either be beneficial or restrictive. To put it another way, the strength of a tool is exactly proportional to the size of its core; in other words, the larger the core, the stronger the tool. A bigger core, in turn, causes a reduction in the flute depth of a tool, which in turn limits the amount of area available for chips to exist. In applications that need the removal of large amounts of material, this may pose problems with chip packing. However, when it comes to choosing which tool to use and when, these factors may only take us so far in the decision-making process.
Important Factors to Consider
End mills have historically been available with either two or four flutes, depending on the manufacturer. For the machining of aluminum and other non-ferrous materials, the general rule of thumb was to utilize two flutes, whereas four flutes were recommended for the machining of steel and other tougher alloys. Due to the fact that aluminum and non-ferrous alloys are often more softer than steels, the strength of a tool is less of a problem, a tool can be fed quicker, and bigger material removal rates (MRR) are made possible by the huge flute valleys of 2 flute tools. Ferrous materials are often far more difficult, and hence require the added strength that comes from having a bigger core. The feed rates are slowed down, which results in smaller chips and makes it possible for bigger core tools to have flute valleys with a finer gradation. This not only makes it possible to accommodate additional flutes on the tool, but it also makes it possible to work faster.
The use of tools with a larger flute count has recently become standard practice in production as a result of the development of more sophisticated machines and toolpaths. The majority of non-ferrous tooling now focuses on three-fluted tools, which enables better productivity while still ensuring adequate chip evacuation. Ferrous tooling has advanced to include not just 4 and 6 flutes, but also up to 6 flutes and even more in some instances. This represents a significant stride forward in the industry. A greater range of hardness, sometimes even at the very top of the Rockwell hardness scale, has made it possible for many more flutes to be added to tools, which has resulted in longer tool life, less tool wear, stronger tools, and less tool deflection. As a consequence of all of this, more specialist tools are required for more specialized materials. Improved MRR and higher production are the final results of this process.
1. 2-Flute End Mill
When milling grooves or slots, end mills with two flutes are the most frequent type of milling tool utilized. Because it may drive in a vertical direction into the workpiece, this particular type of mill is often referred to as a plunge mill. Two blades with different cutting lengths are attached to the cutting end of the bit. One of them travels right across the center, which enables the end mill to cut directly into the workpiece that lies beneath it. It is not possible to utilize a 2-flute mill for the same kinds of jobs that need a 4-flute mill. All end milling procedures need the use of end mills with two flutes. The feed rates are lower with 2 flute mills despite the fact that the flute volume is greater. When it comes to grooving operations, having a lower total number of flutes enables greater chip evacuation. These mills are available with a variety of flute lengths, ranging from stub to super extremely long.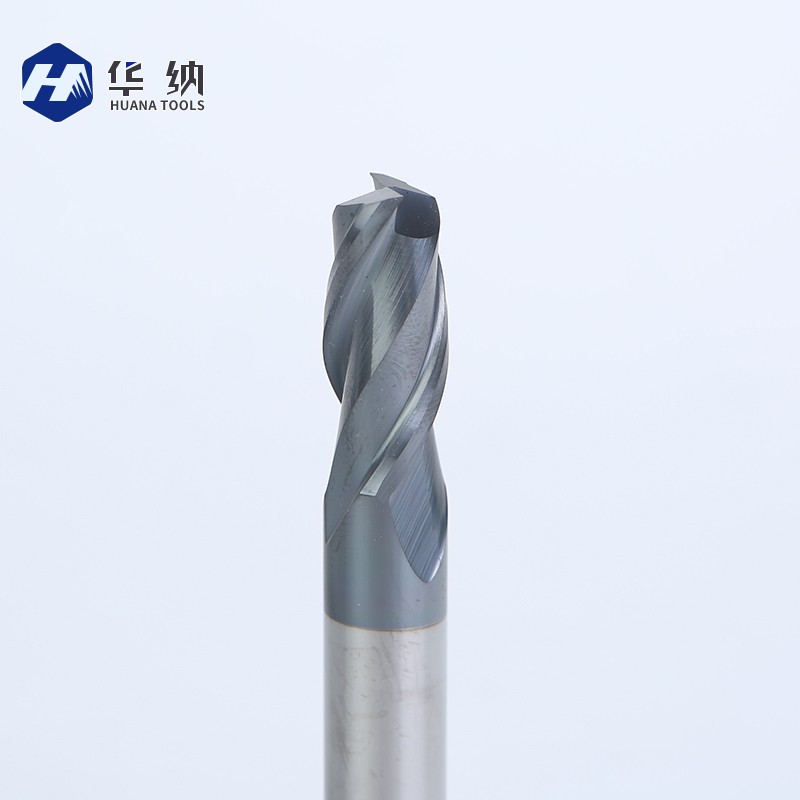 There are three possible end geometries: square, spherical, or corner radius. They are also available in the form of tiny end mills. They come with PVD coatings of TiN, TiCN, and AlTiN as options to choose from. They range in diameter from.005 inches all the way up to 1 inches. The 2-blade end mill er is used to process the keyway in most cases, and it provides superior cutting. In carbon steel, alloy steel, die steel, tool steel, cast iron, and titanium, a 2-blade end mill can be used for side milling, end milling, and finish machining. When it is difficult to remove chips from slots and grooves, a centre cutting operation, also known as a plunge cut, requires the use of a 2 flute end mill. Titanium Nitride (TiN), Titanium Carbon Nitride (TiCN), Titanium Aluminum Nitride (TiAlN or AlTiN), and Diamond finishes are just some of the many types of coatings that are available. These coatings provide for optimal performance and value for a specific application or material. There is a choice between metric and standard measurements for the cutting diameter and the shank..
2. 4-Flute End Mill
Surface milling and side milling are the two most typical uses for a 4-flute mill, despite the fact that this type of mill is capable of producing the same outcomes as a 2-flute mill, such as the creation of pockets and slots. End mills with four flutes are required for use in all steps of the end milling process. Despite the fact that mills with four flutes have a lower flute volume than mills with a greater number of flutes, mills with four flutes are the most common number of flutes. Because there are now more flutes than before, the feed rate may be increased. Because there are so many chips packed into such a limited space, it is probable that their performance in grooving operations will not be as good as it might be. End mills with four flutes that are designed for use with steels, tool steels, and cast iron. These end mills are available in a variety of profiles and key types, each of which is vital to the end result of the CNC machining application that you are working on.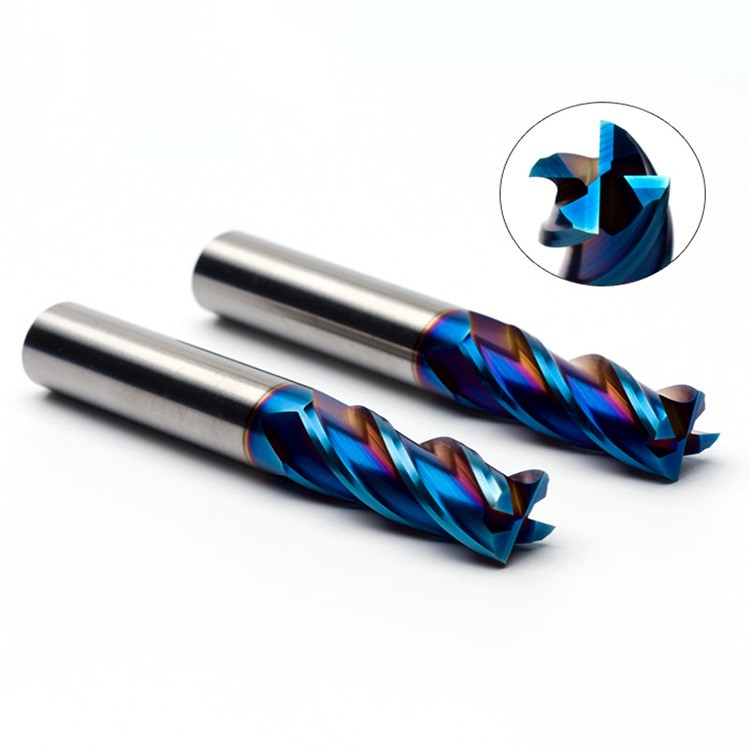 This particular variety of end mill features four cutting blades and may be utilised to cut through a variety of materials, including hardened and high alloy steels, steel casting, chill casting, brass, copper, aluminium with a high percentage of silicon, and abrasive plastics. It is possible to increase the feed rate for a component, and the end mill's four blades will provide an exceptionally smooth finish on the component. End mills with four flutes are often the tool of choice when performing typical milling operations such as cutting slots, profiling, and plunge cutting. End mills with four flutes have a strong resistance to heat and are often used for high-speed cutting of hardened materials such as iron, alloys, and other similar substances. This is because these end mills have the ability to cut more efficiently through the material's microstructure.
3. 6-Flute End Mill
End mills for steels that contain six flutes, each of which is designed to have a longer useful life in the particular CNC machining applications in which they are employed, including high-efficiency milling. For finishing operations that need increased feed rates in addition to a high quality surface finish, end mills with six flutes are the tool of choice because of their versatility. Rough milling cannot be done with mills that have six flutes since these mills have a substantially lower flute volume than mills with more than six flutes. This ball profile variable pitch end mill features six flutes for optimal performance in light profiling, High Efficiency Milling (HEM), and finishing operations. The completed items have a superior quality as a direct result of the reduction in noise and harmonics that took place throughout production.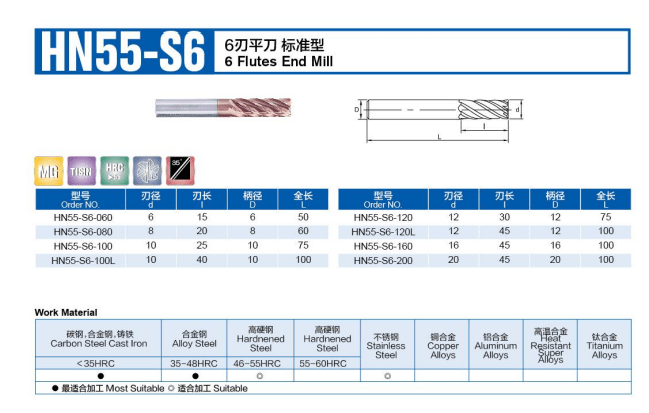 End mills with six flutes give great performance in a wide range of ferrous materials, such as steels with low and medium alloy content, tool steels, and cast iron. This includes all of the aforementioned materials. These end mills can withstand high temperatures without being damaged. End mills that have six flutes are optimized for use in processes that include light profiling, High Efficiency Milling (HEM), and finishing operations. These end mills are designed to perform very well in these processes. By utilizing 6-flute end mills with variable pitch geometry, manufacturers are able to produce higher-quality components while also cutting down on chatter and harmonics. When it comes to applications that call for longer reach and deep pocketing, a six-flute end mill with a shorter neck provides the maximum amount of strength possible.
2-flute End Mill VS 4-flute end mill VS 6-flute end mill
End mill flutes are normally available in one of three different conventional arrangements, with either two, four, or six cutting edges. Because of the greater room that is required for much bigger chips to evacuate when the tool is running at a quicker feed, it has traditionally been suggested that two-flute end mills be used when cutting aluminium materials. This is because of the increased space that is required. This is because the greater space makes it possible for chip evacuation to take place in a more efficient way, which is the reason for this.
Because they have more cutting surfaces that may make contact with the component during each revolution, 4-flute end mills have become the tool of choice for use in the machining of steel and other similarly hard metals. This is due to the fact that they have more cutting surfaces that may make contact with the component during each revolution. This is because they have a greater number of cutting surfaces, each of which has the potential to come into touch with the component at some point during each revolution. When milling away metal from a workpiece, employing end mills that have four or more flutes can be helpful in increasing the pace at which the metal is removed from the workpiece. This is because tougher metals require a lower input rate than softer metals do in order to be successfully processed.
Even with difficult-to-work-with materials, end mills with 4 and 6 flutes are able to perform exceptionally well. This is because of their design. The AlTi coating that is standard on HUANA end mills gives outstanding hardness and a prolonged tool life in high-temperature alloys and ferrous materials up to 45Rc. This coating can withstand temperatures as high as 450 degrees Celsius. This is accomplished by placing a protective barrier between the instrument that is being used and the substance that is being worked with. Because of the chip thinning capabilities of the tools in question as well as the tool shape that is applied with continuous radii, the tools end up being more rigid as a combined effect of these two factors. As a direct consequence of this, the instruments may be employed at higher feed rates. In addition to this, all of the cutting forces are directed upwards into the spindle, which helps to prevent vibration as well as deflection.
In the past, placing an order for end mills with 3, 5, or even 7 flutes was not conceivable; however, this is no longer the case in today's modern world. When cutting aluminium or other non-ferrous materials, 6-flute carbide end mills have become increasingly popular because they offer superior productivity and finish in comparison to traditional 2-flute end mills without obstructing chip evacuation. This is possible because 6-flute carbide end mills have six flutes instead of two. This is achievable due to the fact that 6-flute carbide end mills contain six flutes rather of only two. This is because, unlike 2-flute carbide end mills, 6-flute carbide end mills feature six flutes. End mills with bigger counts of six flutes are becoming increasingly popular because of the enhanced efficiency they provide while cutting harder materials. As a consequence of this, a tool that has a greater flute count is capable of having more strength and experiencing less wear, which finally results in the tool having a longer life. End mills with bigger counts of six flutes are becoming increasingly popular because of the enhanced efficiency they provide while cutting harder materials. When dealing with particular kinds of ferrous materials, speciality applications typically find that having a high flute count is advantageous for a variety of reasons. This is the case for a number of different reasons.
Conclusion
To summarize, the number of flutes that an end mill possesses is directly proportional to the tool's overall strength as well as its capacity to provide a faultless finish. However, in order to guarantee that any chips have space to clear while the operation is being conducted, lighter metals may require a lower flute count than heavier metals. If you have any questions or would need some guidance regarding the appropriate number of flutes for your end mills, please do not hesitate to get in touch with HUANA at any point throughout the course of the current day. End mills can have anywhere from two to six flutes, and we have staff members standing by to assist you in finding the end mill product that is most suited to satisfy the needs of the metalworking project you are working on.