The end mills that you have are going to be the single most important component in determining the kinds of things that can be made with a CNC mill, despite the fact that there are a lot of other aspects involved. End mills are very similar to drill bits, but instead of just being able to drill in a vertical direction, end mills can also cut in a horizontal direction. Additionally, end mills come in a variety of form factors to provide the cleanest cut possible for the various materials. Some are solely used for plastics in order to prevent them from overheating, others are intended to prevent wood from chipping or ripping out, while still others are developed for really fine detail work. Because end mills can have a wide variety of different specifications, it would be best for your understanding if I explained each type of end mill, such as flat end mills versus round nose mills versus ball end mills, separately. Because of this, my objective for today is to provide you with the information you need to make the decisions that will put you on the path to success. Let's get started!
Flat End Mills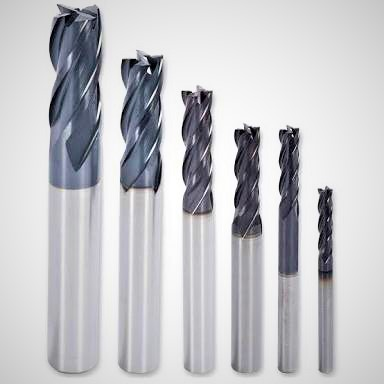 Flat end mills are the sort that are used the most often. They are very flexible all-rounders that may be used for a wide variety of applications including profile, slotting, side and face milling, and plunging, among others. Your workpiece will have flawless corner cuts at a 90-degree angle when you use flat end mills. They are versatile tools that may be used for tasks ranging from roughing to finishing, depending on the workpiece.
The flat end milling cutter may have either a single end or a double end, and it can be manufactured from either solid carbide or high speed steel composed of a variety of different alloys. Flat end mills made of carbide are the most productive kind. They might have a generic purpose, or they can be optimized for high performance. Plunging, grooving, side milling, face milling, and counter boring are all possible applications for these tools. These particular milling cutters are the ones that are the most often used in the business. They are offered in a huge selection of diameter sizes to choose from.
Flat end mills are used for roughing operations, cutting flat-sided 3D objects such as engravings and circuit boards, as well as cutting 2D shapes such as circuit boards and engravings. These carbide end mills let you to cut a square edge into a variety of materials, including metal, wood, wax, and plastic.
Flute Design
The flat end mill is the end mill that is purchased the most often by our clients; its 2-flute, 3-flute, 4-flute, and 6-flute varieties are all highly prevalent. When the number of flutes is increased, processing becomes more exact, but when the number of flutes decreases, chip removal is performed more smoothly. The use of three flute end mills allows for larger feed rates than the use of two flute end mills, and they are often employed in the machining of aluminum. Grooving processes on crowded chips often call for their utilization, and this is one of their most prevalent applications. In applications involving the milling of non-ferrous materials, they are also employed in conjunction with high feed rates.
Applications of Flat End Milling Cutter
A sort of flat end mill that will be used to provide an inside surface that is lovely and flat. You want to opt for a diameter of 8 millimeters, which is pretty big, so it will not take too much time when removing all of that material, and because the inner corners are already meant to be rounded. Because oak is a hardwood, you will want the stiffness of a short carbide end mill, such as 30 millimeters in length, if you plan to also utilize one. This is because you will want to maintain a high feed rate. You may pick an end mill with three flutes and a helix angle of 45 degrees to obtain the greatest surface finish possible while spending as little time as possible hand-finishing the workpiece since the pocket is rather shallow.
Corner Round Nose Mills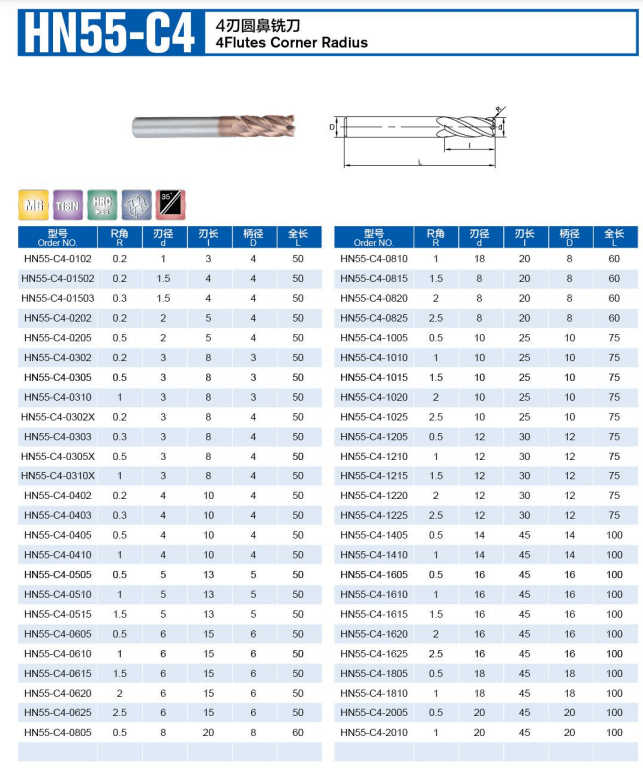 The round nose mill cutter may be used in any kind of milling machine, including those used for engraving and woodworking. The round nose mill cutter's primary purpose is to machine planes and grooves, in addition to performing additional procedures such as shaping work pieces. The round nose mill cutter has a sturdy construction, which contributes to its good performance and long lifespan in operation. Improve the effectiveness of the process while maintaining a high feed speed. The round nose milling cutter is able to maintain a long service life and is appropriate for cutting high-hardness steel. Material The turning tool that is produced via the use of solid carbide and the full forging process has a high level of operating efficiency, a long service life, improved wear-resistance, strength, and stiffness. The round nose milling cutter's special surface treatment has an antibacterial quality that helps keep the tool clean. Strong performance in terms of earthquake resistance, which might result in an improved surface finish degree for the workpiece.
Flute Design
The flutes of the end mill are the most distinguishable feature of the tool. These are the deep spiraling grooves in the tool that permit chip production and evacuation. They are located in the tool. To put it another way, flutes are the section of the end mill's anatomy that make it possible for it to cut on its edge.
There are often two flutes, four flutes, and six flutes in a set. When milling grooves or slots, end mills with two flutes are the most frequent kind of milling tool utilized. Because it may drive in a vertical direction into the workpiece, this particular kind of mill is often referred to as a plunge mill. Round nose milling cutters often have four blades, and normal processing uses two-blade ball knives. Two blades with different cutting lengths are attached to the cutting end of the bit. End mills with six flutes are used for finishing operations that need larger feed rates in addition to a high quality surface finish. Since the flute volume on 6 flute mills is much lower, these mills cannot be utilized for rough milling.
Applications of Round Nose Milling Cutter
For cutting planes, grooves, and other forms, a round nose milling cutter is the tool of choice. In the meanwhile, round nose milling cutter that can cut nonferrous metals including steel that has been toughened. Round nose milling cutters have changeable alloy blade. A round-nosed milling cutter may be used to cut through aluminum or stock in the meanwhile. The grounding blade may be used to cut stock as well as copper and other types of metal. Fully ground spiral groove excellent spiral groove, big chip removal space, avoids knife sticking, and it significantly improves production efficiency. The chamfering scheme is simple to operate, making it simpler to clamp, and it also serves as a shock absorber while the milling operation is being carried out.
The Round Nose Mill is an excellent choice for drift as well as confirmation runs. They are constructed to be an economically viable alternative to the activities of garbage mills. Carbide is used in the construction of these mills so that they can withstand the most severe working environments and provide the longest possible service life. Cement buildup, scraper drift runs, mild casing impairments, and gauge clean outs are all excellent applications for these mills. They are equipped with a large circulation port that allows for high circulation rates.
Ball End Mills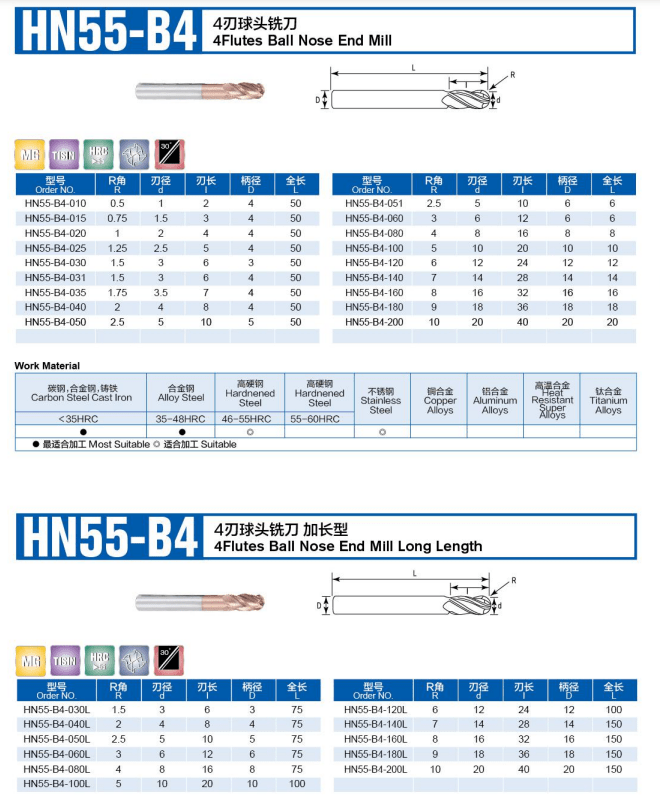 Ball End Mills are end mills that have a point that is hemispherical rather than spherical, and they are used to produce rounded features such as the metal bearing grooves seen in machines. These tools, which are also known as Ball Nose End Mills, find widespread use in the production of tools and dies as well as the machining of intricate three-dimensional curves while leaving a clean finish. Ball End Mills are very long-lasting and available with a variety of surface coatings that may be customized for milling a broad variety of materials, ranging from plastics to titanium and steel alloys. These coatings allow for the milling of a wider variety of materials.
Ball End mills are distinguished by having a point that is rounded off at the very tip of the tool. The major uses for these instruments include the three-dimensional milling of contoured surfaces, in addition to additional contouring operations such as groove rounding, pocketing, shallow slotting, and a number of other similar applications. It is feasible to use this cutter as the last cutter for "putting the finishing touches" on the project.
Flute Design
While ball knives with two blades are more widespread, those with four blades are more frequent in India, the Middle East, and other places; round nose milling cutters often have four blades and are used for general processing. These mills are the most effective equipment for sculpting deep pockets in molds and dies because of the method in which they are formed, which allows for a great volume of chip material to be evacuated. The design of 4-blade ball end mills results in less chip evacuation than the design of other types of end mills. However, because these mills have multiple cutting edges, they are able to produce a very smooth finish by running lighter chip loads than other types of end mills while still maintaining a high rate of production. This allows these mills to produce a very smooth finish.
Applications of Ball End Mills
Ball nose end mills may be adapted to a broad variety of uses by adding a variety of different design aspects into its construction. They can be put to use as roughing tools, which requires a design that incorporates a large core, neutral cutting angles, and a slow helix. This, in conjunction with the full radius, and the application of HSM machining techniques, can result in an extremely long tool life even when used on the hardest materials. Roughing out softer steels with a high degree of predictability and efficiency may be accomplished by combining more traditional tool paths with sharper designs that have higher chip pocket space and uneven helix shapes. As is the case with any instrument, the answer is often dependent on the particular component as well as the specific tastes of the programmer. However, there is no denying that the ball nose end mill is an invaluable asset when it comes to the craft of machining the component.
The most prevalent use for ball end mills is the production of multi-dimensional contours in molds and dies; nevertheless, they are also used for drilling shallow holes, slotting channels in situations when a flat bottom is not necessary, and slotting channels. Ball end mills are designed in such a way that they provide a hemispherical cutting action that is equivalent in size to the diameter of the tool. Because of the specific contours demanded by these items, it is usual practice to use multi-axis machining centers in order to do this kind of job. They also have a secondary use, which is to create a radius at the intersection of two surfaces that are perpendicular to one another. The radius that is produced by a ball end mill is equal to one half the diameter of the instrument that is being used. If the goal is to reduce the amount of stress at the junction, a flat end mill that has the corner radius ground on it is one tool that may be used to produce a tiny radius there.
Manufacturing Process
The manufacturing process involves using a diamond-impregnated grinding wheel that is mounted on a specialized CNC grinding machine. This technique of production is the same as that used for any other solid carbide end mill. In the same vein as the majority of end mills, ball end mills will need more than one grinding wheel in order to be finished as a tool. As a result, a collection of wheels will be fitted together in what is often referred to as a wheel pack. When it comes to stock items, these packs have a set format that is determined by the construction and dimensions of the tool. Our production experts will employ wheels with varying grits, diameters, and profile forms in accordance with the design specifications they have established. When it comes to custom tools, fewer wheel packs are utilized in favor of more single wheel sets in order to cut down on the amount of change over time that often takes place during shorter custom manufacturing runs.
The first obstacle that must be overcome in order to grind a ball to perfection is keeping a consistent radius from the end of the nose all the way back to the shank of the tool. In order to do this, a relief will need to be ground into the end of the tool. This relief will extend out to an intersection of the outer diameter and will ensure that a perfect radius is created when it reaches the tangent point. It goes without saying that the precision and mobility of the machine are essential in order to guarantee appropriate control. Accurate probing is essential in order to ensure that wheel profiles do not wear to the point where we are unable to maintain a tolerance of five microns across 180 degrees. Other grinding details are added dependent on the design, such as finer grit wheels for polishing of flutes in end mills for aluminum, and smaller grinding wheels with finer profiles to generate 8,10, and even 12-flute ball nose end mills, where clearance from one flute to the next is very close.
High speed ball end mills are available from HUANA. These mills are resistant to abrasion and maintain their hardness even at the extreme temperatures that are often seen in deep pocket milling. These mills are suitable for having a range of coatings added to them, any one of which may be used to extend the life of the tool while working with a wide variety of materials that are difficult to process. Carbide ball end mills with an AlTiN coating are available for purchase off the shelf for use with heat-treated steel and aluminum.
Flat End Mills VS Round Nose Mills VS Ball End Mills
These three are examples of standard end mills made of tungsten steel. In contrast to the flat end milling cutter, which has a pointy nose, the round nose milling cutter has a rounded nose. This is also referred to as the R angle, which is another common term. Contouring is the primary use for the ball cutter.
When it comes to machining curved surfaces, however, ball end mills do provide us with a distinct edge. If we attempted to process a curved surface using a Flat End Mill, we would end up with steps that are comparable to the cusps that are produced by a Ball end mill. On the other hand, when working with a surface that is curved like this one, using a Ball end mill to decrease the size of the cusps to a size that is more acceptable requires a far lower number of passes than using a Flat end mill would.
As a result of this, flat end mills are often employed for roughing when we want to swiftly remove the bulk of the material. This is because of the mills' flat cutting edge. On the other hand, after the roughing passes have been completed, the finishing work is done using ball end mills to clear up any debris that was left behind. One notable exception to this rule is that if we need to complete the finishing of a flat surface, we may use a Flat End Mill as the geometry of this tool since it matches the final shape of the item that will be produced.
There is still another option available to us when it comes to the manner in which we cut with our milling tools, and that is whether or not to employ something that is known as a round nose milling cutter. These have to do with the method in which the tool spins in respect to the feed direction and the material that they are removing from the workpiece. A round nose milling cutter will spin the tool in such a way that the teeth will dig into the material, and the chips will be pushed behind the tool as it travels ahead. Because of the way the teeth dig in, the tool may either cut through the material or draw itself along the surface of the material.
Discussing each of these factors in depth would need its own chapter of the book since there are so many additional things to take into account when determining which strategy is going to be the most effective response to a certain situation. Because it results in less tool wear and a surface finish that is of better quality, the round nose milling cutter is the one that is most generally suggested. This is because of the combination of those two benefits.
Conclusion
Customers often choose to purchase whichever end mills are offered in the grade that is considered to be the most generic. In point of fact, in accordance with the performance of the processing products and the characteristics of the end mills, selecting the processing products that are the most suited may significantly enhance the production's efficiency, provided that the most suitable processing products are selected. In addition to that, HUANA is able to provide services relating to the customization of a wide range of different products.